Less marketing, more baseball, and perhaps this time Team USA will win
The World Baseball Classic desperately needs a Team USA that is desperate to win it. Finally, this time, we may have one. The American team that assembled Monday in Arizona was notable for how committed to the tournament (and to winning) these players are.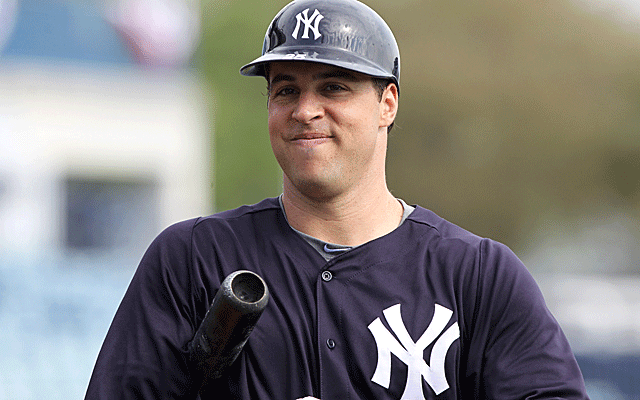 Team USA players like Mark Teixeira have already played in many Spring Training games.
(Getty Images)
SCOTTSDALE, Ariz. -- Plenty of people in this country don't care a lick about the World Baseball Classic.
I know 28 who do.
Plenty of players all over baseball found the WBC to be an avoidable annoyance.
I know 28 who didn't.
The WBC still has major flaws, perhaps even fatal flaws. But if the tournament is going to survive, and if it's going to thrive, it desperately needs an American team that is desperate to win.
It seems this year we've found one.
After listening to the marketing experts when putting Team USA together for the first two versions of the WBC, and watching Team USA fall short, this time, the baseball people picked the players. Manager Joe Torre and his group concentrated on putting together a true team, and they concentrated on finding star players who were willing to get themselves ready to play meaningful games in early March.
So when Team USA gathered for its first workout on Monday, players like David Wright and Mark Teixeira had already played six or seven innings in spring training games. In this tournament, Torre plans to use his regular position players nine innings a night if needed, and these players came prepared.
More than that, they showed up with some enthusiasm for the tournament and the team, and they didn't give the sense that they were here only because of some sense of obligation.
"We're not here just to say we play for Team USA," Braves closer Craig Kimbrel said. "We want to say we played for Team USA and we won."
One person involved with Team USA management said this group of players believes it needs to win every game in the tournament and not just the minimum number to advance.
For all the talk about the stars who turned down the chance to be here, the group that Torre was able to assemble is a good one. The most notable absences are in the starting rotation, but the format of the tournament (dictated by the time of year when it's played) marginalize top starting pitchers, anyway.
In the first round, which Team USA will begin with a Friday night game against Mexico, starters are limited to just 65 pitches. Bullpens are even more crucial here than they are in the regular season or the postseason.
Those who want the WBC to succeed will love that some Team USA players spoke of these games as being like postseason games.
"It's like Game 7 of the World Series," Kimbrel said.
The worst thing about this Team USA roster is that it doesn't include Justin Verlander, David Price or Clayton Kershaw, arguably the three best American-born pitchers (and maybe the best three pitchers on the planet). Torre announced R.A. Dickey as his Game 1 starter.
The best thing about this roster is that it was built with winning in mind. Nationals manager Davey Johnson, who ran Team USA four years ago, lamented last week that he was forced into roster decisions that made little baseball sense.
"The first two [Classics] were totally governed by the business side of Major League Baseball," Johnson said. "I had [Jimmy] Rollins and [Derek] Jeter sharing shortstop, and I only had eight games in 23 days."
This time, Torre made sure to get one starter for each position and made sure that players who would be used as reserves understood that and could handle it. Thus, Ben Zobrist and Willie Bloomquist made the team as reserve infielders, and Shane Victorino is here as a fourth outfielder.
And the schedule, with far fewer days in between games, is more conducive to good baseball.
"I knew what we needed to compete internationally, but I couldn't get it," Johnson said. "I told Joe [Torre], 'I really like your roster, and I really like your schedule.'
"I think they have a heck of a chance to win the whole thing."
First, Team USA will need to finish in the top two in its four-team group in Phoenix. Then it would be on to Miami, where the top two teams would again advance, that time to the semifinals in San Francisco.
"It's an exhibition," Teixeira said, "but it's an exhibition that we want to win."
It's hard to know whether American fans will become engaged, even if Team USA finally does win the tournament. But it's easy to understand that it will never happen if Team USA once again flops.
The players who are here do seem to love the tournament. They do seem sincere when they talk about the special feeling of playing games with "USA" across their chests.
And, to some extent, they even seem to understand that the future of this tournament is in their hands, just as Torre and his people understood that what was most important was to build a real team.
"The marketing people may not agree with how we've gone about it," Torre said. "I'm more concerned about winning than about having a lot of names."
I don't know if they're going to win. As goofy as it is to believe you can accurately predict a 162-game season or a seven-game postseason series, it's far nuttier to pretend you can figure out a tournament that will eventually come down to a few one-off elimination games.
But at least this version of Team USA will give the WBC as an event a chance to succeed.
Because these guys care. Eventually maybe we will, too.
No, you're not imagining things. This MLB offseason has been very slow compared to the last...

Francesa will retire from radio next month, so he'll have plenty of free time next summer

Get your sports fans something that they'll wear all year
Get 15 percent off any order of more than $75 at CBS Sports Shop

The Twins need help in the rotation, and they may look to the trade market to find arms

Here are the bullet-points of what went down Tuesday regarding MLB and the Braves' punishm...