Lester return to Boston a long shot; Cubs, Yankees are likely players
Jon Lester has fond memories of the Red Sox, and he won't rule them out, but rivals don't see them as likely to be competitive in the free-agent market.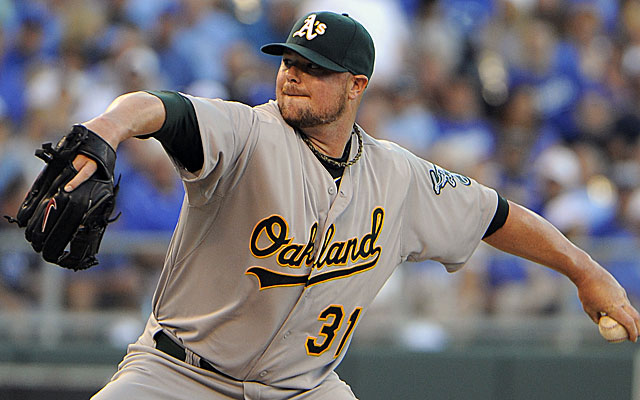 There have been a lot of nice things said by ace starter Jon Lester about the Red Sox since being traded to the Athletics, and that shouldn't be a surprise. There's no reason to think he didn't absolutely love his time in Boston, as he has said both before he left and since he has gone.
Still, it's quite a leap from loving his stay in Boston to being likely to return there this winter as a free agent. The reality is, it's probably the opposite. The strong belief around the game is that Lester is likely to sign somewhere other than the Red Sox.
Most folks around baseball would be surprised if Lester and the Red Sox could agree on a contract at a time other teams will be bidding hard for him. After all, the two sides couldn't come close to doing it when they had a clear shot at contract. A return by Lester to Boston was dubbed a "long shot" by league officials who have familiarity with the situation.
The Cubs and rival Yankees, among others, look like much more likely landing spots for Lester at this time, in fact. The Yankees have admired Lester's guts and clutch pitching for years (and especially that career 0.43 World Series ERA) and would surely make a play for the former Red Sox ace. Meanwhile, folks around the game suggest Lester's old friends Theo Epstein and Jed Hoyer, who picked Lester for Boston and are now running the Cubs, are extremely likely to be in there pitching, as well. Epstein and Hoyer "absolutely love" Lester, is the word from one official who knows Chicago's top execs well.
The Cubs are maybe a year away from contending, but they showed a willingness to spend more than $100 million for Cole Hamels and Masahiro Tanaka (before the Yankees signed Tanaka). Of course, the Yankees and Cubs are just two of many who may make a play for this marquee free agent.
The Red Sox obviously need pitching after trading or losing five of the six starters who started at least 10 games for them in their championship season of 2013, but one rival exec, speaking of Lester, stressed that Red Sox owner John Henry is "risk averse" when it comes to long deals, especially for pitchers. Boston's current front office seems to be of a similar mind considering their recent free-agent forays have been for three years or fewer.  Lester should be able to command at least six years, and very likely seven, as a free agent.
Lester, off his big season, is expected to be able to command $150 million or more as a free agent -- which is more than double Boston's initial offer to him back in spring. Boston's opening bid of $70 million for four years was just that, but they never got higher since, as one person put it he "cut things off," referring to the talks.
The issue now, is if they can restart the talks while Lester is a free agent, where do they start? With the assumption that Lester commands $150 million plus as a free agent, one rival executive said of Boston's chances to get anywhere close to that, "The Red Sox aren't going to admit they made an $80 million mistake by offering $150 million, one rival executive said.
It isn't close to certain the Red Sox see their opening salvo as a mistake, anyway, but there's nothing to suggest the Red Sox would go anywhere near $150 million, not for a pitcher who is 30, not even for Lester.
There was word when Boston broached the idea of re-starting talks around the start of July that they might have been willing to go to $100 million for five years at that time. However, Lester, as he told CBSSports.com at the All-Star Game, was "thrown off" by Boston's midseason attempt, suggesting he wanted to concentrate on a season that was slipping away, at least for the Red Sox.
When the Red Sox traded him, the belief was that they understood its chances to re-sign him were slim, and there's no reason to believe they believe otherwise now. The trade itself raised Lester's value by eliminating the possibility a qualifying offer may be made (and the draft-pick attachment that's affected recent free agents), and the Red Sox understood that.
Lester has consistently said he would consider a hometown discount to stay in Boston, but his value point has been rising with his spectacular season in both Boston and Oakland (he's 13-8 with a 2.58 ERA), and even though a proliferation of bad arm injuries among pitchers around the game may scare off a few folks, the price of an ace is expected to be sky-high. Max Scherzer, due to what's seen as slightly better stuff and velocity and perhaps and even better trend line, may be viewed by some as a little ahead of Lester as the top free-agent starter in a strong starting market, but Lester's resume is actually better.
Lester recently said nice things again about Boston in a recent interview with the Boston Herald, and that shouldn't surprise anyone.
"My time there, the memories and all that stuff, don't get erased based on this whole ordeal," Lester told the Herald. "I'm glad with where I'm at, and I understood where Ben [Cherington] was at. At the end of the season, it's not going to change my mind about going back there if they are aggressive and competitive and do the things they say they're going to do. Boston is definitely a place I would go."
Lester also suggested money wouldn't be the prime motivating factor in his decision of where to play. And that may well be so.
"[The Red Sox] told me, "We're going to be aggressive. You're going to get blown out of the water by some of these [other] offers,'" Lester told the Herald regarding his last conversation with Red Sox owner John Henry. "I'm like, 'I don't need to be blown out of the water.' Why would I need to be blown out of the water? That doesn't make or break your decision, at least for me. I'm not going to the highest bidder. I'm going to the place that makes me and my family happy. If that's Boston, it's Boston."
Lester went on, saying, "In the greater scheme of things, we're talking about just a stupid amount of money. For me, I want to be comfortable. The way I look at it is, if someone gives you $170 million and someone gives you $150 million, is that $20 million really going to change your lifestyle? Same thing if the highest bidder is $100 million and the team you're going to feel most comfortable with offers $80 million. Is that $20 million really going to make the difference in your lifestyle? ... I want to be happy. I want my family to be happy. I want to be comfortable. If that means taking less money, it means taking less money. If it means going to the highest bidder, it means going to the highest bidder, but that's not going to dictate where I'll be happy."
Lester is a straight shooter, and it's possible Boston's the only place that could make Lester happy. But it's not likely to come down to only a $20 million difference. And if it's a $50 million gap, Lester would become maybe the first free agent ever to leave that kind of money on the table.
Maybe he does, but almost everyone around the game would be shocked if that happens.
Does the Jackson signing mean the Giants are out on Lorenzo Cain?

Acuna edged out Shohei Ohtani and Vladimir Guerrero Jr.

There's no reason to run over the cases for and against Bonds, so let's have fun instead
The coveted right-hander would certainly be a fit in Milwaukee

We rate the best mustaches from random baseball cards because, why not?

Colon wants to break a Dennis Martinez record