Lester 'thrown off' by in-season contract talks as free agency looms
Red Sox ace Jon Lester told CBSSports.com he was surprised by Boston's attempt to rekindle talks in-season. A new deal may have to wait as the pitcher wants to avoid potential distractions for his teammates.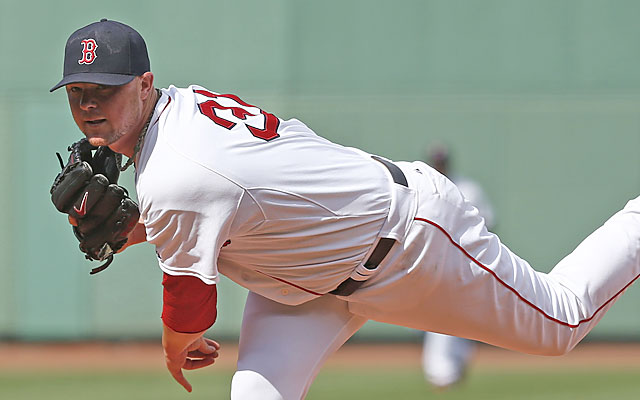 More MLB: Power Rankings | Expert Picks | Latest news & notes | Fantasy news
MINNEAPOLIS -- Red Sox ace Jon Lester put contract talks on hold when he halted the team's recent in-season effort to rekindle discussions, telling them he preferred that he and the team avoid any potential distraction for the time being.
Lester explained his decision to cut off in-season talks, telling CBSSports.com he was "thrown off" by what he saw as a turnabout by the team that he understood to prefer not to talk in season. Lester further said he never received a new number -- though people familiar with the talks suggested the Red Sox were at least prepared to bump the offer to the nine-figure range.
In any case, sources with ties to the team say they understand Lester's reasoning and intend to honor his wishes not to try to re-open talks at least for now, with the likelihood seeming to be that nothing will happen contractually at least until the season's end, when Lester can become a free agent.
"When the time is right, we can talk about it," Lester told CBSSports.com on Monday night.
Word from people familiar with the talks suggest the Red Sox were actually prepared to raise their initial suggestion of $70 million for four years to $100 million for five years, or thereabouts. But Lester said he never was given that new number, or any new number. Not that it would have mattered. He's concentrating on the games only for now.
"We never received a [new] offer," he said. "The conversation had picked up. But there never was an offer thrown out there."
It was reported in this space on July 4 that Lester told the team around that time that contract talk "isn't a priority." And while he casually mentioned in a group setting here at the All-Star Game interview session that talks could re-start "tomorrow or four months from now," it's pretty clear that months from now is the more realistic option of the two.
Some Red Sox people will admit in private moments that maybe they should have been more aggressive earlier in talks. Perhaps some of them took his vow to take a hometown discount too much to heart.
But just because this hasn't gone as expected, or anything like what was expected, after he and the team spoke so glowingly of each other in spring (and Lester first suggested he was open to signing for a hometown discount) that doesn't mean he's likely to leave. In fact, one person close to the situation still said he would be "shocked" if they didn't work it out, even if that means after Lester became a free agent.
"This is where I want to stay," Lester had said earlier regarding Boston.
Lester also didn't absolutely rule out discussing the contract in season, but his stated reasoning seems to suggest there's very little chance he will reconsider. It's rare for such a top player to re-sign with his incumbent team with less than three months to go before free agency anyways, as the riches, or at least the promise of them, are just around the corner.
But Lester gave another reason for ceasing talks as the team was trying to rekindle them. In pitching terms, he simply saw the new dialogue as a changeup he wasn't prepared to confront.
"Since Day One I was told [not negotiating in season] was the policy," Lester told CBSSports.com. "The way I think is pretty black and white. They tell me one thing, and we're hell-bent on that [so to change gears] throws me off."
Earlier, Lester had explained that he understood from the team that Opening Day was going to mark the end of the contract talks.
Lester's delay is only the latest twist in negotiations that have gone nothing like expected. However, as he sees it, his decision to stop contract talks may benefit the team that hasn't given up. As Lester had put it earlier, "I don't want this to be a distraction to the team … I don't want Jackie Bradley Jr. answering questions about my contract. That's the last thing we need right now."
Lester also said, "I'm worried about my team. I'm worried about my guys."
And when he said that, you believe him.
But realistically, his decision to halt talks may also benefit him as outside execs and agents unrelated to this case foresaw a much bigger payday for Lester. So even if his reasoning is to protect his teammates and his team (and there's no reason to doubt him), the reality is that the price just keeps rising. He's having perhaps his best season, with a 9-7 record, 2.65 ERA and 134 strikeouts against only 29 walks in 129 innings.
His price is moving so swiftly that eight execs and agents (four apiece), none involved in this case, suggested he'd get between $125 million and $189 million as a free agent. A few of the guessers mentioned the $144 million Cole Hamels deal and the $147 million Zack Greinke deal, but the biggest predictions were for seven years, with one coming in at $175 million and another $189 million. In other words, $25 million and $27 million annually.
Considering how prices are going for elite pitchers, those picks hardly seem preposterous.
Lester never has seemed about the money, anyway. He has been pitching on an under-market contract his whole career, and those prognostications didn't seem to move him.
"It goes back to the future questions. I don't know, that's great. It is what it is. They're predictions," Lester said. "If that's the way it is, that's cool. That's awesome."
Lester not once has seemed fixated on the money, certainly not while suggesting he was open to that hometown discount, and certainly not now, when he's cut off talks.
"Hopefully, we can figure it out and get it done," Lester said.
You believe him when he says that. It just isn't likely happening today or tomorrow, or any time before the end of the season.
Walker was a tremendous all-around player, but Coors Field undoubtedly inflated his career...

A beardless Wilson says that he tried to outrun the police on the second day he had his driver's...

The Diamondbacks outfielder was not impaired, he was just going way too fast
MLB can unilaterally implement rule changes, which will also include limits on mound visit...

If the MLBPA wants to repair MLB's salary structure, it should push for more money for young...

Fans aren't happy Gerrit Cole and Andrew McCutchen have been traded away