Let us appreciate this 1909 report on William Bedford's death
On this day in 1909, William Bedford of the Cuban Giants met a fairly incredible demise.
I suppose my "favorite" baseball death that happened long enough ago for us to make light of is Ed Delahanty's getting drunk and walking into Niagara Falls (he was found wearing only socks, shoes and a tie!). High on the list, though, is the earthly demise of Cuban Giants second baseman William Bedford, who on Aug. 26, 1909 ... well, let's let this hasty dispatch in the Sporting Life provide the essential details: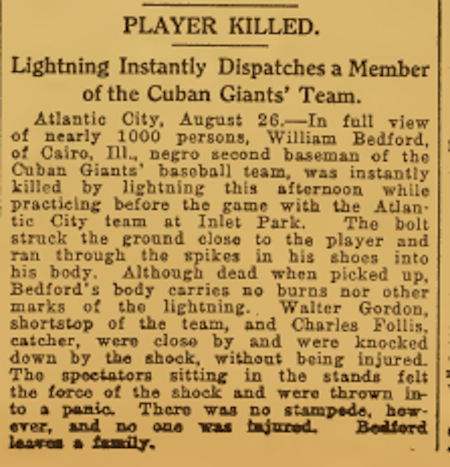 (Image: Agate Type)
If you're going to take leave of this mortal coil too soon, then you might as well go out like a myth. 
(Wink of CBS eye: BR Bullpen)
Neither Josh Donaldson nor Brian Dozier have talked about a new contract extension

Francisco leads the Dominican Winter League with seven home runs

Thome deserves enshrinement and here's why the case against him does not hold up
The Twins have already fortified the bullpen with Addison Reed, and now they want to address...

The Orioles likely want pitching, and the Indians have plenty of it

Halladay died in a November plane crash off the coast of Florida