Leyland on announcing retirement: 'I feel so good'
Jim Leyland was thrilled with his first day of retirement, and touched by the kind words he heard from so many after his Monday morning announcement.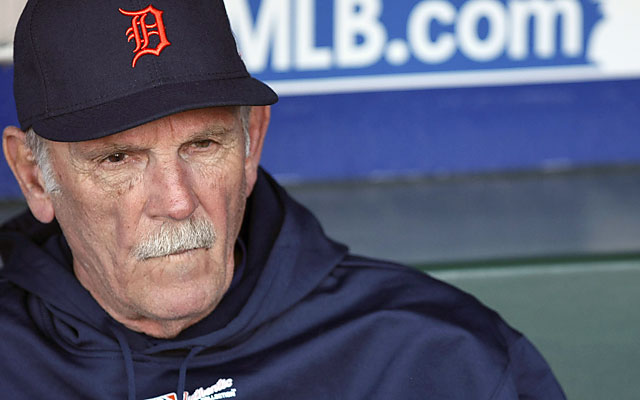 BOSTON -- Jim Leyland caught himself.
"As a manager," he said. "I mean, as a former manager ... "
He said it with absolutely no regret. In fact, when I spoke to Leyland late Monday afternoon, he sounded as relaxed, at ease and satisfied as I've ever heard him.
"I feel so good," he said. "Absolutely no second thoughts."
Leyland was genuinely touched by the reaction to his Monday morning announcement that he is retiring as Tigers manager. He appreciated the turnout at his press conference, and the kind words from reporters who told him that he had made our job easy over all his years with the Pirates, Marlins, Rockies and Tigers.
He heard from Angels manager Mike Scioscia, too. He also heard from commissioner Bud Selig.
"The commissioner called me," he said. "I couldn't believe it."
That's Leyland. He retires with 1,769 career wins, more than any other active manager and 15th on the all-time list.
And he's still surprised and touched to hear from the commissioner.
Nine of the 14 men ahead of Leyland on that all-time wins list are in the Hall of Fame, and three of the other five (Tony La Russa, Bobby Cox and Joe Torre) should be after this winter.
Nine managers with fewer wins than Leyland made it to the Hall of Fame, too.
Leyland may not get to the Hall of Fame himself, but right to the end his peers considered him to be one of the best. Many were no doubt surprised to see him go.
They'll be happy to know that Leyland made the decision himself, that he wasn't forced out.
They'll be even more pleased to hear that more than a month after making the decision and a few hours after announcing it, Leyland sounded as happy as he could be.
Dodgers manager Dave Roberts on Sunday announced his World Series rotation for the first four...

How should the Astros play it when one of their two aces isn't on the mound against the Do...

The former big-league infielder also worked as GM of the Puerto Rico national team
The Indians pitching coach would be getting his first MLB managerial job

In the last several years, lots of droughts have ended in MLB

The most likely scenarios are Dodgers winning in five or six games