Leyland warns writers to 'get off the closer kick' after Rondon's outing
Tigers manager Jim Leyland suggests he's tired of answering questions about the team's closer situation after talented rookie Bruce Rondon threw a wild but scoreless inning. So far, Rondon has failed to answer the closer question himself.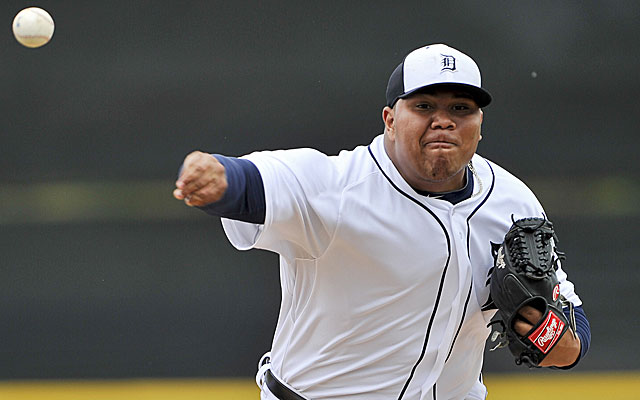 JUPITER, Fla. -- Tigers manager Jim Leyland finally has had it with all the closer questions. So he tried to close out the subject -- at least for a day or two.
"You guys need to get off the closer kick,'' a serious-sounding Leyland said to a small group of Tigers writers and a couple from the national media.
After hyped and hard-throwing but wild rookie reliever Bruce Rondon threw an occasionally wild but scoreless inning against the Cardinals on Saturday, Leyland said, "I have no idea'' when asked whether Rondon is ready to close for the Tigers, a team that looks ready to contend for a championship again.
"I'm not being a smart-ass with you. I have no idea,'' Leyland said. "Every day, that subject comes up. I don't have an answer for you. The answer is the same as it was a week ago or two weeks ago.''
Leyland added, "Somebody will close games ... When I'm convinced we have [a closer], we will have our closer.''
Whether that'll be the 22-year-old Rondon seems very much up in the air. He got through a scoreless fifth inning in a 3-0 Tigers victory over the Cardinals. But he alternated between hard to hit and off the mark, as he has been characteristic of him this spring. At one point, he threw seven straight balls, all fastballs.
It's still a major improvement over earlier this spring, when there were as many walks as strikeouts. Leyland declared, at one point, "He's been better.''
However, following Leyland's assertion that Rondon, a large young man who's listed at 6-foot-3 and 275 pounds, is improving, Leyland started to question whether he only seems better because he got three outs on Saturday, or whether he genuinely is improving. While Rondon got three swinging strikeouts, he also walked backup catcher Tony Cruz on four straight 90-plus-mph offerings.
Tigers pitching coach Jeff Jones came out after the sixth straight ball, and Rondon soon righted himself to whiff Ronny Cedeno. Jones told him he was moving his body too fast and "needed to calm down,'' Rondon said.
"I made an adjustment,'' Rondon said.
"He did all right,'' Leyland said. "He got in a little in a hurry. He panicked a little bit, but then he settled down. He did fine. He gathered himself; he caught himself.''
But there's still a long way from doing "fine'' in a spring inning and becoming the closer of a team that's seen by many as the favorite in the American League. There was some skepticism early about the closing idea since Rondon has only eight games of experience at the Triple-A level, and almost no one starts their major-league career as a closer (not even Mariano Rivera or Craig Kimbrel did). While he has overwhelming gas, he also has a history of occasional wildness.
Rondon twice hit 100 mph on the scoreboard here, and he knew it instantly from the crowd response. The young man, who seems to smile often, revealed 104 is his personal high, which is as high as anyone has thrown. Control is really the issue with him, however.
One National League scout said, "He has the stuff for the eighth or ninth inning but not the command. With that effort, he looks he's trying to throw as hard as he can."
He started very wild this spring, but he has now thrown two straight scoreless innings. He might still have a chance to be the closer, but Tigers people certainly aren't saying anything to suggest they're sure he'll be the guy.
"We're just going along. We're playing the games,'' Tigers general manager Dave Dombrowski said cryptically. Dombrowski added that "he's been throwing pretty good,'' but dodged a question about whether he has the team made, saying, "Nobody has the team made ... unless they have a guaranteed contract.''
The Tigers have several veterans who could be candidates to close games, including Octavio Dotel, Joaquin Benoit, Phil Coke and Al Albuquerque. Danny Knobler of CBSSports.com reported they've looked around a bit for a closer, too. But it isn't easy acquiring a closer through trade at this time of year, or anytime really.
Rondon, for his part, was generally pleased with his outing against the Cardinals. "Despite the walk, I did well,'' he said.
He's making adjustments, and gaining confidence. He did the interview in Spanish. But when someone asked whether he was ready to close for the Tigers, he gave a one-word answer in English. "Yep," he said, smiling.
Rondon conceded it isn't up to fans, who are assuming he is the closer, but rather management. And so far, they aren't saying.
"When we have an answer for you,'' Leyland said, "you guys will be the first to know.''
Until then, Leyland strongly advised, try to hold the closer questions.
This would undoubtedly be the worst trade in Miami Marlins history

The Pirates recently shipped Gerrit Cole and Andrew McCutchen to Houston and San Francisco,...

Surely, Martinez and his agent are holding out for more
The reliever had a very good 2017 season with the NL Central champs

We don't need to discuss Chipper's Hall of Fame case, so let's have fun instead

Dioner Navarro still hopes to return someday