Light-hitting Yankees thrive on playing from ahead
Thanks to a pitching staff that ranks fourth in the American League with a 3.66 ERA, the Yankees have been very good this season at protecting leads. Tough thing is, without Derek Jeter, Curtis Granderson, Alex Rodriguez and Co., grabbing those leads. ...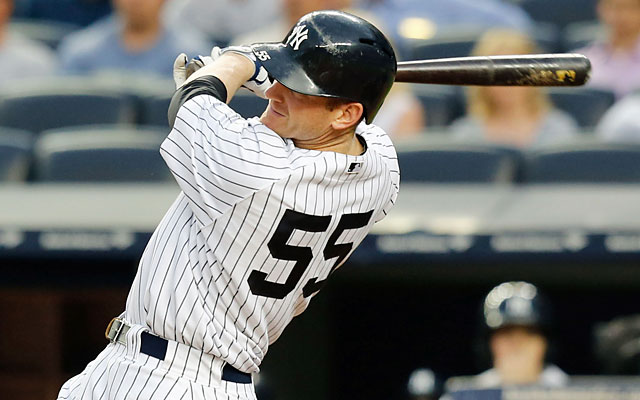 OAKLAND – Give the Yankees a lead, and they sink their jaws into it like a Doberman on a mailman's leg.
The issue for the Yankees these days is obtaining that lead.
In a season in which most baseball folks agree they have overachieved, the banged-up Yankees are doing surprisingly well with a lineup of recycled fill-ins. Lyle Overbay? Travis Hafner? Vernon Wells? As the running joke goes, sure you'd expect this lineup to win. In 2002.
But each night becomes a tenuous situation, and when their starting pitcher is wobbly, as CC Sabathia was here Tuesday night, the whole thing can come crashing down. Sabathia was dinged for six runs in six innings, hung a first-pitch curve that light-hitting Derek Norris ripped for a three-run homer in the fourth, and even four runs over the final two innings couldn't deliver victory for the Yanks.
When the Yankees score first this season, they are 27-4. That is the best record in the majors.
But without their usual power, playing catch-up becomes a dicey proposition.
They have been held to four or fewer runs in 16 of their past 20 games. When they scored four or fewer in nine consecutive games a couple of weeks ago, it was their longest such stretch since 2005.
Overall, their 44 games of scoring four or fewer runs rank tied for fifth-most in the majors.
Mark Teixeira (.195) is still looking for his stroke after missing the first 53 games with a right wrist injury. Robinson Cano was in a 4 for 33 skid before opening the series here with two hits Tuesday. Kevin Youkilis is in and out of the lineup with a brittle back and, really, he's not Kevin Youkilis anymore. Not that Youkilis, at least.
As manager Joe Girardi said a couple of days ago during one brutally honest moment as the Yankees were leaving Seattle, "Well, I mean that's what we are right now. Maybe we're a little different club than we have been in the past.
"But we've pitched really well and we've found ways to win. Sometimes it's not how many hits you get. It's when you get those hits."
Where they once annihilated opponents with the thunder of an explosive bank job, these Yankees must rely on the wits and precision timing of a cat burglar.
With Derek Jeter, Alex Rodriguez, Curtis Granderson and a totally healthy Teixeira, Tuesday's 5-0 4th inning deficit would have been a minor obstacle.
For these Yankees, it is a colossal challenge.
"I expect our guys to put up good at-bats and grind," Girardi said.
You will not find that statement listed alongside other famous declarations in Yankees history. Not exactly "I want to thank the good Lord for making me a Yankee" (Joe DiMaggio) or "The Yankees don't pay me to win every day, just two out of three" (Casey Stengel).
But what else is Girardi – who is managing brilliantly this year, by the way – supposed to do?
Last year, the Yankees ranked first in the AL in on-base percentage, slugging percentage and home runs, and they ranked second in runs scored.
This year, they are 12th in on-base percentage, 10th in slugging percentage and runs scored and eighth in home runs.
Teixeira now has been back for 11 games (into Wednesday), and he's got three homers and 11 RBI to go with that .195 batting average.
His assessment so far?
"Bad series, good series, bad series," he says of Boston, Cleveland and Seattle.
"I'm definitely not where I want to be," Teixeira continues. "I knew it would take a few weeks."
Though he is back and playing daily, evidence remains of his lost April and May. Following Tuesday's loss, there he was, eating with the other Yankees at tables in the middle of the clubhouse … his right wrist encased in a giant ice pack.
Not having been through a comparable situation in his career, Teixeira, 33, is not sure when he should expect his game to return to "normal" – such as that is for the Yankees in 2013.
"Who knows?" he says. "Hopefully, it's not going to be too much longer.
"The positive thing is, the team is winning. I know my wrist is getting better."
Cano was thrilled to get Teixeira back because the thinking was that, with the slugger behind him, Cano now will start seeing better pitches.
Girardi on most nights has moved Cano into the second slot in the batting order, behind Brett Gardner, with Teixeira hitting third.
Last season, Cano hit fourth more often than not (81 games). He also hit third (57 games) and fifth (21 games). He did not hit second at all.
The manager's reasoning for placing Cano second now is simple.
Strategically, Girardi wants a balanced lineup, and that means inserting a righty between the lefties Cano and Travis Hafner.
And, it's a numbers game.
"You're trying to get your best hitter the most at-bats, and we don't want to lead him off," Girardi says. "For us, we're missing some guys. Our lineup is a little bit different."
Or, a lot different.
Two of their top hitters right now are Gardner (.286, hits in 15 of his past 17 games), who has been especially hot, and catcher Chris Stewart (.284).
Wrist injuries are dicey, so there is no telling when – or, really, if – Teixeira will start looking like the old Teixeira again. The Yankees would like to think that he soon will change their lineup dramatically.
"He changes everything," Cano says. "He's a switch-hitter, he's one of the best first basemen in the league.
"It's good to see him back. We know what he means to this team. We know what he can do with one swing, one play."
The Yankees are holding on firmly to second place in the AL East, just two games behind Boston heading into Wednesday night. It's been a maximum-effort season so far just for them to hold their position.
A little easier on nights when they can grab that early lead and then watch their starter and bullpen (Mariano Rivera is tied for the major-league lead with 23 saves) back it up.
As with that pattern, Teixeira thinks it is all timing with his swing, too.
"Coming back, mechanically I probably have developed a few bad habits," he says. "I'm working through it. I'm not protecting my wrist too much."
In this sorest of Yankees seasons, he takes that as a very good sign. As Girardi does with Teixeira's patience at the plate.
"He's been very good with RBIs," the manager says. "When you're patient, that means you're seeing the ball well.
"And if you're seeing the ball well, that usually leads to getting hits."
Plus the Cubs can clinch the NL Central title. Keep it locked right here for the latest from...

The club is expected to part ways with Collins after the season

Here is a preview of what's on the line Tuesday
Jerry Dipoto will have his hands full

Otani is said to be coming over this offseason, though nothing has been made official yet

What do the Mets need to do to get back to the postseason next year? Well, a lot