Like it or not, Marlins' Giancarlo Stanton isn't going to be traded
Stanton, upset over the blockbuster trade that's been described as a fire sale, might not be thrilled by the news that the Marlins have rebuffed trade inquiries.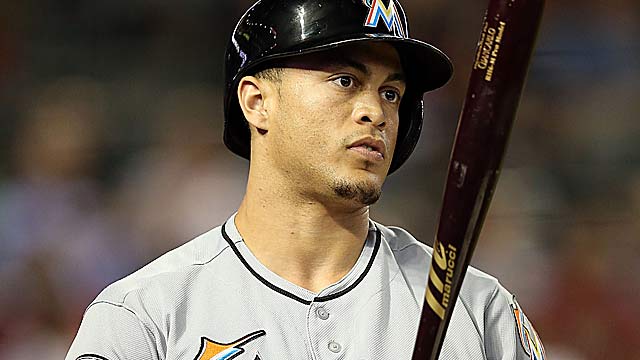 Giancarlo Stanton, unhappy about the recent 12-player trade, will get protection instead of being shopping.
(Getty Images)
MIAMI -- The Marlins are not entertaining trades for power-hitting star Giancarlo Stanton, whether he likes it or not.
In fact, just the opposite. Marlins president of baseball operations Larry Beinfest said by phone, "We'd love to add some power."
The Marlins' No. 1 priority now appears to be to find a hitter to protect Stanton in their re-done lineup, whether that new soothes Stanton or not. Right now, the just-acquired Yunel Escobar looks like their starting third baseman and No. 5 hitter, the man who will hit right behind Stanton. And the longtime shortstop Escobar seems more out of place in the lineup than he does at third.
"We went someone to hit behind him, someone to offer more power," Beinfest said. "Giancarlo represents the power on our team."
Beinfest wouldn't address whether Stanton might be traded, but other people with Marlins connections say he absolutely will be a Marlin in 2013. And executives from other teams who have inquired agree they see zero evidence Stanton might be moved.
The Yankees, Orioles, Phillies, Red Sox and Cubs are among teams inquiring about Stanton, according to Nick Cafardo of the Boston Globe. Stanton, who is 23 and hit 37 homers last season, only made $480,000 in 2012 and is due for only a token raise as he isn't yet eligible for arbitration, so there's no financial incentive to trade him. Besides, the Marlins already offloaded $166 million in their blockbuster deal with Toronto that's been characterized as a fire sale.
Of course, Stanton might not be thrilled by this news considering his reaction to the startling 12-player trade that sent stars Jose Reyes, Mark Buehrle and Josh Johnson to Toronto for a mix of mostly prospects and very young players. Stanton tweeted at the time, "Alright, I'm pissed off!!! Plan & Simple," the night of the blockbuster that changed the Marlins' direction.
Beinfest said that while new manager Mike Redmond checked in earlier with Stanton, they are waiting to talk to their marquee star. "We're going to let the dust settle," Beinfest said.
The GM realizes it may take quite a bit of time for things to settle. He suggested he hoped Stanton would feel better once he saw the talent on the field in spring training. So that's plenty of settling.
While south Floridians were furious over the trade, baseball people liked some of the young talent that went back to the Marlins in the deal, especially left-hander Justin Nicolino, outfielder Jake Marisnick and shortstop Adeiny Hechavarria.
Beinfest makes no promises about immediate results. "We're going to have to wait for our farm system," he said. "It's a lot different than it was two weeks ago."
They may have to wait for a better response in Miami, too, as an initial Miami Herald poll suggested club owner Jeffrey Loria is only slightly more popular than reviled Cuban dictator Fidel Castro, the fellow fired Marlins manager Ozzie Guillen praised in one of the early lowlights of a difficult season.
"It's been a real whirlwind year," Beinfest said, finding the right euphemism.
He doesn't sugarcoat things, though. "It's not going to be easy," he said. "We're not going to put any expectations on it ... the reality is, we haven't played good for a couple years."
He does have hope, though. Beinfest pointed to several young players he liked, including catcher Rob Brantly and several of their young pitchers (Henderson Alvarez, Nate Eovaldi and Jacob Turner) as their best hope for the future. Reality is, the Marlins have done better when they haven't bought expensive players but rather pared down to barebones. "We've done this before," he said. "It worked out for us, and hopefully it will again."
Judging by the negative response down here, it'd had better.
"It's been tough in the marketplace. It's been tough on Jeffrey," Beinfest said.
And the Marlins aren't about to make it even tougher by trading their one remaining marquee player.
CBS Sports HQ Daily Newsletter
Get the best highlights and stories - yeah, just the good stuff handpicked by our team to start your day.
Please check the opt-in box to acknowledge that you would like to subscribe.
Thanks for signing up!
Keep an eye on your inbox for the latest sports news.
Sorry!
There was an error processing your subscription.
Cody and Clay Bellinger have played six MLB seasons combined and gone to the World Series all...

The Red Sox are the early favorites among the bookmakers

The Dodgers are headed to the World Series again
Bellinger also had the walk-off hit in Game 4

The Dodgers are going to the World Series for the second straight season

The NLCS starts Oct. 12 in Milwaukee