Like the Upton brothers, the Braves could be great
The Braves committed themselves to the Uptons this winter, first signing B.J. as a free agent and now trading for his younger brother, Justin. The Uptons have huge talent, but some complain that they haven't lived up to it. Now the Braves have huge talent. Will they live up to it?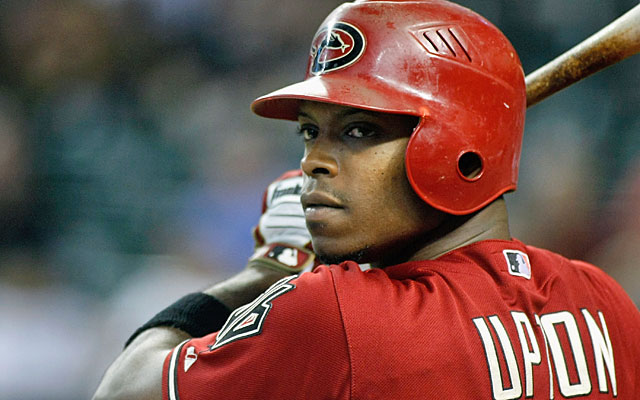 Justin Upton, an MVP contender two years ago for Arizona, heads east to be with his brother in Atlanta. (Getty Images)
The Upton brothers have always been fascinating, because of what they could be.
And now that's the Braves.
There's always debate about the Uptons, because we see the talent and we always want more.
Is that now the Braves?
The Braves faced a big challenge this winter. Chipper Jones' retirement and Michael Bourn's free agency took away what had been a good part of their 2012 offense. The Braves answered that challenge with Uptons.
Two of them.
They struck early to sign B.J. as a free agent. They stayed patient and eventually landed Justin in Thursday's big trade with the Diamondbacks.
They'll put the two of them in with Jason Heyward in an outfield that's probably baseball's most talented. They'll put them in with Heyward, Freddie Freeman and Brian McCann in a middle of the order that's now much more imposing.
"We got a lot better," was the way that one very satisfied Braves person put it on Thursday morning.
If it all works, there's no doubt that they did. If it all works, the Braves could well be as good as any team in baseball.
If not, they'll be what the Upton brothers have been: Good, sometimes very good, but too often leaving us hoping for more.
"There's no question about their ability," one rival scout said. "The real question is whether they're going to play every game like it's their last one."
Fair or not, that's the question that baseball people have long asked about B.J. Upton. Fair or not, it's the question that some have also asked about Justin.
Some of it is perception. Some of it comes from getting to the big leagues at 19 (which both Uptons did) and from showing up big at that early age.
B.J. was a postseason star with the Rays in 2008, at age 23. Justin was fourth in National League MVP voting in 2011, when he was 23.
We told ourselves they were going to be great. When they didn't immediately live up to our expectations, we told them it was their fault.
B.J. Upton is still only 28. Justin is 25. And Heyward is only 23.
If the Braves are right, they've just put together an outfield that could allow them to compete with the ultra-talented (and also young) Nationals in the National League East for years to come.
And they might very well be right.
The Uptons, who have always dreamed of playing together, will now get that chance. They get the chance fairly close to home (they're from Chesapeake, Va.) and with an organization looking for its next set of faces.
They didn't come cheap. At $75.25 million over five years, B.J. got the biggest free-agent contract that the Braves have ever handed out. Justin cost the Braves Martin Prado, Randall Delgado and three minor leaguers (the Braves also got third baseman Chris Johnson in the deal).
Prado is good, and the Diamondbacks say they now intend to sign him long-term. Delgado has talent. And if we've learned anything about deals including prospects, it's that we never assess them very well on the day of the deal.
But on a winter market in which top hitters haven't been easy to find (ask the Mariners or the Phillies), the Braves landed two who have big-time talent (and just happen to come from the same family).

"I want to be great," Justin said almost three years ago, when he signed the six-year, $51.25 million contract with the Diamondbacks.
His brother admits he's not the type to say those words, but others have said it for him.

The Uptons could be great. Both of them could be.
And now we can say the same about the Braves.

They could be great, too.
Will J.D. Martinez be Boston's next target?

Could catcher J.T. Realmuto be the next Miami player to be traded?

If the slow-play for Martinez, Hosmer and Arrieta sounds familiar, it should
The Nats will host the All-Star Game in 2018

The Orioles are looking to trade Machado heading into his walk year

The Cardinals have been linked for a while to the Baltimore star