Lincecum encouraged despite bad outing on Tuesday
Giants right-hander Tim Lincecum was encouraged by his outing on Tuesday despite allowing three runs in 1 1/3 innings.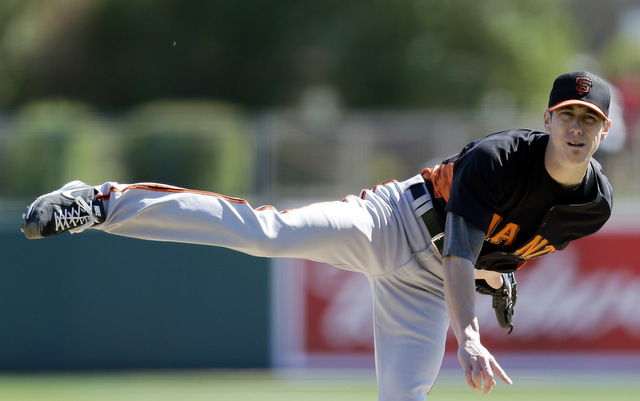 It's kind of astonishing to look back at how poorly Tim Lincecum pitched during the 2012 regular season. The two-time NL Cy Young Award winner led the league in earned runs allowed and pitched to a 5.18 ERA in 186 innings across 33 starts. He pitched so poorly that despite managing a 120 ERA+ from 2010-11, he now owns a 98 ERA+ from 2010-12.
The 28-year-old Lincecum made his first start of the Cactus League season on Tuesday, and the Dodgers put a hurting on him: three runs on four hits in just 1 1/3 innings. He went to a full count on half of the eight batters he faced, striking out one and walking zero. Despite the poor performance, Lincecum told Andrew Baggarly of CSNBayArea.com he feels good about his outing:
"It's a good sign," said Lincecum, "when you feel the ball's coming out of your hand better than the year before."

(snip)

"There wasn't that question if my body would be ready or if my mechanics would be working," Lincecum said. "All that other stuff was a non-issue. The timing of my arm felt really good. I missed a few pitches high, but I meant to.

"I didn't feel I was getting out of whack."

(snip)

"Last spring it was trying to make something out of nothing," Lincecum said. "I didn't have the strength or the mechanics to sustain anything. Now the question isn't whether I'm going to throw strikes. It's where I'm going to throw strikes."
Baggarly said the right-hander was sitting 92-93 mph with his fastball in the first inning and 89-92 in the second.
The Giants will pay Lincecum $22 million this season, after which he will become a free agent. He pitched to a 2.74 ERA in 217 innings as recently as 2011, good enough for a sixth-place finish in the Cy Young voting. If he truly feels better this spring than he did a year ago and is able to carry it over into the season, he should be in line for a huge free-agent contract.
There are always going to be questions about Lincecum's durability because of his size and unconventional delivery, questions that became a little more serious in 2012. A strong summer would go a long way towards proving his ability to hold up despite having over 1,200 innings on his arm already.
For more baseball news, rumors and analysis, follow @EyeOnBaseball on Twitter, subscribe to the RSS feed and "like" us on Facebook. Also, individually interact with us on Twitter: @MattSnyder27, @daynperry and @mikeaxisa.

Hammerin' Hank wants to see Kaepernick get another shot in the NFL

Will Tanaka or Upton try their luck in free agency again in the offseason?

Pujols smacked his 610th career home run Tuesday night
Who will be the wild cards? Who will be most healthy? Who will be hot? This could be fun.

The story of a game that had 22 innings, one run, one mascot ejection and so much more

Plus Adrian Gonzalez and J.D. Martinez reach milestones and everything else from Tuesday b...