Lincecum tries shots to pitch past hip labrum issue; surgery an option
Fraying of his hip labrums may explain Lincecum's dropoff in performance and velocity recent years. He will try shots and rehab in an effort to pitch with the condition but may need surgery at some point.
San Francisco Giants two-time Cy Young winner Tim Lincecum was diagnosed with some fraying in the labrum of both hips -- a possible explanation for his drastic decline in velocity, and perhaps the slip in his performance, as well -- and is trying to rest and rehab after receiving cortisone shots in the hips in a final attempt to get back on the mound this year, according to people familiar with the situation.
However, if rest and rehab don't solve the issue, Lincecum's hips, which have been affecting him for a couple years, may have to be surgically repaired. Several baseball players have been similarly afflicted in recent years, including Rockies star Troy Tulowitzki, Yankees slugger Alex Rodriguez and Reds catcher Devin Mesoraco, and if that's the case he'd be expected to resume his career only after a four-to-five month rehab stint, which could mean he's thrown hthe last pitch of his storied Giants career.
While hip issues can be serious, this diagnosis provides a very likely reason for Lincecum's stark loss of velocity in recent years, and especially this season, when the speed on his fastballs dipped from the low 90s in spring training to the mid-to-upper 80s in his most recent starts, before he went on the disabled list after being struck on the arm with a line drive.
People close to the situation say Lincecum's arm is fine, which provides hope he could return to form once the hip issue is resolved. Lincecum will likely need the surgery at some point in his life, but he was told he could try the rest/rehab route first.
A hint of Linceum's condition was big news in San Francisco as some wonder about his chances to throw again for the Giants after his brilliant start to his career, which includes two no-hitters and three World Series rings in addition to the Cy Young awards. He was 7-4 with a 4.13 ERA this year and showing some improvement and the ability to pitch sucessfully with some reduced velocity before his latest couple of outings. He had to leave his last outing, on June 27, when he was struck in the right forearm/elbow area by a line drive off the bat of D.J. LeMahieu.
Lincecum, 31, is in the second year of his two-year, $35-million Giants deal, so if he requires surgery he may have thrown his last pitch in that uniform.
Giants manager Bruce Bochy, in the first suggestion something was amiss with Lincecum's hips, told the Giants media Monday that Lincecum had a degenerative condition but suggested he would try throwing in five days or so.
"There's some stuff going on there," Bochy told the writers. "He did see some degenerative things, which is normal with athletes." Lincecum declined further comment.
Sources close to the situation didn't suggest a timetable for returning to throw for Lincecum, who has been experiencing some hip issues for a couple years now. Those problems became more pronounced this year, when he would occasionally slip off the mound.
Lincecum's wondrous and complex motion, which has been credited for allowing him to gain the torque to throw in the upper 90s despite a slight frame and earned the nickname Freak, surely loses steam with hip issues, which can affect the push off and range of motion.
Lincecum has had his hips checked by the team doctor first, with noted doctor David Byrd examining him most recently and providing the most detailed account. Byrd has performed hip surgeries on many athletes, including Jason Isinghausen, who was able to regain his velocity and career after having the operation.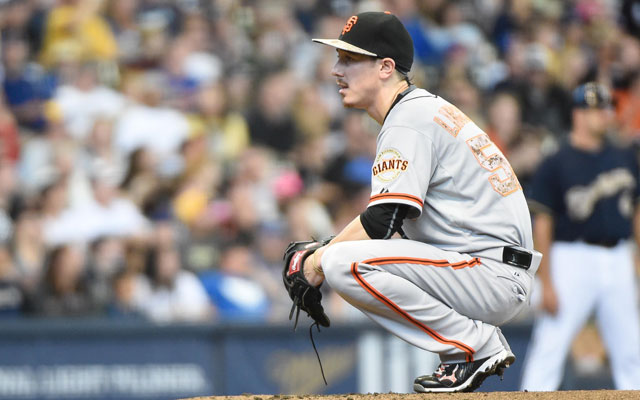 The Grapefruit League and Cactus League seasons started on Friday

Data will be collected and then used to determine whether humidors are necessary in 2019

Spring training play began on Friday, and the Stoneman Douglas tragedy was on the mind of MLB...
Baseball players forced to take pictures usually lead to fun for all of us

One of the most celebrated programs in baseball is looking to continue its run

A closer look at the teams in the Cactus League and Grapefruit League