Lincecum's $35M deal isn't a record, but it is for a 4.76 ERA over 2 years
Tim Lincecum signs back with the Giants for $35M over two years.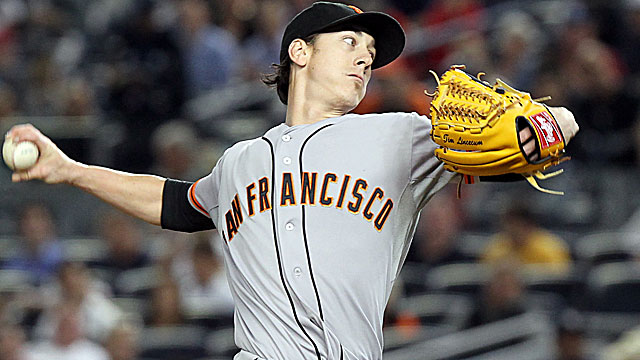 Two-time Cy Young winner Tim Lincecum signed a two-year deal with the Giants for $35 million, giving the recent two-time World Series winning team a head start on its winter.
Nobody has done more than the Giants, who managed to lock up their two prime free agents, Lincecum and outfielder Hunter Pence, who signed for $90 million over five years.
The Giants love Lincecum, a two-time Cy Young winner, and showed how much they wanted to keep him with this contract to pay him an average of $17.5 million a year, first reported by CBSSports.com.
While the Giants are thrilled to get a nice start on their winter, this has to be a record price for a pitcher who has a 4.76 ERA over his last two seasons. Lincecum, 29, also receives a full no-trade clause in the deal, negotiated by Rick Thurman of Beverly Hills Sports Council, Lincecum's longtime agent. Thurman is also the longtime agent for Pence.
While his hometown Mariners and other West Coast teams that interested Lincecum might have made a run at him, his gamble would have been that he could repeat such an offer when most interested teams would have had to give up a first-round draft choice since the Giants planned to make him the $14.1 million qualifying offer.
By staying, Lincecum remained where he is comfortable.
He also preferred a short-term deal since he believes he can recapture his previous form, as evidenced by his improvement from 2012 to last year and also some superb individual performances, including a no-hitter. Overall, he was 10-14 with a 4.37 ERA last year, a stark improvement over 2012.
Lincecum's counter offers to the Giants are believed to have been short-term deals also, for one and two years only.
The process for determining home-field advantage in the World Series is different in 2017

The Yankees will have to close out the series on the road

Let's update each team's chances of winning the World Series
Puig has a healthy relationship with his club of choice and gave the quote of the night

The Dodgers are back in the World Series thanks to a smartly built roster, analytics and m...

Seager missed the NLCS with a back injury