Local hero Gio, from nearby Hialeah, lives his dream with gem for USA
Gio Gonzalez dominated Puerto Rico in a 7-1 USA victory, pitching Team USA within one victory of the WBC finals in San Francisco.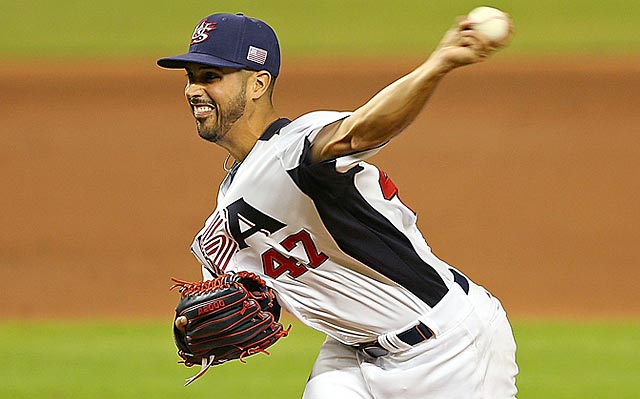 MIAMI -- Gio Gonzalez grew up five miles north of here, in the baseball-loving enclave of Hialeah that was known first for being the hometown of Bucky Dent, so it's nice Gio got to live his dream here by pitching Team USA to a victory that sets up a World Baseball Classic showdown Thursday with the Dominican Republic. Though if it's a dream, as Gio implored us all day before, please don't pinch him.
The lefty Gonzalez is a quirky emotional sort who was traded far too often early in his big-league career considering his considerable talents before settling in as a star with the Washington Nationals last year. He finished third in the Cy Young voting and earning an invite to the WBC, blew through five scoreless innings in a 7-1 victory against Puerto Rico. The Puerto Rican team featured a strong lineup but posed nary a threat to Gio, the hometown boy with the winning script.
Gonzalez's most dramatic moment actually came in the previous day press conference, when he talked about being a "small-town kid from Hialeah," and how he was living his dream here. The story is a touching one, indeed, and it's great to see stars thrilled to represent the United States when a good portion of baseball-loving fans in this country are taking a blasé attitude to the WBC. But for the record Hialeah is a city of over 200,000, one of the densest suburbs in the country, and it's adjacent to Miami.
So technically, he's not really from anywhere bordering on the boondocks.
The local angle works, though, as Gonzalez is a Miamian through and through. It's obviously understandable why he relished the opportunity before family and friends. He surely grew up dreaming of starring for the hometown Marlins. But this is even better. It's a national stage, he has an All-Star team behind him and he doesn't have to worry about a fire sale coming.
The reality matched the dream he expected.
"It's still a dream, just to play for these guys and represent Team USA and be here in Miami, and like I said [as] a small town kid from Hialeah, Florida. It's truly a blessing," Gio told the writers after his five neat and scoreless innings. "You couldn't have scripted this any better."
Part of Gonzalez's dream was playing for Joe Torre, the manager of the best team of Gonzalez's youth, and Torre had the dramatic flair to save him for his hometown (either that, or his schedule dictated he pitch Tuesday, which is how so many of the Team USA "decisions'' are made). Anyway, it makes for a nice Miami story, just as Plantation (Fla.) High grad Eric Hosmer and University of Miami product Ryan Braun do, too.
Gonzalez is clearly having fun. He even implored Torre to smile in the dugout a couple times. Torre, asked how many pitchers have ordered him to smile during games, said, "Not too many. What I usually say is, I am smiling. The way these guys are playing, I may smile a bit more.''
Gonzalez is smiling now after a rough start to his spring. It has been quite a whirlwind couple months for Gonzalez, who started spring by facing the Biogenesis report more head-on than anyone. He talked about being linked to the infamous Coral Gables clinic in the Miami New Times report right off the bat, denying he used PEDs, then volunteering that he had taken and passed his drug test. Gio's father said it was he who went to the seedy closed-down clinic for diet drugs, and as of now, there's no evidence on Gio -- just a notebook from someone unknown that has the names of PEDs written down next to Gio's name and some other major leaguers, according to the New Times.
MLB is investigating the whole Miami scene while Gio represents the country here in Miami. If he's sweating it out, it isn't showing.
He has stopped talking about the clinic, and he's obviously concentrating well on his craft. Another plus: He also didn't display any of the nerves Nationals people saw from him in the playoffs last year, running through Puerto Rico's lineup with the only blemishes being singles by Angel Pagan and Eddie Rosario and a double off the base of the left-centerfield wall by Carlos Beltran.
Gio, candidly, acknowledged those nerves in the playoffs. "I was overwhelmed by all the noise," he admitted here.
This time, the nerves flared only briefly. And he won the battle, as he pitched Team USA within one victory of reaching the finals in San Francisco. Greg Maddux, the Team USA pitching coach and a pitching legend, advised him to think of something simple, like fielding a grounder or fishing, to help him tune out the noise, which was considerable. And Gio said, "I understand immediately." Maybe he takes that idea with him back to Washington, and if so, who can say the WBC isn't a help?
Anyway, Gio threw 91-94 mph, and when his wicked breaking ball caught up later, Puerto Rico didn't have a chance. And this is no gimme lineup. Pagan, Alex Rios, Beltran and Yadier Molina are four of their first five hitters.
Gio allowed three hits and no walks in five very clean innings that included five strikeouts, leaving a 3-0 lead to the strong Team USA bullpen.
Gio said he shook off Joe Mauer one time.
"It's a lot better catching him than trying to hit off him,'' Mauer said. "He was tough. Early on, he was trying to find his curveball. But after the third inning, he pretty much had everything going.''
The night was everything Gio hoped it would be. Just don't pinch him. He wants to keep the dream alive.
Dodgers manager Dave Roberts on Sunday announced his World Series rotation for the first four...

How should the Astros play it when one of their two aces isn't on the mound against the Do...

The former big-league infielder also worked as GM of the Puerto Rico national team
The Indians pitching coach would be getting his first MLB managerial job

In the last several years, lots of droughts have ended in MLB

The most likely scenarios are Dodgers winning in five or six games