LOOK: Benches clear when Yankees have issue with Carlos Gomez
The benches cleared when the Yankees took exception to something Carlos Gomez either said or did on Tuesday night.
Tuesday night was not a good night for the Yankees. They got destroyed by the Astros (HOU 15, NYY 1), so much so that their most effective pitcher was infielder Brendan Ryan. He tossed two scoreless innings. Two!
In the sixth inning, with the score already out of hand, the Yankees took exception to something Carlos Gomez either said or did. I'm not sure what, exactly, but enough to start barking at him from the dugout as he ran out a fly ball. Here's the video:
Yeah, I'm not quite sure what happened there. Clearly the Yankees' dugout started barking, Gomez barked back, Yankees catcher John Ryan Murphy got involved, then the umpires stepped in. It did not escalate beyond that.
Gomez has a history of run-ins with opposing teams, including one with current Yankees backstop Brian McCann a few years ago, when McCann was still with the Braves and Gomez was with the Brewers. McCann was not in Tuesday's starting lineup and it's unclear if he was the one who said something to Gomez from the dugout.
"I think some guys took exception to the way he flipped the bat ... He started yelling at me," said Yankees manager Joe Girardi after the game. "I just told him play the game the right way ... Show a little professionalism."
Cooler heads prevailed and the game continued. A few innings later, Gomez got some sweet revenge with a bomb of a home run:
I'm sure that felt good. I have no idea what he did wrong to irritate the Yankees -- it's entirely possible it was something that happened off-camera -- but based on what we know, boy do the Yankees look foolish. They have more important things to worry about than Gomez's professionalism.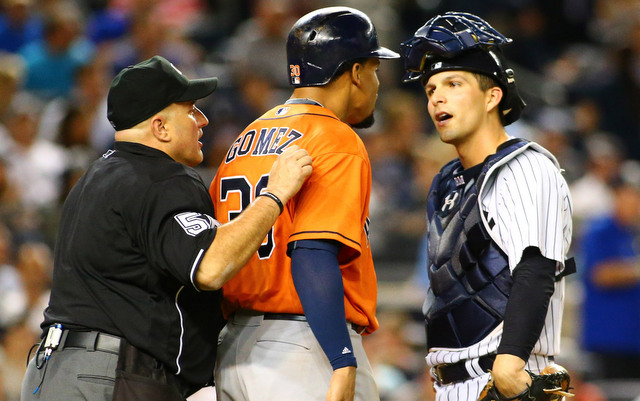 Granderson, Verlander, Beltran and more are looking to reach the top of the MLB world

Houston's top relievers have been shaky this postseason

Our experts have a unanimous World Series pick
Otani's rare ability to hit and pitch will need to be accounted for in realms beyond real...

Kenny White has won 8 of his last 10 MLB Over-Under picks and has a strong play for Game 1

OOTP's team ran some simulations for us on the 2017 World Series