KANSAS CITY, Mo. -- No matter if you're using statistics or the naked eye, good luck trying to find more than a handful of major-league outfielders who've had a better season on defense than Kevin Pillar of the Toronto Blue Jays. And, outside of perhaps Kevin Kiermaier of the Tampa Bay Rays, no one has compiled more spectacular plays than Pillar. While he's seemingly able to run faster than a speeding bullet, and able to climb tall fences in a single bound, Pillar specializes in the diving catch where he appears to glide in the air longer than humanly possible.
Reportedly reticent to call attention to himself in the past, the usually mild-mannered Pillar came out Saturday before Game 2 of the ALCS, acknowledging that he is from a planet far, far away.
"I have not dressed up as Superman, but I don't have to because I am Superman," Pillar said with tongue planted in cheek -- probably.
Toronto's Kevin Pillar is Superman on defense
Player, team
Defensive runs saved
UZR/150
Cats saved from trees*
Kevin Pillar, Blue Jays
22
15.4
19 
Kevin Kiermaier, Rays
42
40.4
3
Jason Heyward, Cardinals
24
24.0
2
Lorenzo Cain, Royals 
18
14.1
2
Jake Marisnick, Astros
13
20.3
1
Starling Marte, Pirates
24
10.8
0
Ender Inciarte, D-backs
29
18.5
0
Billy Hamilton, Reds
8
18.8
-2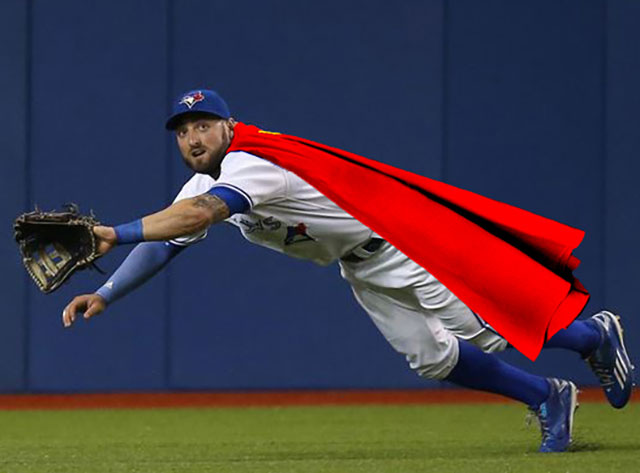 In all seriousness (or some seriousness), Pillar makes catches that look like he did so by flying. Does it feel like that to him?
"I can fly," Pillar said, getting a laugh from the press-conference gallery. "For a short amount of time."
Well, that's all it takes to get from Point A to Point B when you're as powerful as a locomotive. Transitioning back from a Superman persona to something closer to Clark Kent, Pillar said, yes, it really does feel like he's flying sometimes.

"Yeah, in the moment when you leave your feet and you watch that ball and you know you've secured it, time almost seems to stop, and it feels like you're in the air for a while," Pillar said.
Among Pillar's many feats in the outfield was an outstanding catch against the Rays during the last weekend of the regular season that made the Superman comparison seem apt.
Alex Gordon of the Royals, a Gold Glove winner himself, said he's taken notice of Pillar and the Jays outfield, which as a unit is one of the more prolific groups on defense in the majors.
"They have a great outfield," Gordon said. "You've seen Pillar throughout the season make unbelievable plays all over the place. We know that he can cover some ground."
Pillar isn't the same kind of impact player at the plate (kryptonite bat?), but says he knows the Jays appreciate those skills at which he excels.
"I take a lot of pride in and a lot of passion in my defense," Pillar said. "I know it's been able to keep me in the lineup when I've struggled offensively. And I know our pitching staff appreciates it."
Pillar hit .278 with 25 stolen bases (Man of Steal?) and a .713 OPS -- which is below major-leage average when accounting for Toronto's hitter-friendly ballpark, Rogers Centre. So he's not really Superman. But he is super on defense.