LOOK: Jose Bautista's bat flip is now featured on a Topps baseball card
Remember Jose Bautista's bat flip heard 'round the world in the ALDS? Yeah, that's depicted on his 2016 Topps baseball card.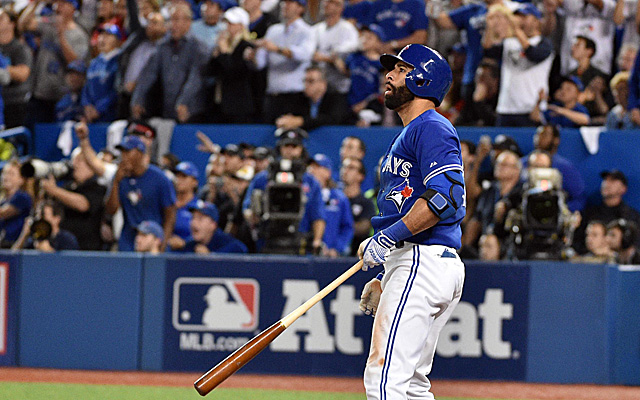 Back in the middle of October, the Blue Jays and Rangers provided us with one of the more wacky and entertaining seventh innings in baseball history. The cherry on top was Jose Bautista's three-run home run and ensuing pose/bat flip combo.
Avert your eyes, Rangers fans and Fun Police, because here it comes:
In an exchange with fans regarding the release of the 2016 set of baseball cards, Topps offered up this sneak peak of Bautista's card:
What do you think of this card? @Ryoni77Ryan @JoeyBats19 pic.twitter.com/msc5EvcXDi

— Topps Company (@toppscards) February 2, 2016
Yes. That's perfect. I was probably going to start buying 2016 cards for "my son" (essentially myself) sometime soon, but this just seals the deal. That's an all-timer.
Hat-tip: Big League Stew
OOTP's team ran some simulations for us on the 2017 World Series

Reddick spent half the 2016 season in L.A. and did not enjoy it

Martinez has spent most of the past decade as Joe Maddon's bench coach, but should be ready...
The Dodgers have acquired more players through trades than by any other means

Surprisingly few current Astros were originally drafted by the team

Dodgers manager Dave Roberts on Sunday announced his World Series rotation for the first four...