LOOK: Jose Bautista's bat flip is now featured on a Topps baseball card
Remember Jose Bautista's bat flip heard 'round the world in the ALDS? Yeah, that's depicted on his 2016 Topps baseball card.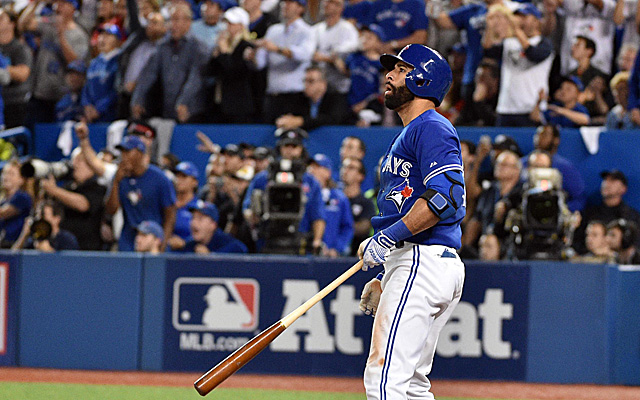 Back in the middle of October, the Blue Jays and Rangers provided us with one of the more wacky and entertaining seventh innings in baseball history. The cherry on top was Jose Bautista's three-run home run and ensuing pose/bat flip combo.
Avert your eyes, Rangers fans and Fun Police, because here it comes:
In an exchange with fans regarding the release of the 2016 set of baseball cards, Topps offered up this sneak peak of Bautista's card:
What do you think of this card? @Ryoni77Ryan @JoeyBats19 pic.twitter.com/msc5EvcXDi

— Topps Company (@toppscards) February 2, 2016
Yes. That's perfect. I was probably going to start buying 2016 cards for "my son" (essentially myself) sometime soon, but this just seals the deal. That's an all-timer.
Hat-tip: Big League Stew
Francisco leads the Dominican Winter League with seven home runs

Thome deserves enshrinement and here's why the case against him does not hold up

The Twins have already fortified the bullpen with Addison Reed, and now they want to address...
The Orioles likely want pitching, and the Indians have plenty of it

Halladay died in a November plane crash off the coast of Florida

The power-hitting outfielder is headed to Toronto