LOOK: Todd Helton's full page ad in Denver Post
After playing his final game in MLB, Rockies legend Todd Helton took out a full page ad in the local newspaper to thank the fans.
Yankees closer Mariano Rivera was not the only iconic-type player to be heading off into retirement after Sunday's action. Rockies first baseman Todd Helton -- the young franchise's most recognizable player ever -- has also decided to hang up his cleats for good.
And Helton took out a full page ad in the Denver Post to thank the fans. Here it is (via Reddit MLB):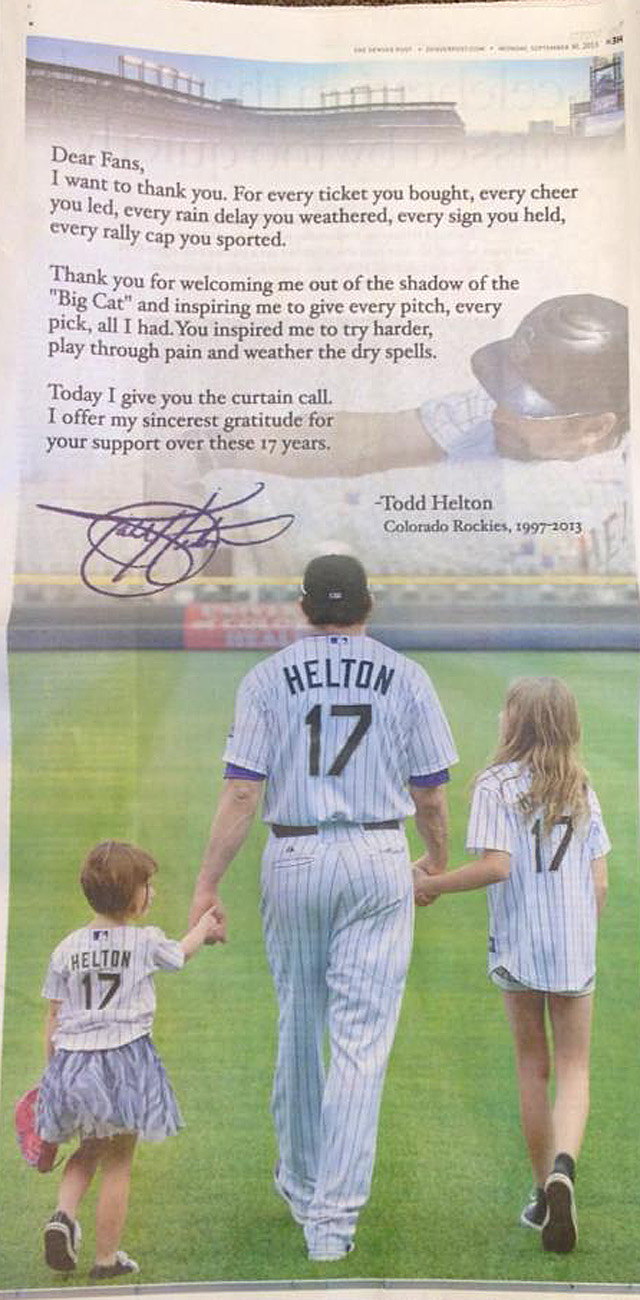 Class move.
The 40-year-old Helton walks away with the following stat line over the course of 17 years: .316/.414/.539, 133 OPS+, 2,519 hits, 592 doubles (16th most ever), 369 homers, 1,406 RBI, 1,401 runs, six All-Star Games, three Gold Gloves and three Silver Sluggers. He finished in the top 10 of MVP voting three times and was the 1998 runner up in NL Rookie of the Year voting to Kerry Wood.
Helton's career .953 OPS ranks 20th in MLB history.
Ready for this? Helton is the Rockies' career leader in WAR, games, at-bats, plate appearances, runs, hits, doubles, home runs, RBI, total bases, walks, extra-base hits, times on base, sac flies, intentional walks and ... well, you get the idea.
MLB can unilaterally implement rule changes, which will also include limits on mound visit...

If the MLBPA wants to fix MLB's economic system, it should push for more money for young p...

Fans aren't happy Gerrit Cole and Andrew McCutchen have been traded away
Acuna is arguably the best prospect in baseball

Kent had a good career, particularly with the bat

This would undoubtedly be the worst trade in Miami Marlins history