Looking ahead at first-timers on 2015 Hall of Fame ballot
Randy Johnson, Pedro Martinez, John Smoltz and Gary Sheffield will hit the BBWAA Hall of Fame for the first time next offseason.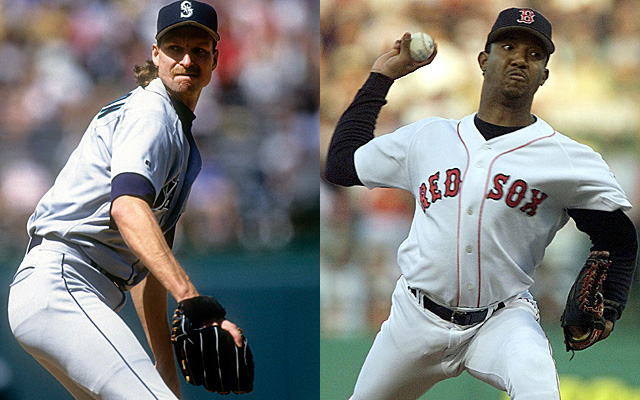 Now that the BBWAA Hall of Fame vote for the 2014 class is out of the way, let's take a quick look ahead at the newcomers to join the already-crowded ballot for 2015. Spoiler alert? It's not getting any less crowded with worthy candidates.
I count four guys who should get substantial support, with two having a great shot at first-ballot induction and another who will probably get in rather soon. Let's take a quick look. 
Should be in immediately
Randy Johnson
The Big Unit went 303-166 in his career with a 3.29 ERA (135 ERA+), 1.17 WHIP and 4,875 strikeouts in 4,135 1/3 innings. He had 100 complete games and 37 shutouts. He ranks second in career strikeouts, first in strikeouts per nine innings, 22nd in wins, 23rd in ERA+, and ninth in WAR among pitchers.
Hardware? Oh, yes, the hardware. Johnson was a 10-time All-Star who won five Cy Youngs and a World Series co-MVP. He also finished second in Cy Young voting three times and third once.
Johnson led the league in ERA four times, strikeouts nine times, WHIP three times, complete games four times and shutouts twice.
Hopefully there won't be much debate here. There shouldn't be.
Pedro Martinez
Speaking of where there shouldn't be much debate, let's talk about Pedro.
He went 219-100 (.687 winning percentage, sixth best in MLB history) with a 2.93 ERA (154 ERA+, second best in MLB history behind Mariano Rivera), 1.05 WHIP (fifth best all-time) and 3,154 strikeouts in 2,827 1/3 innings pitched.
Martinez's peak performance was reminiscent of Sandy Koufax, too.
In a stretch from 1997-2003 -- the height of the so-called "Steroid Era" -- Martinez went 118-36 (.766!) with a 2.20 ERA (213 ERA+). His average season in this seven-year span: 17-5, 2.20 ERA, 0.94 WHIP and 252 strikeouts in 201 innings. He led the majors in ERA five of these seven years and the average counting stats are brought down by his 2001 season, when he was limited to just 18 starts.
Though he ranks only 116th in career starts, Martinez is 76th in wins and 13th in strikeouts. Among pitchers, he ranks 17th in career WAR, a cumulative stat where longevity is normally key.
Martinez, an eight-time All-Star, won three Cy Youngs, finished second twice, third once and fourth once. He won a World Series ring with the 2004 Red Sox.
May take some time
John Smoltz
I feel like Smoltz will rightfully get in eventually, but he's dealing with a real crowded ballot and he wasn't the elite ace Martinez and Johnson were nor did he rack up 300 wins like Johnson. So he's third in line in this group alone, without even considering the rest of the ballot.
Smoltz went 213-155 with a 3.33 ERA (125 ERA+), 1.18 WHIP and 3,084 strikeouts in 3,473 innings pitched. He also racked up 154 saves, as he was one of baseball's best closers for a few years after injury before returning to the rotation. He is the only player in MLB history with at least 200 wins and 100 saves, though it's tough to tell how much appeal that will have with the voting body just yet.
The eight-time All-Star won the Cy Young in 1996 and finished in the top seven five times.
Smoltz's postseason résumé should provide a boost as well. He was 15-4 with a 2.67 ERA and 199 strikeouts in 209 innings pitched in the playoffs. He also went 4 for 5 in save chances in postseason play.
He ranks 16th in strikeouts, 39th in WAR among pitchers, 74th in saves and 88th in wins.
PED questions to cloud matters?
Gary Sheffield
We continue to see some sluggers of the so-called "Steroid Era" punished in Hall of Fame votes, so Sheffield is likely facing an uphill battle.
No, Sheff was never suspended for testing positive for a banned substance, but testing wasn't put in place with suspensions to be served until 2004. Sheffield played the bulk of his career before that. He was also named in the Mitchell Report as having received a shipment from BALCO in 2003, per a receipt found in the home of Greg Anderson, though BALCO boss Victor Conte said the company only sent Sheffield legal supplements. Considering how voters deal with PED-connected or even rumored players, this will almost certainly hurt Sheffield.
On the field, Sheffield's offensive numbers were outstanding. He hit .292/.393/.514 (140 OPS+) with 467 doubles, 509 homers, 1,676 RBI, 1,636 runs. He was a nine-time All-Star who finished in the top three of MVP voting three times. He also has a World Series ring and five Silver Sluggers. That's a Hall of Fame résumé, so the PED issue is central with Sheffield.
---
Other big names to join the ballot: Nomar Garciaparra, Carlos Delgado, Brian Giles
Possible one-and-dones: Darin Erstad, Tom Gordon, Jason Schmidt, Jarrod Washburn, Cliff Floyd, Jermaine Dye
There's no reason to run over the cases for and against Bonds, so let's have fun instead

The coveted right-hander would certainly be a fit in Milwaukee

We rate the best mustaches from random baseball cards because, why not?
Colon wants to break a Dennis Martinez record

The Twins have been rumored to be interested in Darvish all winter

Rolen is one of the best third basemen of all time, but you wouldn't know it based on this...