Looking ahead to next offseason's free-agent starting pitchers
With several rebuilding teams having missed out on Masahiro Tanaka, might their focus shift to next offseason's free-agent starters? Here's a look at who might be available.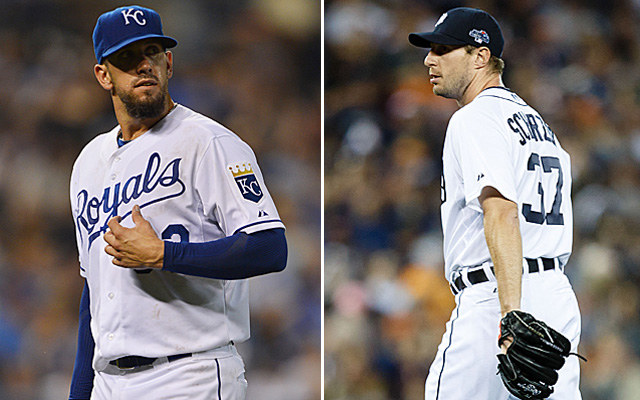 MORE: Tanaka to Bronx | 2014 FA tracker: pitchers
The big news Wednesday in baseball was the Yankees signing Japanese ace Masahiro Tanaka to a seven-year, $155 million deal. And obviously the immediate reaction is to look at the Yankees and assess what this does for their roster, payroll, etc.
What about the teams who lost out on Tanaka, though?
The Dodgers, well, Tanaka would have been a luxury. Some teams like the Diamondbacks, Blue Jays and Angels may be in on the likes of Matt Garza, Ubaldo Jimenez and Ervin Santana. Not that the Jays or Angels were in on Tanaka, but I still expect them to be players for a starting pitcher.
The rebuilding clubs who were in on Tanaka were reportedly the Cubs, White Sox and Astros. They won't be lunging toward the other higher-profile free agents this offseason for various reasons. The trio might, however, be shifting their sights to next season's free agent crop of starting pitchers. So let's take a quick look ahead at the best starting pitchers who might be available.
Obviously, this list could be slimmed down by the end of the 2014 season if any of the following players signs an extension with his current team. We'll also exclude the players with club options (Johnny Cueto and Hisashi Iwakuma, for example) because the better pitchers will have those options picked up.
Max Scherzer -- Fresh off a Cy Young winning season, Scherzer is making over $15 million in his last year of arbitration this season. The Tigers have flashed deep pockets in the recent past, but have seemed reluctant to spend huge this offseason. Scherzer may well hit the open market.
James Shields -- Can the Royals extend him and keep him off the market? Doubtful. Shields has been one of the most reliable innings-eaters in the majors the past three seasons, averaging 235 innings per season with a 124 ERA+.
Jon Lester -- He was the backbone of the staff for the World Series champs in 2013 and will hit free agency heading into his age-31 season next year, unless the Red Sox decide to extend him. They certainly have the resources to do so.
Justin Masterson -- Masterson's as good as anyone at keeping the ball on the ground and has been very productive in two of the past three seasons. A big 2014 season would position him for a nice payday heading into his age-30 campaign.
Homer Bailey -- After lots of inconsistencies throughout his early career, Bailey has established himself as a reliable and productive starter the past two years. He'll hit free agency heading into his age-29 year, so he'll be an attractive free agent if he gets there (the Reds are reportedly discussing a long-term extension with him).
Others: Jorge De La Rosa, Jake Peavy, Brandon McCarthy, Josh Beckett, Gavin Floyd, Wandy Rodriguez, Ryan Vogelsong
Obviously things can change before next offseason, but it appears the starting pitching crop of free agents next time around will be stronger than this offseason, when the top five were Tanaka, Santana, Garza, Jimenez and Hiroki Kuroda.
The Rangers will certainly be back in the market for a reliever

Watson will give the Giants a good left-handed reliever

Marcus Stroman doesn't appear affected by the arbitration hearing after all
Manny Machado is entering his first year as a big-league shortstop, but his heart wants what...

Miami-Dade County wants a piece of the $1.2 billion sale price

They'll be hoping for a major rebound from Anibal Sanchez