Looking ahead to the first-timers on the 2016-18 Hall of Fame ballots
The 2014 Hall of Fame announcement is less than 24 hours old, but that won't stop us from looking ahead to future ballots. Here's a breakdown of the players joining the ballot in the coming years.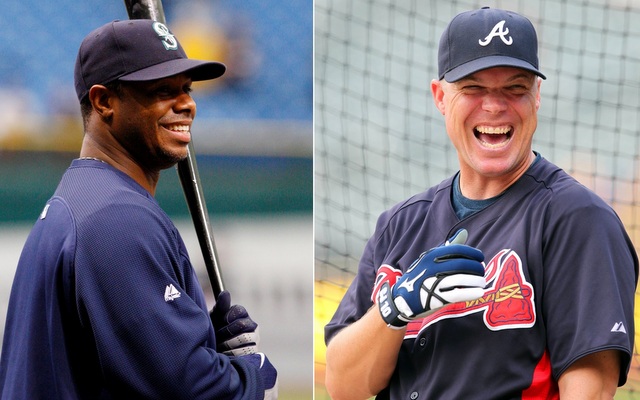 HALL OF FAME: Where do PED candidates sit? | Craig Biggio and other just misses
The National Baseball Hall of Fame welcomed three new members yesterday as the BBWAA announced Greg Maddux, Tom Glavine and Frank Thomas have been voted into Cooperstown. All three players were on the ballot for the first time and all three had overwhelming cases for induction.
As my colleague Matt Snyder explained yesterday, the three new Hall of Famers will be replaced on the ballot by three first-timers with excellent Cooperstown credentials in 2015: Randy Johnson, Pedro Martinez and John Smoltz. We've reached a point in history where many qualified candidates are joining the ballot each year.
We're going to look beyond the 2015 first-timers and ahead to players slated to join the Hall of Fame ballot from 2016-18 in this post, with an emphasis on those who have a serious chance to one day be inducted. If you think the ballot is going to unclog these next few years, you are sorely mistaken.
2016 BALLOT
Serious candidates: Jim Edmonds, Ken Griffey Jr., Trevor Hoffman, Billy Wagner
Second-tier candidates: Troy Glaus, Mike Hampton, Jason Kendall, Mike Sweeney
Likely one-and-dones: Garret Anderson , David Eckstein , Mike Lowell, Bengie Molina, Chan Ho Park
Griffey is the standout candidate joining the ballot in two years. He was legitimately the best player in baseball for most of the 1990s, good enough that his late career fade shouldn't deter voters. Junior is a first-ballot lock to me.
Hoffman has a strong Hall of Fame case by virtual of his historic saves total and more than a decade of bullpen dominance. Wagner doesn't have the gaudy saves total but he was better than Hoffman on a per-inning basis, with a lower ERA (2.31 vs. 2.87), a lower WHIP (0.99 vs. 1.06) and a higher strikeout rate (11.9 vs. 9.4 K/9). Wagner also threw nearly 200 fewer innings than Hoffman (183 1/3, to be exact), which hurts his case.
I was tempted to put Edmonds in the "second-tier" group, but an eight-time Gold Glove center fielder with 393 career home runs has a really excellent Hall of Fame case in my book. Kendall had a sneaky good career given his position -- check out the catcher leaderboards -- and I'm certain Eckstein is going to wind up receiving way too many votes.
2017 BALLOT
Serious candidates: Vladimir Guerrero, Manny Ramirez, Ivan Rodriguez
Second-tier candidates: Magglio Ordonez , Jorge Posada
Likely one-and-dones: Mike Cameron, J.D. Drew , Edgar Renteria , Tim Wakefield , Jason Varitek
Both Pudge and Manny have performance-enhancing drug issues that will hinder their candidacy. Manny especially. I don't think he'll ever get in after two PED suspensions even though his career is first-ballot worthy. Vlad's case -- 2,590 hits, .313 average, 449 homers, 140 OPS+, 59.9 WAR, 2004 AL MVP -- is very strong but I also think somehow underappreciated. We'll see how he fares once his shows up on the ballot.
Posada had an outstanding career and his candidacy will be boosted by playing his entire career with the Yankees. I almost look at him as the Mike Mussina of catchers -- everyone knows he was very good for a very long time, but not many realize exactly how good. (Mussina appeared on only 20.3 percent of the ballots this year.) Ordonez falls just short of Hall of Fame worthy but I expect him to stick around on the ballot for a while. Varitek is the Eckstein of this group -- the guy who will get more votes than he should because his reputation exceeds his actual production.
2018 BALLOT
Serious candidates: Chipper Jones, Jim Thome
Second-tier candidates: Bobby Abreu , Johnny Damon, Andruw Jones, Scott Rolen , Johan Santana , Omar Vizquel
Likely one-and-dones: Chris Carpenter , Rafael Furcal , Brad Lidge, Jamie Moyer, Kerry Wood, Carlos Zambrano
There are 34 (!) players scheduled to hit the ballot for the first time in 2018, but there are also a number of guys in this group who could wind up playing in 2014. That would delay their Hall of Fame eligibility. Abreu (attempting a comeback), Johan (will attempt a comeback) and Furcal (signed with the Marlins) stand out as the most likely candidates to push their eligibility back.
Chipper is a shoo-in and Thome should be as well. Those PED-suspicion free 612 homers will go a long way. Andruw's case will be fascinating to me because he crashed so hard at age 30, but he still had a 10-year run (1997-2006) as one of the best players in baseball: 117 OPS+ with 337 HR and, according to the defensive component of WAR, the best outfield defense in history. Would Jones' Hall of Fame case be stronger if he had that 10-year run from, say, age 25-34 rather than 20-29? Something about a player crashing at age 35 looks better than crashing at 30.
I suspect I'm going to get trashed for calling Vizquel a "second-tier" candidate rather than a "serious" candidate, but so be it. He wasn't particularly close to Ozzie Smith defensively (or Mark Belanger, for that matter) and I don't think it's too much to ask that a Hall of Fame candidate have more than two seasons at or above a 100+ OPS+ in a 24-year career, especially given the era in which he played. Yeah, Vizquel has 2,877 career hits, but he's a clear compiler who hit .267 with a 78 OPS+ during the final decade of his career. He'll get a ton of votes and chances are he will be inducted at some point, but I'm just not seeing it.
The projected 2018 ballot is going to change quite a bit these next four years as players try to hang on, but right now it looks to be stacked. The two Joneses, Thome, Vizquel, Damon, Rolen, Santana and Abreu are all going to draw votes when the time comes. That's eight guys who deserve Hall of Fame consideration hitting the ballot all at once. Wowza.