Looking ahead to wild-card game starting pitching options
The two wild-card games are scheduled for Tuesday and Wednesday. Who is lined up to pitch that day for each contender?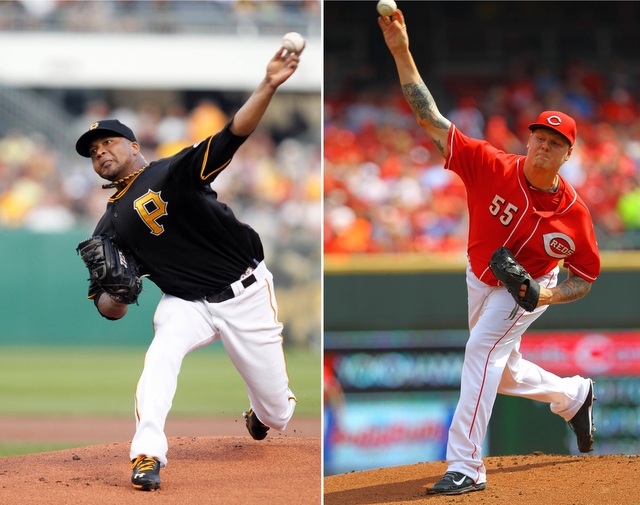 More MLB: Scoreboard | Standings | Probable Pitchers | Sortable Stats | Odds
Baseball's regular season ends Sunday and barring any tiebreaker games -- there's a very real chance one will be needed to determine the second AL wild-card spot -- the playoffs will officially start on Tuesday with the NL wild-card game. The AL wild-card game follows on Wednesday.
No one likes their season to come down to one single game, but that's the system. Obviously they would all prefer to start their very best pitcher in that game, but that's not always possible. Wild-card teams usually don't have the luxury of setting up their rotation in advance because their regular seasons go right down to the wire.
With that in mind, let's look ahead to see who is lined up to start the wild-card game for each of the wild-card contenders. I'm going to go out on a limb and assume the Cardinals clinch the NL Central title and avoid their second straight wild-card game at some point this weekend. They've got a three-game lead with three games to play.
Three Days Rest: RHP Homer Bailey
Regular Rest: No one because of Thursday's off-day
Extra Rest: RHP Mat Latos (one extra day)
The Reds have already clinched a playoff spot, so they know they're in. Latos is the obvious choice here because he's been awesome this season (121 ERA+), but they also have the option of skipping Johnny Cueto on Sunday and starting him Tuesday instead. He's been hurt most of the year and just recently came back from the DL, so even though a fully healthy Cueto is probably a better pitcher than Latos on a inning-by-inning basis, he might not be the best choice for a winner-take-all game after missing so much time.
Three Days Rest: LHP Scott Kazmir
Regular Rest: RHP Corey Kluber
Extra Rest: RHP Ubaldo Jimenez (four extra days), RHP Zach McAllister (one extra day)
There have been indications the Indians, who are one game up on the Rangers for the second wild-card spot, will skip Jimenez (111 ERA+) on Sunday and instead use him in the wild-card game if they clinch a spot on Saturday. If they don't, it'll almost certainly be Kluber (104 ERA+) in the wild-card game rather than Kazmir (91 ERA+) or McAllister (100 ERA+) on a modified schedule.
The wild-card (pun not intended) here is RHP Justin Masterson (107 ERA+), who is currently out with an oblique strain. There is nothing to suggest he will return in time to start a potential wild-card game, but coming back as a reliever is a very real possibility. Looks like Kluber is the guy.
Three Days Rest: RHP A.J. Burnett
Regular Rest: No one because of Thursday's off-day
Extra Rest: LHP Francisco Liriano (one extra day)
Like the Reds, the Pirates have already clinched a postseason spot. They're battling for homefield advantage in the wild-card game with those same Reds -- the two meet for three games this weekend in Cincinnati -- but either way, Liriano is going to get the ball. No doubt about it. He's been awesome this year (117 ERA+) and especially at home (1.47 ERA). That's the guy they want to have to give the ball.
Three Days Rest: RHP Chris Archer
Regular Rest: RHP Jeremy Hellickson
Extra Rest: RHP Alex Cobb (one extra day), LHP David Price (two extra days)
Price (112 ERA+) and Cobb (138 ERA+) are Tampa Bay's two best starters, so the decision who starts could come down to opponent. If the Rays are playing the lefty-heavy lineup of the Indians, Price could be the guy. If they get the righty-heavy Rangers, it figures to be Cobb. It won't be Hellickson (74 ERA+) or Archer (119 ERA+) on short rest, that much is certain.
Three Days Rest: LHP Derek Holland
Regular Rest: RHP Alexi Ogando
Extra Rest: RHP Matt Garza (one extra day), LHP Martin Perez (two extra days)
The Rangers would love to start Yu Darvish (146 ERA+) in the wild-card game, but he's scheduled to start Sunday and they'll need him that day just to get into the postseason. Holland (124 ERA+) is more likely to start on short rest in the wild-card game than anyone else in the post, but Garza (106 ERA+) is the obvious call here. Texas didn't give up four prospects to get him at the trade deadline so they could avoid starting him in a game like this.
Neither Josh Donaldson nor Brian Dozier have talked about a new contract extension

Francisco leads the Dominican Winter League with seven home runs

Thome deserves enshrinement and here's why the case against him does not hold up
The Twins have already fortified the bullpen with Addison Reed, and now they want to address...

The Orioles likely want pitching, and the Indians have plenty of it

Halladay died in a November plane crash off the coast of Florida