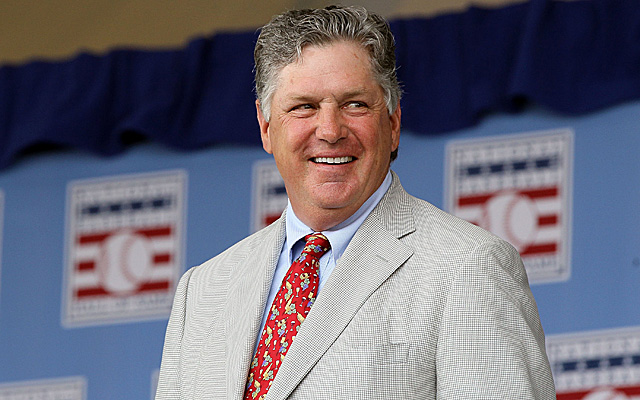 When we get obvious Hall of Famers like Greg Maddux last season or Pedro Martinez and Randy Johnson this season (along with some recent stars like Rickey Henderson and Cal Ripken), we inevitably turn to discussing whether we'll ever see a candidate elected unanimously. The man who came closest was Tom Seaver, who holds the record with 98.8 percent of the vote in 1992.
Seaver was left off only five ballots. Why was he left off these ballots?
From a column in USA Today in 2006, here we go:
Jeff Idelson, Hall of Fame vice president for communications and education, says technically Seaver should have missed perfection by just one vote.

"Three voters submitted blank ballots in protest of Pete Rose (for not being on the ballot)," Idelson says. "Another, following open-heart surgery, overlooked Seaver after filling out his ballot, and a fifth said he didn't vote for first-time eligibles. Seaver should have missed by one, assuming four of the five would have voted for him."
Look at the reasons. Protests, an error of omission and someone who arbitrarily invented a rule that first-timers never get his vote.
Taking into account that Seaver got a higher percentage of the vote than Babe Ruth, Hank Aaron and Walter Johnson -- in addition to the reasons Seaver didn't get more votes -- I think it's safe to say that we definitely shouldn't care whether a player gets inducted with 100 percent of the vote or 75 percent. The vote total isn't some sort of ranking system.
A Hall of Famer is a Hall of Famer.
Hall of Fame candidates: Craig Biggio | Mike Piazza | Curt Schilling | John Smoltz | Larry Walker | One and dones | Jeff Bagwell | Tim Raines | Roger Clemens | Barry Bonds | Lee Smith | Edgar Martinez | Alan Trammell | Mike Mussina | Jeff Kent | Fred McGriff | Mark McGwire | Don Mattingly | Sammy Sosa | Gary Sheffield | Randy Johnson | Pedro Martinez