Loose ends? This year's meetings end with a superstar logjam
The winter meetings are over for another year, but there's a lot more than just loose ends still to be wrapped up. Most of the winter's big-ticket items are still to be unwrapped, after a week in which everything revolved around the Rangers and Zack Greinke, and everything stalled.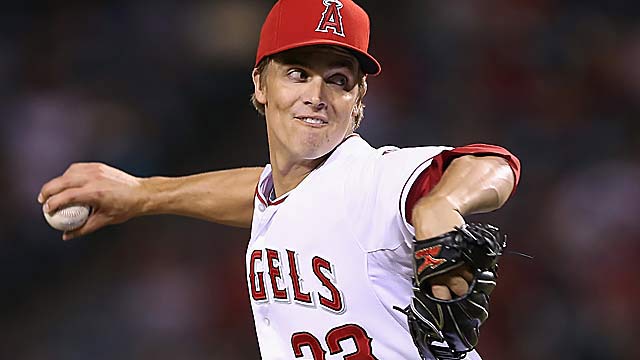 Zack Greinke may have stalled the market with his indecision on whether to sign with Dodgers or Rangers.
(Getty Images)
NASHVILLE, Tenn. -- We call this the loose ends column, the one where we tell you what's left after the winter meetings are done.

Not this year.

There's no way we're calling this loose ends. It's not ends. It's the middle. It's the sizzle.

When it comes to the winter's big-ticket items, we don't need to wrap them up. We need to get started unwrapping them.

As my CBSSports.com colleague Jon Heyman said Thursday morning, when baseball executives were happily released from the Opryland Hotel (and unhappily learned that the meetings will return here in just three years): "It's a superstar logjam."

Some people said the Rangers were to blame, because they were involved in almost everything big that didn't happen this week. They were in on Zack Greinke, they were in on Josh Hamilton, and they were in on Justin Upton, and the fates of those three players were each intertwined with several other teams and players.

There is another way to look at it, though, and one Rangers person pointed it out.


More on winter meetings
Column

Scott Miller
Gettin' Josh Hamilton, Zack Greinke to accept millions not so easy ...
Read More >>
Related links
It's not the Rangers who were keeping the market stalled. It was Greinke, because his decision on whether to sign with the Rangers or Dodgers (or will there be a surprise team?) could set everything else in motion.

It's believed that the Rangers' preferred winter haul would include a Greinke signing and a trade for Upton, but Rangers people caution that they have had many, many scenarios alive.

If Greinke signs with the Rangers, perhaps they won't be able to afford to sign Hamilton, too. Maybe that means that Hamilton signs with the Mariners, which maybe means that Michael Bourn doesn't sign there.

If Greinke signs with the Rangers, perhaps that means that the Dodgers instead spend big on Anibal Sanchez and/or Kyle Lohse.

And if Greinke signs with the Rangers and Hamilton doesn't, perhaps that means that the Rangers find a way to finally get Upton from the Diamondbacks, either in a two-team trade or in one of the three- or four-team scenarios that were discussed ad nauseum this week.

Then again, if Greinke signs with the Dodgers, perhaps they instead choose to spend their free-agent money on keeping Hamilton. Perhaps that leaves the Mariners open for Bourn, and perhaps the Rangers use their trade chips on acquiring James Shields.

So where will Greinke sign? There was no bigger topic of conversation in the lobbies and hallways this week.

One person who knows him well (but hasn't discussed free agency with him) predicted Thursday that if it's between the Rangers and Dodgers, he'll pick the Rangers. That same person said Greinke would really prefer the Braves, but they have nowhere near enough money to enter this bidding.

The expectation is that wherever he signs, Greinke has a real chance to beat CC Sabathia's record for the biggest contract ever given to a pitcher ($161 million). And in doing so, he'll no doubt raise the price for Justin Verlander (who the Tigers want to extend this winter), Clayton Kershaw and eventually David Price.

But Greinke's history reminds you that money isn't everything. When he was being traded by the Royals two winters ago, Greinke turned down a chance to go to the Nationals and sign a big-dollar extension, because he had studied the team and believed that the Brewers had a better immediate chance to win (and he was right).

Greinke might be the big-league player who is most aware of rosters and minor-league prospects. While the Dodgers have a good team and the money to make it better, the Rangers have more talent, in the big leagues and in the minors.

When will Greinke sign? Agent Casey Close doesn't seem to have given teams much of an idea on that. And people who know Greinke believe that rather than being stressed out by the uncertainty, Greinke is more likely to be enjoying the entire process of picking a team.

Meanwhile, the baseball world waits.

A few other where-things-stand updates:

• The Mariners said frequently this week that they were "in on everyone," but there was little question that Hamilton was the one guy they most wanted. They seem to have a decent chance to get him (especially if Greinke goes to Texas), but club officials have strongly denied a report that they already had any kind of deal in place.

• Justin Upton still hasn't been traded, but this round of Upton trade talks has been more persistent than previous ones, and seems more likely to result in an eventual deal. That said, Diamondbacks people caution that they really haven't been thrilled with what they've been offered, and also that with so many teams potentially involved, there are tons of ways for any round of talks to break down. If Upton is dealt, the Rangers seem by far the most likely destination.

• R.A. Dickey still hasn't been traded, or signed to an extension by the Mets. Dickey's fate is somewhat tied to Greinke, too, because the Mets have been hoping to get the Rangers involved (something that only happens if Greinke signs elsewhere). So far, the Mets have been underwhelmed by offers. They want to sell Dickey as a No. 1 starter, but interested teams don't see him that way.

• The Dodgers still haven't spent all their big bucks, except for a staff dinner at Morton's. They've helped drive up the price for Greinke (likely driving the Southern California rival Angels out of the bidding). They still seem prepared to spend big, if not on Greinke then on another one (or two) of the starting pitchers.

• The Rays still haven't traded a pitcher. The smart money still says they will, and that it most likely will be James Shields. The Royals are definitely interested, and the two teams talked, but for now, the proposed deals have fallen through. And, of course, the Rangers could be involved again if they don't sign Greinke.

• The big Scott Boras clients still haven't signed. Unless we're all missing something, it wasn't a great week for Boras, with potential avenues for Bourn closing when the Twins traded center fielders to the Nationals (Denard Span) and the Phillies (Ben Revere). Meanwhile, the Tigers continued to insist they have no interest in even talking about closer Rafael Soriano (although perhaps Boras can talk owner Mike Ilitch to something later in the winter).

• The Braves still don't have a leadoff hitter, the Phillies still don't have their big outfield bat, the Marlins and Yankees still don't have a third baseman, Nick Swisher still doesn't have a job and the Indians still haven't traded Asdrubal Cabrera, Shin-soo Choo or Chris Perez.

Those are the kinds of things we'd normally call loose ends. Those are the kinds of things this column is supposed to be about.

Not this year.

Not when the winter meetings end with a superstar logjam.
Adell shows part of the reason why Los Angeles drafted him 10th overall in 2017

And, well, they're probably right

Supposedly, MLB execs have discussed letting teams hit any three hitters they want in the...
Keep tabs on the top 50 free agents on the market right here

After the departures of Steven Souza and Corey Dickerson, the Rays add a right-handed bat

Rasmus essentially walked away from baseball during last season