Lots of hard work and patience is turning Homer Bailey into no-hit king
On a warm night in Cincinnati, Homer Bailey cranks up the heat on the San Francisco Giants in becoming the first pitcher in the majors to toss a no-hitter in 2013. As the last pitcher to throw one in 2012, Bailey steps into Cincinnati history.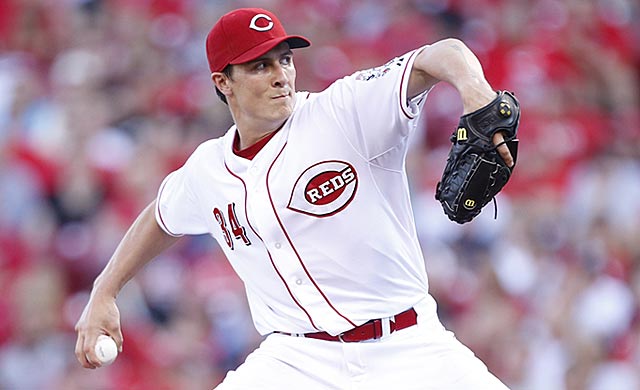 Homer Bailey looks like he stepped right from Mayberry into the major leagues. Right up until you step into the box against him.
Late to develop, he's now quick with the no-no.
When he hung the first no-hitter of 2013 on a Giants team spewing smoke and oil in a 3-0 masterpiece in Cincinnati on Tuesday night, it was a neat bookend. Bailey also threw the majors' last no-hitter, last Sept. 28.
"Every dog has its day, twice, I guess," Bailey deadpanned in a postgame MLB Network interview.
Nice, humble sentiment. But dead wrong.
Been a long time since anybody's heard a woof or two from the Reds' first-round pick of the 2004 draft, the guy who once frustrated baseball fans throughout Cincinnati because of his great arm and slow progress.
"He's really matured," former Reds general manager Wayne Krivsky, now scouting for the Twins, said late Tuesday night. "His delivery has come leaps and bounds from '06 and '07.
"A lot of hard work has gone into him, and he's put in a lot of hard work. He can repeat his delivery and, overall, he's matured as a person. His command is night and day from where he used to be."
Bailey faced 28 hitters Tuesday night and threw 19 first-pitch strikes. Granted, the Giants aren't exactly much of a threat to anybody these days -- free-falling, they've lost eight of their past nine games and 10 of 12 and were described this week by one scout as "leaking everywhere" -- but it is to Bailey's credit that he made them look even worse.
He throws a two-seam and a four-seam fastball, a slider, curve and cut fastball, and mostly he pitches at 92, 93 mph. But he can light it up when his adrenalin flows, and as the Great American Ballpark crowd stood and roared in the ninth inning on Tuesday, his fastball reached 97.
Time was, he regularly threw 98 and 99 mph -- and had no idea where the baseball was going.
"The biggest thing is his delivery is so much better," said Krivsky, who was thrilled for Bailey. "It's more compact. More efficient. He can repeat it. He's got deception.
"He was a thrower back then. He's become a pitcher."
Reds pitching coach Bryan Price has been a big aid since 2010. Before that, minor-league coaches Tom Brown (Class A Sarasota), Ted Power (Triple-A Louisville) and Mack Jenkins (minor-league pitching coordinator and currently Price's assistant pitching coach) combined as Mr. Goodwrench.
Bailey's biggest sin back then simply was that he was drafted out of high school, out of La Grange, Texas. Expectations are enormous for first-round picks, especially as often as the Reds were losing back then. High school kids are so young. And Bailey could be stubborn.
But he's developed beautifully, even if his past handful of starts before Tuesday's had been rocky. So rocky, in fact, that he threw an extra bullpen session under Price's watchful eye before this start. He had been struggling pitching out of the stretch.
Against the Giants, he did not have to pitch out of the stretch. He allowed only one baserunner, a seventh-inning walk, and overwhelmed Bruce Bochy's club the rest of the evening.
Mature now, Bailey disappeared into the tunnel between innings, quietly sitting in front of an electric fan. There, he could cool off – both physically and, yes, mentally.
"It clears my mind," he said of this habit. "I don't have to watch what's going on. It keeps me centered."
Back when he was frustrating the heck out of Reds fans with great stuff and little progress, he would never have used a word like "centered." Or, he wouldn't have slowed down long enough to think about things like that.
Now, he does. And the fact that his thoughts immediately went toward manager Dusty Baker, who missed Bailey's no-hitter in Pittsburgh last year after suffering irregular heartbeat and a mini-stroke, also exemplifies what Bailey now is all about.
"For him to be here and see this one makes me feel real good," Bailey said.
Bailey steps directly into the history books of this storied franchise, becoming only the third Cincinnati pitcher to record two no-hitters. The first was Johnny Vander Meer in 1938, and the second was Jim Maloney, who threw one in 1965 and another in 1969.
Having turned 27 just two months ago, the question now becomes whether Bailey will add a third no-no anytime soon.
Anybody who has watched his development over the past few seasons can tell you, don't bet against it.
Kinsler will slot in at second base for the Angels

The Marlins got a better return for Ozuna than Stanton or Gordon

The two teams are going about things in very different ways
The Marlins are indeed in teardown mode under new ownership

The Marlins still have more attractive pieces

The A's need outfield help, and the Cardinals have a glut