Lots of MVP candidates in Dodgers' clubhouse, Mattingly picks Gonzalez
Clayton Kershaw? Hanley Ramirez? Yasiel Puig? A case can be made for each of them as the MVP of the Dodgers' runaway train this summer. Manager Don Mattingly has been consistent all summer in his appreciation for Adrian Gonzalez. ...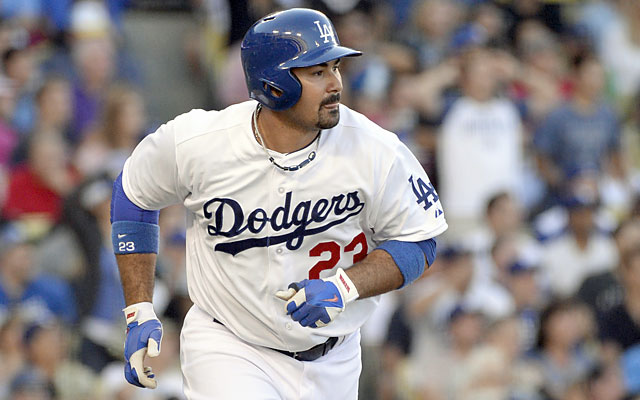 LOS ANGELES – Picking a Most Valuable Player out of this Dodgers clubhouse is sort of like choosing a favorite sunset over the Pacific Ocean. There's an embarrassment of riches out there … and in there.
Manager Don Mattingly steadfastly has maintained that no Dodger has been more valuable than first baseman Adrian Gonzalez, and he reiterated that Wednesday as the ESPN cameras came calling, celebrities visited (Dean Norris of Breaking Bad) and a hint of postseason hung in the air.
"Obviously, we've got a number of guys you can talk about," Mattingly said. "Hanley Ramirez, Clayton Kershaw … I think Adrian has been the guy, from start to finish.
"Like Kershaw has pitched good from the first day he took the ball, Adrian has been that way, too.
"Yasiel Puig and Hanley, at the same time, you can't downplay them, either. Puig brought a ton of energy to the club."
Hard to go wrong whichever direction you pick here. Going into Wednesday night's game with the Diamondbacks, the Dodgers' .760 winning percentage (38-12) since the All-Star break ranked as the third-best in the majors since 1950. Only the 1954 Indians (.775, 55-16) and 2001 Athletics (.773, 58-17) fared better.
As for Mattingly's choice, Gonzalez is hitting .296/.341/.463 with 20 homers and 89 RBI. He's played in 139 of the Dodgers' 144 games, and he leads the Dodgers in hits (158), home runs and RBI. He ranks sixth in the National League in RBI and eighth in hits.
"He quietly doesn't get the attention," Mattingly said. "He's so consistent. He does it day by day. He keeps getting his hits. Nothing dramatic. It's just day-by-day stuff.
"To me, it takes so much pressure off of the manager to have a guy like that in the lineup every day."
It also removes pressure from the other guys in the lineup when he hits so consistently well with runners in scoring position. Gonzalez is hitting .331 with runners in scoring position this year – and .389 with runners in scoring position and two out.
Check out all of Sunday's action, including a single-season record getting closer to falli...

Judge's 48 homers trail only McGwire's 49 in single-season rookie history

The Reds still have one of the best hitters in the game in Joey Votto and a rising star in...
Maxwell joins a growing movement across sports

The Yankees punched their ticket to the playoffs with a win over the Blue Jays on Saturday

Sabathia's stance seems to be an increasingly popular one among athletes