Love Letters: The Marlins edition
Today we discover there are actually defenders of the low-lifes that run the Marlins, and we discover baseball fans in Montreal have long memories. ...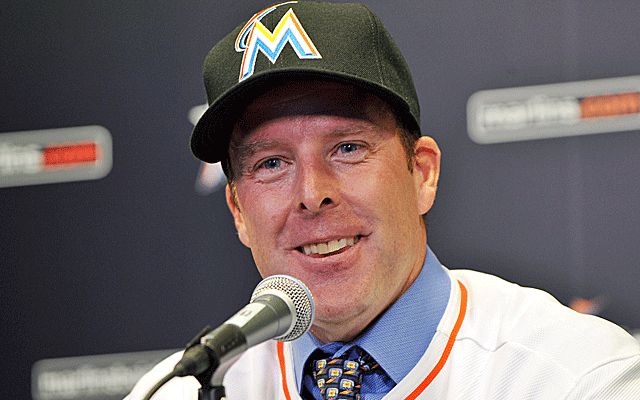 New Marlins manager Mike Redmond might be smiling, but the fans aren't.
(US Presswire)
What's the difference between the Miami Marlins and the Boston Red Sox ? If Jeffrey Loria's and David Samson's lips are moving ... they're lying!
FROM: Tom B
Re. An open letter to Marlins season ticket-holders after payroll purge
Scott,
I respect your opinion and writings, but in this case I do not understand all the pundits/experts who ripped the Marlins for getting rid of payroll. If I recall, the Red Sox made as big or bigger trade and got praised all over the place. And they got nothing out of the deal. They cut two of the players and let another go as free agent. At least the Fish got some prospects, as they usually do. The Red Sox were sold out for the rest of the year and trashed their team. At least the Marlins did it after the season.
They did trade Hanley Ramirez during the season and helped the Los Angeles Dodgers play worse afterwards. Heath Bell was a mistake from the beginning as several people said he would be. Maybe Ozzie Guillen isn't the genius everyone said he was. The Chicago White Sox did much better with a so-called unqualified manager this year. I don't blame the Marlins too much, their fans don't show up even when they win. Jeffrey Loria is an idiotic owner, but they have won two World Series in their existence, better than most teams. Being a Philadelphia Phillies fan, I am glad the Fish are rebuilding, but their trade wasn't bad, their signings the year before were the mistakes. At least they admitted them, unlike Boston. Thanks for you time.
The difference is simple: The Marlins just took millions of dollars from taxpayers on the promise that their payroll would increase and that they would have marquee players. Once they crossed that line, they took on a moral responsibility. To bail after one season and chop payroll to a major-league low is reprehensible. I understand they had a disappointing season. I would even give them a pass had they just traded Josh Johnson . There is a track record of disappointment with that guy. There isn't with the group they signed last year. You don't think Mark Buehrle could have been part of the solution in 2013?
FROM: Fred
Did you write an article like this when the Red Sox did the same thing, but got nothing in return? I'm not a Miami fan -- Go Tampa Bay Rays -- but at least they got some really, really good prospects, and now have money to spend again. Obviously, their plan backfired when they couldn't land Big Al (Pujols). What they did didn't work ... now they got some really good young players, freed up space to try the free agent market again, but be smarter about it this time. I guess my point is this on closing, what the Red Sox did was much worse than what Marlins did.
Clearly, the few remaining defenders of Loria/Samson have their talking points in order. I heard from several people saying that what the Red Sox did was worse than what the Marlins did. Truth: It wasn't. The Red Sox had been around the block several times with Josh Beckett . They won a World Series with him. It wasn't working. At least Adrian Gonzalez was well into Year Two when they dealt him. It clearly was a bad mix of players. With the Marlins, one season is not enough evidence that you need to rip the entire thing up. Especially with the premature shots fired in July by trading Hanley Ramirez and Anibal Sanchez . They pulled the plug on the season then. 
FROM: Pat
Re. Marlins owner rips team, and city, apart with despicable trade and must be stopped
I remember how he gutted Montreal and the Expos. Sickening.
I know he gutted the Expos. But Montreal, too? If he gutted the city, please, do tell. I'm all ears. 
FROM: Harry O

And you didn't even discuss what these guys did to the Expos! Go back and look at their record ... they pushed that franchise over the cliff.
Now hold on just one minute, Harry. That's not quite correct. First, they tied a one-ton cement block to the franchise's legs. Then they stuffed it into a body bag. Then they knocked it unconscious with a baseball bat. THEN they pushed it over the cliff!
FROM: Phil B
If Bowie Kuhn was alive today and running MLB, he would void the trade in the Best Interest of Baseball, and I would agree. Loria should not be allowed to own a franchise. He rakes in all the money and gives nothing back. He knew what he was doing last year by back-loading these contracts and not allowing no-trade clauses. He stole money, yes stole, to get his stadium built and now the taxpayers of Miami are stuck with the bill while he makes tons of money. The New York Mets should move their Las Vegas AAA team to Miami, they would be a better draw and more entertaining, and the Marlins should go to Vegas where being irrelevant would not matter. Now Loria can save more money, by not having to open the gates for home games and pay people to work, because both Marlins fans will not bother to show up now. Here is another idea. The Rays should move to Miami and they get the new stadium they deserve and the Marlins can go to Tampa where it will not matter!
Now this is the kind of creative thinking I like, Phil. Then, when Giancarlo Stanton clubs 50 homers in Tropicana Field, the Marlins can trade him, too.
Plus the Indians are now 27-1 in their last 28 games. Here is everything you need to know from...

The soon-to-be 43-year-old Dickey said he wants to spend more time with his family

The two NL Central rivals opened a four-game series at Miller Park on Thursday night
The ballparks in Cincinnati, San Diego and Seattle will have expanded netting in place by Opening...

Mondesi spent six years as the mayor of San Cristobal in the Dominican Republic after reti...

The veteran skipper has been Mets manager since the start of the 2011 season