Love Letters: The 'Sweet Caroline' (plus encores!) edition
These responses to reader comments include a rebuttal to someone who says Neil Diamond is never cool.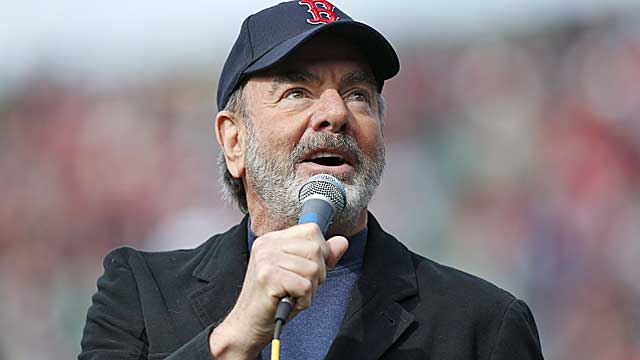 Don't worry. Whatever the post office decides, I will still deliver the mail on Saturdays. …
From: RickeyVaughn (via comments section)
Re.: Weekend Buzz: Hunter's homecoming ruined as Angels wax Tigers
Au contraire. He's been around long enough to become very cool, like your grandma's old sweaters or your father's old vinyl. Because, turns out, some of his songs are so good! So good! So good!
From: Future-Fate (via comments section)
Nada said about the longest winning streak in baseball (Milwaukee's), what?
Whaddaya think, we don't know what we're doing here? The Brewers didn't appear in Weekend Buzz because I knew they would extend their winning streak to nine this week (and I knew I would be spending time with them and writing this column.
From: Chop Dynasty (via comments section)
Re. Robinson's influence hard won, continues nearly 70 years later
And in 2073, will the NFL be honoring the first openly gay player? Enough of this race-driven progaganda at every f'ing turn. Honoring the man every year is too much. It is wrapped up as honoring him anyway, but there will always be the underlying message to browbeat whitey.
THAT is the message you get from remembering Jackie Robinson? I think you need to sit through a few more United States history courses, bubba. Or read this next guy's response to YOU.
From: giants24601 (via comments section)
@Chop Dynasty No, because gay people have not been enslaved by straights, and when the first gay man plays in the NFL, I significantly doubt that any opposing team will try and refuse to take the field against him ... and no opposing players will openly try to maim him on the field ... and no hotel will try to bar this pioneering gay from entering with the rest of the team.
Jackie Robinson faced challenges that no athlete has faced before or since. This is why we remember him. Not just because he was black: but because he was unbelievably brave. Deal with it.
Well said. Bravo. I'll listen to Neil Diamond with YOU any time.
From: oscwahoo (via comments section)
It is easy to see the morons on the site! Not one of the anti-posters would have the COURAGE do what Mr. Robinson accomplished on the field or off the field.  To go to work everyday and have death threats, abuse from other players and their fans!  Right man, Mr. Rickey, Right man!
Thanks for clarifying. Smart people like you are ALWAYS welcome on our site.
From: NoHipHop (via comments section)
Re.: Difficult getting accustomed to breaks not falling Derek Jeter's way
What a stupid article. Another new wave "reporter" licking Jeetah's tail. Look, it's called life folks. Jeetah was lucky to ride the coattails of a great team when he was young in the mid/late '90's. Since the Yanks have been "his team" they have a measly one title in 12 seasons - pretty bad for a team whose stated goal is to win the ring every year.
Being that I've covered baseball now for 25 years … I'll take your "new wave reporter" crack as a compliment. Thanks for making my day!
From: TWTheMan (via comments section)
The guy has always lived life in the sunshine.  Spot on.  I know he's the "Captain" with 5 WS rings, I'd still take a Cal Ripken or Robin Yount any day of the week over the guy.
Let's clarify something: You're reading that column wrong if you take Jeter always living life in the sunshine to mean he didn't earn anything along the way as well.
From: RMB
Re. Road to AL West title – maybe wild cards too – runs through Houston
Why THANK YOU!! We fans in Houston REALLY APPRECIATE YOUR VENOM!! Write about the Astros again SOON!!
Appreciate the invitation. I will!!
From: Chester House (via comments section)
Re. A.J. Ellis battles own second guesses on protecting Zack Greinke
Scott Miller is a moran. Any time a batter is hit in this day and age the catcher has to be up and ready to protect his pitcher. Error on the side of caution and escort the man towards first base and create a roadblock between the pitcher and batter. A.J. Ellis, you should be ashamed!
All I have to say to you is … what this next guy says to you. Keep reading!
From: ShareFlag (via comments section, addressed to Chester House)
Hahahahaha, you spelled moron wrong. Priceless.
That's hard to do, too.
From: JSWed
Re. Quentin suspended amid ugly history with Greinke
Hey closed-minded writer: This was an altercation entirely within the code and rules of batter/pitcher. When said pitcher throws and hits a batter - regardless of whether intentional or not - the batter has a chance to respond, whether charging or saying something or saying nothing. Then - and this is the important part that none of you morons get - the PITCHER has his opportunity to either apologize, say nothing and turn away, or engage  in disrespect. When Grienke chose to say F U rather than apologize or turn away, he'd sealed his fate and taken all responibility for what happens next.
Pretend that in your little cushy office, that some VP from advertising or something walks past you in the hall and punches you in the arm; that's Grienke hitting Quentin. Now you say something along the lines of wtf? to him - which gives the ad vp a chance to apologize or even take off. What would you do if he instead said F U....? Yea - on second thought, you probably still don't get it. 
I don't, because that is a ridiculous example. All of the VPs in my office are saints.
FROM: Dan Hodin
Re.: Season predictions: Jays take over in baseball's toughest division
Scott, I am not buying it. The Jays have won nothing for 20 years and the Yankees have averaged 96 wins for 18 years. I wouldn't give up on them now. Their pitching is still very good and their bullpen is great. Granderson, Teixeira and Jeter will be back. Yankees win another AL East title. 
I will say this: The Yankees so far are not the turkey many of us were expecting. Of course, it ain't Thanksgiving yet, either.
FROM: Leonard Northington
I'm not a big fan of Congress -- who is? -- but that was an unnecessary political comment in a sports column. Vent your liberal political opinions elsewhere. I come to a sports website for sports.
This because I simply wrote of the Nationals, "If only our do-nothing Congress could work this well together"? You're good, if you can spot "liberal political opinions" in that innocuous sentence. About a team that plays in D.C.
Stanton warned Marlins fans about the lean years that are forthcoming

The World Series champions aren't complacent

Stanton swiped at his old team on his way out
Your one-stop shop for all things MLB Winter Meetings-related

Matt Harvey could be on his way out of New York

The Nationals are looking to improve on the edges of their roster