Low average aside, Stephen Drew a difference maker in World Series
Stephen Drew is hitting .080 this postseason and is still helping them win. Here's how.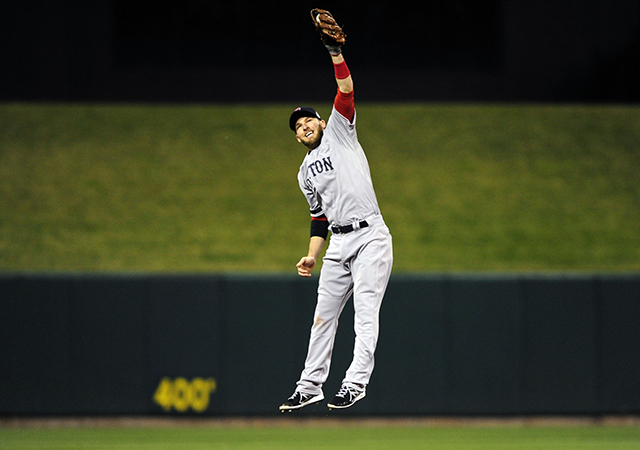 Red Sox win Game 5: Quick hits | Grades | Ross' double puts Boston on top
ST. LOUIS -- Red Sox shortstop Stephen Drew is hitting .080/.113/.120 this postseason with 19 strikeouts in 50 at-bats. In the World Series, he's 1-for-15. And he absolutely needs to stay in the Boston lineup, because he's helping the team win.
Wait, what?
Yes, I'm standing by that because baseball is about a lot more than batting average. Drew has overall been a good defensive shortstop this season and this series he's been exceptional, probably saving a run or two single-handedly. Take the leaping catch on a line drive pictured above from Game 5, a sick glove-scoop in Game 4 or any number of rangy plays -- whether charging weak grounders, going up the middle or into the hole -- he finishes with ease. He makes the difficult play look routine.
"I don't think he gets appreciated enough for his defense because he makes everything look easy," relief pitcher Brandon Workman said. "He makes really difficult plays -- whether it's backhand or running in -- I don't know if that many people really appreciate how good he is there. He doesn't make mistakes at shortstop and a key defensive position like that, it's huge to have a guy that's pretty much flawless there."
Let us also recall that when John Farrell removed Drew from Game 3 in favor of attempting to add offense, it backfired because Xander Bogaerts was unable to make a play that Drew possibly (I say he does, but this can't be proven) makes. That allowed Matt Carpenter on base in what would be a huge two-run seventh inning in what would eventually be a one-run Cardinals win.
"Defense helps win games," Drew said. "Playing great defense and doing timely things at the plate benefits. We're here to win games and it's fun to help be a part of it. We've got 25 guys and all we're trying to do is come out on top."
It's not just the defense, as Drew alluded to. He has come through in a big way in each of the past two nights -- Red Sox wins -- in the batter's box without getting a hit.
In Game 4, he drove home the tying run with a sacrifice fly in the fifth inning. The Red Sox wouldn't trail again the rest of the game.
And in Game 5, Drew worked a pivotal walk against Cardinals ace Adam Wainwright in the seventh inning.
Wainwright was fully in control of the Red Sox offense entering the plate appearance, having struck out 10 and only coughed up one run -- none since the third batter of the game. Xander Bogaerts was on first base by virtue of a single, but it was a grounder with eyes that wasn't hit particularly hard. It wasn't like Wainwright was on the ropes.
Yet.
The four pitches he took were clearly out of the zone, but it's pretty difficult to lay off Wainwright's curveball -- and he really had the hammer working in Game 5, helping lead to all those strikeouts.
"He's got a really dominant curveball and I was able to lay off some tough pitches there and work the count," Drew said afterward.
Via the excellent brooksbaseball.net, here's how the at-bat went:
Laying off the fifth pitch of the at-bat probably wasn't too tough, but four and six -- yes, due to the significant drop action on Wainwright's curve, pitch six would be tough -- would have been awfully tempting with two strikes. But Drew was able to hold back. So he walked, moving the go-ahead runner to second base.
"I just battled as he made some good, tough pitches," Drew said. "Then David [Ross] comes up in a huge situation with runners on first and second and was able to come through."
Indeed he did. Ross doubled home Bogaerts to give the Red Sox the lead for good. Drew would also score on Jacoby Ellsbury's single as the Red Sox would go on to win the game.
Obviously, Drew and the Red Sox would rather him gather a few more hits. And maybe he will, as he gave one ball a ride in Game 5, flying out to the right-field wall in the top of the fifth.
But for now, he's definitely contributing to the victories, batting average be damned. Or, as Drew put it to me: "Stats ... whatever."
A beardless Wilson says that he tried to outrun the police on the second day he had his driver's...

The Diamondbacks outfielder was not impaired, he was just going way too fast

MLB can unilaterally implement rule changes, which will also include limits on mound visit...
If the MLBPA wants to repair MLB's salary structure, it should push for more money for young...

Fans aren't happy Gerrit Cole and Andrew McCutchen have been traded away

Acuna is arguably the best prospect in baseball