'Lucky 13?' Breaking down Alan Trammell's Hall of Fame case
Longtime Tigers shortstop Alan Trammell has just three chances left on the Hall of Fame ballot. Here are the cases for and against him.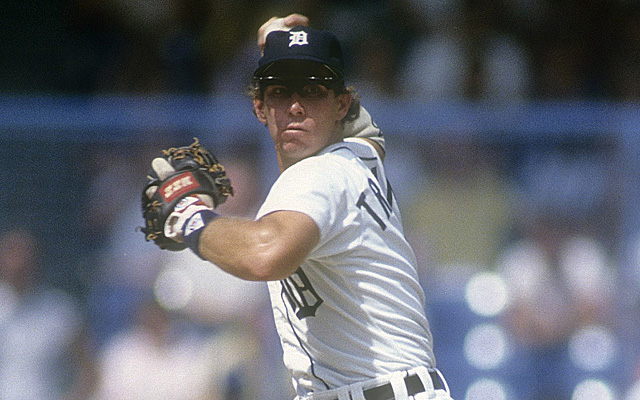 Hall of Fame cases: Luis Gonzalez | Moises Alou | Lee Smith | Fred McGriff | Don Mattingly | Jack Morris | Rafael Palmeiro | Sammy Sosa | Edgar Martinez | Jeff Kent
As we continue to run down the 2014 BBWAA Hall of Fame candidates, one by one, this installment covers a man in his 13th try. Longtime Tigers shortstop Alan Trammell has been on the ballot 12 times previously and never garnered more than 36.8 percent of the vote, though he hasn't fallen off because he hasn't gotten less than 13.8 percent of the vote.
For those new to the series, here's what we're doing: We will paint a picture both for and against each player who merits consideration for the Baseball Hall of Fame without actually revealing our personal opinion. From there, it's up to you to decide which argument is stronger.
On to Mr. Trammell.
THE BARE ESSENTIALS
In 20 years, all for the Tigers, Trammell hit .285/.352/.415 (110 OPS+) with 2365 hits, 412 doubles, 185 homers, 1003 RBI, 1231 runs and 236 stolen bases. He was a six-time All-Star who won four Gold Gloves and three Silver Sluggers. He was part of two playoff teams, including the 1984 World Series champion Tigers -- and he won the World Series MVP, too, after hitting .450/.500/.800 with a double, two homers and six RBI in the four-games-to-one victory.
Trammell received MVP votes in seven different seasons, finishing in the top 10 three times. He was the runner-up in 1987, when he hit .343/.402/.551 with 34 doubles, 28 homers, 105 RBI, 109 runs and 21 steals.
THE CASE FOR INDUCTION
Trammell was a true all-around player. He was an excellent defender who could hit for power on occasion and also had good speed. He walked more than he struck out in seven different seasons (and twice had exactly the same number of walks and strikeouts) and led the AL in sacrifice bunts twice. He had double digits in both steals and homers in seven different campaigns.
Trammell has gained steam in the past few years due to a shift in how players are viewed. That is, if only looking at raw offensive totals and focusing on batting average, Trammell isn't overly attractive as a Hall of Fame candidate. If we throw in on-base percentage and all-around value (yes, WAR), Trammell looks the part.
Given that he walked a decent amount, Trammell's .352 OBP looks a bit more attractive than his still-respectable .285 average. Factor in good baserunning and outstanding defense and Trammell's WAR shows an all-time shortstop.
Trammell's 70.3 WAR (baseball-reference.com version) ranks him 11th of all-time among shortstops, behind seven Hall of Famers, Alex Rodriguez, future Hall of Famer Derek Jeter and a man from the turn of the century by the name of Bill Dahlen. There are 16 Hall of Famers behind Trammell here -- including recent inductee Barry Larkin -- so he'd actually be an above-average Hall of Fame shortstop by this measure.
Trammell actually ranks among the top 100 players of all-time in WAR, placing 94th (64th among position players). As expected, given that he was so good an all-around player, Trammell is outstanding in both offensive WAR (80th all-time) and defensive WAR (33rd all-time).
There's also the consistency factor here to consider. No, not in terms of Trammell being a consistent player -- which he was -- but in terms of how we consider players Hall of Famers. If you're going to discount the candidacy of DHs like Edgar Martinez because they didn't play defense, you absolutely must give Trammell a significant boost due to how great a fielder he was at a premium defensive position. We included WAR here so there was a number to put on Trammell's defense, but even the WAR Police have to admit Trammell deserves a defensive bump here.
THE CASE AGAINST INDUCTION
A major part of the case against Trammell is going to involve ignoring defense and only focusing on raw offensive numbers. Trammell hit zero statistical benchmarks on career counting stats (3,000 hits, 500 doubles, 1500 RBI or runs, 300 steals, etc.). 
Going further, Trammell doesn't prominently appear on many career leaderboards offensively. He's 158th in runs, 127th in hits, 177th in total bases, 157th in doubles, 205th in walks and 141st in times on base.
From this vantage point, the argument would be that Trammell was good at everything but not elite at anything. Since he's 109th in career games played, it could be said that he was a compiler who didn't compile nearly enough.
And even for being considered nowadays an elite defender, Trammell won just four Gold Gloves in 20 years.
Finally, there's the "feel" and "fear" argument. To many, Trammell just doesn't "feel" like a Hall of Famer. And just as Jim Rice was seemingly elected at least in part because he was considered one of the most feared hitters of his era, Trammell wasn't considered a "feared" hitter.
---
Trammell has received a big boost in support in the past few years as voters become more receptive to advanced metrics. He was between 13.8 percent and 18.2 percent on each of his first eight years on the ballot. He then jumped to 22.4 percent, 24.3 percent and 36.8 percent, respectively, before the crowded ballot caused a slight drop (33.6 percent) last season. Odds are heavily stacked against him making a substantial push in his final three years on the ballot, unless the process is altered and voters are allowed to list more than 10 names. The best guess is that doesn't happen and Trammell falls off the ballot after his last three tries.
Saturday: The cases for and against Larry Walker
CBS Sports HQ Daily Newsletter
Get the best highlights and stories - yeah, just the good stuff handpicked by our team to start your day.
Please check the opt-in box to acknowledge that you would like to subscribe.
Thanks for signing up!
Keep an eye on your inbox for the latest sports news.
Sorry!
There was an error processing your subscription.
Ryu and Clayton Kershaw both remain with the Dodgers instead of hitting free agency

See who's received hardware for the 2018 season

It's part of what figures to be a big offseason for Philly
The marvel of Marvel Comics died at 95 on Tuesday in Los Angeles

The Twins lifer is officially retired after an outstanding MLB career

Big beard or big bucks? Easy choice, it would seem