Luhnow built Cards with draft miracles; Can his Astros do same?
A remarkable 17 of 25 players on St. Louis' NLCS roster were either drafted (many in late rounds) or signed as amateurs.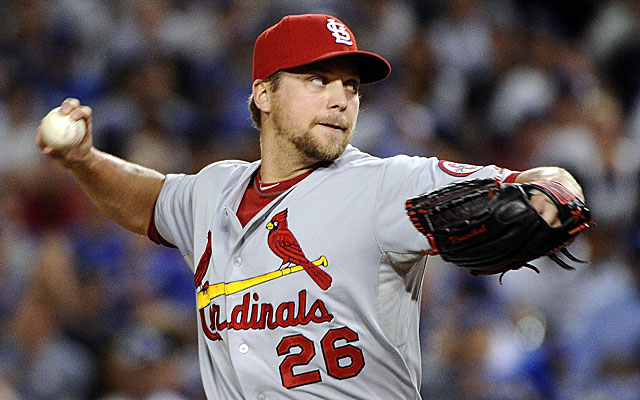 Here's some hope for Houston: No less than 17 players on the Cardinals' NLCS roster were drafted or signed as amateurs by that team when Astros GM Jeff Luhnow was the Cardinals' scouting director.
The large number is impressive -- it's about double the total of each of the other three "final four" teams -- but just as amazing is how late some of the key contributors were taken by the Cardinals. In the dynamic ultra-young just-formed bullpen alone, Seth Maness was an 11th-rounder, Trevor Rosenthal a 21st-rounder and Kevin Siegrist a 41st-rounder.
The Cardinals have a long-standing pre-draft tradition whereby their area scouts each take only a handful of the 1,100 or so magnets representing the draft-eligible players, post them, then make a case for those few they believe will go above and beyond outside expectations. When first-year scout Nick Brannon, from Louisiana, made his case for Maness, a converted infielder from East Carolina University, it was so stirring there was unusual applause.
"It was a very compelling presentation," Luhnow recalled by phone. And dead on, as it turns out.
Similarly, scout Aaron Looper from the pitching Looper family, sold Cardinals higher-ups on infielder Rosenthal as a pitcher. Rosenthal had thrown only a few innings (4 2/3 to be exact) off the mound that year for Crowley County (Kan.) Community College. But that was enough for Looper to make his call.
Good thing, he's the Cardinals' often unhittable closer.
Again, when scout Charlie Gonzalez argued that a young skinny lefty, Siegrist, from Palm Beach (Fla.) College, could fill out and become a hard thrower (he threw 86-90 then, up to 98 now), folks in the room took notice. It probably didn't hurt that Siegrist was local to their spring-training camp in Jupiter, giving Cardinals people ample opportunity to check up on the "draft and follow" player.
The Cardinals are quite the consistent success story, carrying their draft and development success for many years, starting well before Luhnow. But the record of success is quite strong during Luhnow's tenure there. By comparison, the Red Sox, counting draftees plus international signees, have nine homegrown players on their LCS roster. And the Dodgers and Tigers eight apiece.
Not that there's anything wrong with forming most of an excellent roster through trades and high-priced free agents, but the Cardinals save money this way. Their $115 million payroll is 11thhighest in baseball behind the Dodgers (second), Red Sox (third) and Tigers (fifth).
It's a remarkable record for the Cardinals, but Luhnow doesn't hesitate to say they could duplicate it in Houston, where the Astros have posted baseball's worst record three years running while the team has stockpiled two draft choices.
"No question about," Luhnow says. "I know what worked over there. No question, there's a lot of luck involved. You try to make smart bets, and if you make enough bets, things will work out."
With these ultra-high draft positions, the Astros have moved from the bottom of prospect rankings to at or near the top. Luhnow had a luxury the Cardinals never had, holding the No. 1 overall pick twice, and he used them on high school shortstop Carlos Correa and Stanford pitcher Mark Appel. After going 51-111, they once again have the No. 1 pick, with North Carolina State left-hander Carlos Rodon the consensus top player.
Regardless, it's still not going to be easy to equal the output of the Cardinals, who've also made wise free-agent signings (Carlos Beltran), trades (Adam Wainwright) and trades/signings (Matt Holliday) to get where they are. The thing that really stands out, though, is the consistency of the production out of the minors.
"The development people may not get a lot of credit. But none of these guys were finished products when they started," Luhnow said.
Rosenthal, Siegrist and Carlos Martinez, didn't even start out as pitchers. Martinez was also an infielder before being converted to pitching while in the Mariners' camp in the Dominican Republic. The two teams' camps were so close that Cardinals people grew to love Martinez, and they won a bidding war for him, signing him for close to $1.5 million. Like Rosenthal, he can throw 100 mph.
Not all of the Cardinals' draftees were late-round gems, of course. Shelby Miller was a first-rounder, and so was Pete Kozma. Joe Kelly and Daniel Descalso were third-rounders. But what stands out is how late some of these players lasted before the Cardinals called their names. In addition to the aforementioned pitchers, Matt Carpenter was a 13th-rounder, and Matt Adams a 23rd-rounder.
Seventeen is a big number out of 25 to be acquired originally through the draft or as an amateur signee. What's more, if Allen Craig and Jaime Garcia, out with injuries for the NLCS, are also counted, that's 19 out of 25. It's no surprise that no other team, including the ones not still alive, can match that type of draft/development success. 
The slugger had shoulder surgery in November

Tebow reported to spring training with Mets position players on Sunday

Santa Clara senior Jake Brodt did the honors Saturday
Eric Hosmer's eight-year contract with San Diego has wide-ranging ramifications

Keep tabs on the top 50 free agents right here

The Padres have been heavily connected with Hosmer all offseason