Luke Hochevar out until at least May with sprained UCL
Royals reliever Luke Hochevar won't be back until May or maybe even later.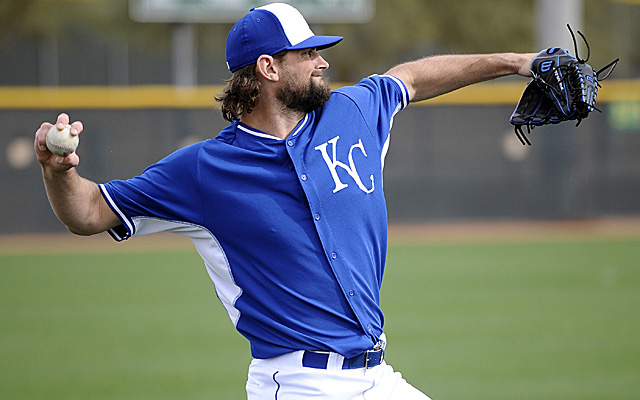 MORE: Spring Training | Scoreboard | FA tracker: position players | FA tracker: pitchers
Bad news for the Royals and possibly even worse news for Luke Hochevar: The reliever is going to be out quite a while with a sprained ulnar-collateral ligament in his right (pitching) elbow. If torn, that is the ligament that usually requires Tommy John surgery to repair.
Manager Ned Yost told reporters that Hochevar will be shut down for at least two weeks and the club is hoping to have him back sometime in May. But it could be even worse:
By the by: Yost called Hochevar returning by May/June the "best-case scenario."

— Andy McCullough (@McCulloughStar) March 5, 2014
Hochevar, 30, had a breakout 2013 season. He had previously been a bust as a starter -- considering he was the No. 1 overall pick in the 2006 draft -- but his transition to the bullpen last season went beautifully. He had a 1.92 ERA, 0.83 WHIP and 82 strikeouts against only 16 unintentional walks in 70 1/3 innings pitched. He was a major part of the Royals sporting the best bullpen ERA in the American League by a sizeable margin (2.55, with the Rangers' 2.91 ERA being second).
Where things get worse for Hochevar, personally, is that he's set to hit free agency after this season. Another season like he had last year with full health would have likely landed him a pretty lucrative deal -- relatively speaking, with a non-closer reliever, of course.
It's still possible he ends up healthy for the second half of the season and posts great numbers, but this is definitely a setback.