Maddon smells playoff weather, and his team smells the playoffs again
No team in baseball has been to the postseason more than four of the past six years. The Rays could, and should, join the elite group with four.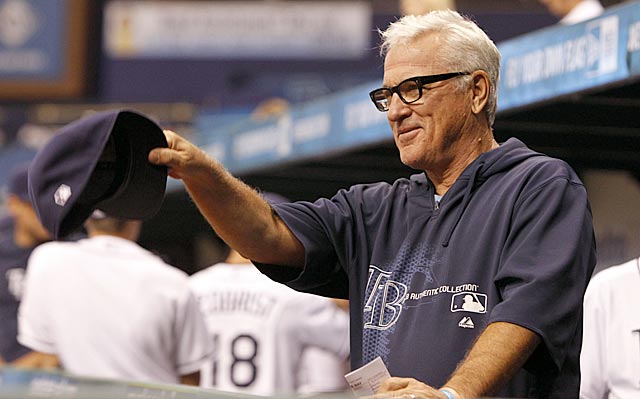 NEW YORK -- Joe Maddon's Rays are famous for their dress-up road trips, but the only accessory required this week was a jacket.
It's late September, and where they were heading it could get a little cool.
"Playoff weather," Maddon said Tuesday. "You go on the road, you can smell it."
The Rays have the look of a team that does. For six years, they've had that look.
"You expect to be in this position, year after year," Maddon said. "It was a hard sell in 2008, but now, at this point, we really expect to be in the hunt on an annual basis."
Over the past six years, no team has done it any better.
The Rays are racing toward a wild-card berth, with a winning streak that reached five games with Tuesday's 7-0 rout of the almost-eliminated Yankees. They're not in yet -- the Indians and Rangers both won Tuesday as well -- but the Rays still lead the Indians by a game and the Rangers by two, and they only need to make sure that both don't pass them by Sunday.
At this point, you'd have to say that a fourth playoff appearance in six years is looking good.
You know how many teams have been in the playoffs four times in the last six years?
The Phillies, although they've missed the last two years, and may well miss for a few more.
The Yankees, although they're missing out this year, and may well miss for a few more.
The Cardinals, who made it four by clinching a spot this year.
The Rangers, but only if they get there this year.
And the Rays, assuming they get in.
The Rays keep going back, even though they spend far less money than any of the other four. Or maybe they keep going back in part because they spend less money.
The payroll constraints keep the Rays from getting tied up in bad long-term contracts, the kind that can strangle a team. Money concerns have also led the Rays to consider trades they otherwise wouldn't have, trades that have worked to give them a young team that can win this year and could well win for years to come.
They got nine big outs Tuesday from Jake Odorizzi, who was part of the trade better known for bringing them Wil Myers in exchange for James Shields. They've won 14 games started by Chris Archer, who was part of the Matt Garza trade with the Cubs. The first run Tuesday was supplied by Matt Joyce, who arrived in the Edwin Jackson trade with the Tigers.
"If we had a lot more in the way of resources, we wouldn't operate this way," general manager Andrew Friedman said.
Friedman still says the Shields trade was the hardest one they've made, because of what Shields meant to the Rays. But even without Shields -- and with Myers putting up good enough numbers to win consideration as rookie of the year -- the Rays are right back in the same place they've been every year since this run began with the surprise 2008 World Series team.
The word back then was that it was great they could build a team like that once, but there was no way they could sustain it. Five years later, it's safe to say they have.
There will be more turnover. There's still every expectation that the Rays will trade David Price this winter, but there's also every expectation that they'll come up with a ton of talent in return.
If Shields brings you Myers, Odorizzi and more, how much do you get for a guy who is younger and has already won a Cy Young?
But that's for later. The Rays could have traded Price last winter, but held onto him because they wanted one more shot at winning with him.
Price was a rookie coming out of the bullpen during that first playoff run five years ago. Now he'll face the Yankees on Wednesday night in what could be his last Rays regular-season start.
It probably won't be his last start in a Rays uniform. Price would be on turn to pitch if the Rays need to play a tie-breaker game on Monday, and otherwise could start next Wednesday in the one-game wild-card playoff.
And even if that game is played back home under the Tropicana Field dome, you can bet Maddon will still be talking about playoff weather -- and telling the story behind it.
"I used to kid with [Mike Scioscia]," said Maddon, who was Scioscia's bench coach with the Angels. "It might even have been 2002. It was September, and I told him, 'It smells like football weather.'
"He said, 'No, this is playoff weather.' And I've adopted that."
Scioscia's Angels went to the playoffs six times in eight years starting with that 2002 season. Now this is the fourth straight season they'll have missed out.
It's not easy to get there year after year, even if you've got money to spend. It's not easy to get there four times in six years when you've got no money.
The Rays could do it. The Rays should do it.
They smell it.
Playoff weather.
deGrom is set to become a free agent after the 2020 season

Perkins missed most of the last two seasons due to injury

Jonathan Singleton was suspended after a third positive test for a drug of abuse
Rodriguez will join Jessica Mendoza and Matt Vasgersian on the "Sunday Night Baseball" boo...

Jeff Wilpon talked about payroll on Tuesday, and it won't make any Mets fan happy

Yelich's agent recently asked the Marlins to trade him before the spring