Maddon's magic will be a key for the chance-taking Rays again
Joe Maddon has a new challenge in shortstop Yunel Escobar as Tampa Bay continues to depend on its manager to mold quirky characters (or worse) into a winning blend.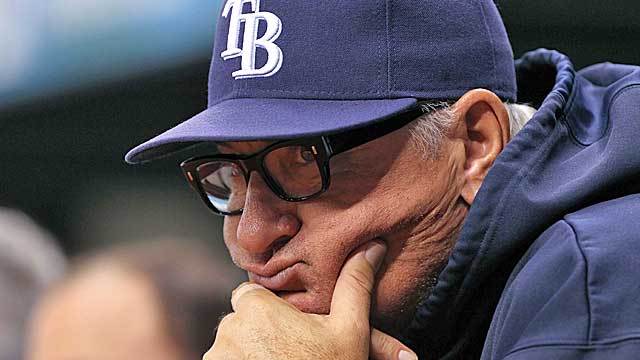 Maddon has a gift for getting the most out of players who wore out their welcome elsewhere. (US Presswire)
PORT CHARLOTTE, FLA. – One big reason the Rays can bring in players who are quirky characters or even ones with questionable reps is because they are located in sleepy St. Petersburg, where almost no one will notice.
But they can do it, too, because Joe Maddon is their manager, and he works a magic that makes it all come together. No matter who they acquire, whether it be someone with extreme politics, a bit of a temper, a past, a name change or worse.
Which brings us quickly to recently-acquired Rays shortstop Yunel Esobar, the man with the eye black and the bad rep who's due in any day.
"I'm looking so forward to it,'' Maddon said, straight-faced. "I really believe this guy is going to be an American League All-Star shortstop and can win a Gold Glove this year.''
The Rays do their due diligence, as they say. They finish their homework. But, more than just about anyone else, they bring in players that didn't work out elsewhere for reasons other than a lack of talent. Escobar is one of those guys.
Rays general manager Andrew Friedman and their baseball people have done a brilliant job keeping their payroll perennially reasonable. Great scouting and smart decisions is the main way they've done this. But taking chances is another.
They're taken more chances on characters than just about anyone else. Escobar is a big one. He's going to be counted out to be the starting shortstop.
Even before he received a short suspension last year for wearing eye black inscripted with the words "Tu Ere Maricon,'' which foully accuses someone of being a homosexual, Escobar was known in Atlanta as a bad seed, that rare player who couldn't get along with iconic manager Bobby Cox. When he gets here, Maddon plans to sit down with Escobar and have a chat. After that's over, he expects nothing but good things.
And why not? Maddon, an erudite iconoclast who's an expert in wine, books and bicycling (pursuits that aren't necessarily at the top of your average ballplayer's hobby list), has a way for getting through to just about everyone. And more to the point, getting the most out of their talent, which usually isn't the problem.
"He's exceptional at getting guys to relax, have fun and let their natural ability dictate how much they help us,'' Friedman said.
Patience, Friedman says, is the key. Maddon leads the league in pats on the back. "If a guy gets off to a bad start, he's not looking to bury him and bring a new guy in.''
Maddon is a players manager, they all tell us. He lets the players act goofy, be goofy and dress goofy.
 "He lets the players police themselves. He lets us control the environment,'' said David Price.
Or so they think.
"Too many teams dictate how people should act,'' said Maddon. "The best way is to permit players to be themselves.''
Except when they need to be better, of course. 
Maddon doesn't bat 1.000, only close. There are exceptions to his success stories, one being Elijah Dukes, a big strong power hitter from the Tampa Bay area who never made it as a major leaguer and continues to get into scrapes after he's gone.
Maddon never got a chance with Matt Bush, the former No. 1 pick who was famous for trashing Padres owner John Moores' owners box in San Diego but last spring in rays camp landed in jail for badly injuring an elderly person in a drunk-driving accident.
Maddon's record is amazingly good. But he can only do so much.
"It's always up to the player,'' Maddon says. "I can't teach you anything. I can only make you think.''
It's a joy to talk to Maddon, and you always feel better after you do. That's how the players must feel. His style is to give the players room, which you might not think would work with some characters.
Friedman and Maddon say a lot of research is done before they decide to bring in a player with a questionable rep. "Nothing we do is knee jerk or haphazard,'' is the way Maddon put it.
Friedman and Maddon talk constantly about prospective pickups but Maddon ultimately said he has agreed "almost 100 percent'' of the time. He thinks it's his job to mold whoever he has in his clubhouse, no matter who they are or what they have done.
Friedman's done an incredible job perennially squeezing as much talent into a near-the-bottom payroll (it's in the low $60 millions now), and he acknowledges he has taken some chances on character issues to make it work. Friedman balked at going over a complete laundry list of the characters/quirky guys imported in recent years, cutting the interviewer off after five or six of a very long list. Truthfully, it was getting time consuming.
Speaking of name games, Juan Carlos Oviedo and Roberto Hernandez worked out on a backfield here. They used to be called Leo Nunez and Fausto Carmona, and that doesn't bother the Rays.
"It's about who they are,'' Friedman said. "Our reports on them are tremendous.''
Luke Scott kept his extreme political views (they've been documented in interviews) out of the clubhouse, and fit in nicely last year. He's back. "He was a tremendous teammate,'' Friedman said. "He cares passionately about winning.''
Friedman said they did a lot of work on Escobar before taking the plunge. "There's a certain level of risk associated with it, but we feel the upside outweighs the risk. "We feel he's going to fit right in.''
Despite the checkered-to-bad past, don't bet against him fitting in. Maddon's magic will be at work.
We heard about it being awful for years, but was it?

Then again, three trades in four days might be behind Jerry Dipoto's usual pace

Ohtani is arguably the best hitter and pitcher in Japan
The O's need rotation help, and Cobb is available for hire

The Red Sox and Cardinals are expected to make trade offers next

The free agent first baseman may be a fit in St. Louis