Maddux, Thomas headline 2014 BBWAA Hall of Fame ballot
The 2014 BBWAA Hall of Fame ballot was revealed Wednesday, with first-timers Greg Maddux and Frank Thomas headlining the newcomers. Holdovers Craig Biggio and Jack Morris also have a shot at induction.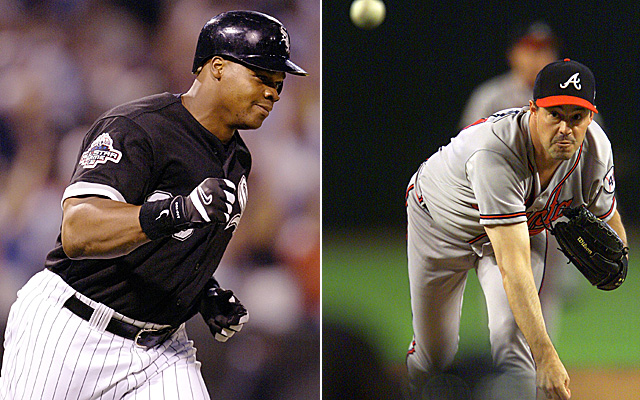 Expansion Era Hall of Fame ballot contains big-name managers
The 2014 BBWAA Hall of Fame ballot was revealed on the voting body's official website Tuesday, with very few surprises, as usual. And it is a stacked ballot, to be sure.
Each qualifying member of the BBWAA can submit a ballot with zero to 10 names and any player receiving a vote on at least 75 percent of the ballots will be inducted into the Baseball Hall of Fame next summer. Each individual player will remain on the ballot for 15 years, unless he receives less than five percent of the vote -- in which case he falls off the ballot.
Last season, zero players were elected by the BBWAA. This season, it would be pretty surprising if that were a repeat, considering both the returnees and the new entries.
As for the returning names, the players with the best chance to be inducted are Craig Biggio (68.2 percent of the vote last season), Jack Morris (67.7 percent -- and this is his last chance), Jeff Bagwell (59.6 percent), Mike Piazza (57.8 percent) and Tim Raines (52.2 percent).
The other returnees, including the percentage of the vote received last season:
Lee Smith (47.8)
Curt Schilling (38.8)
Roger Clemens (37.6)
Barry Bonds (36.2)
Edgar Martinez (35.9)
Alan Trammell (33.6)
Larry Walker (21.6)
Fred McGriff (20.7)
Mark McGwire (16.9)
Don Mattingly (13.2)
Sammy Sosa (12.5)
Rafael Palmeiro (8.8)
As for the first-timers, Greg Maddux, Frank Thomas and Tom Glavine headline the impressive group. One would guess each of the three have a good shot at induction in his first try this time around, especially Maddux.
Mike Mussina and Jeff Kent are also first-timers who should remain on the ballot for at least the next few years.
The rest of the first-timers on the BBWAA Hall of Fame ballot: Luis Gonzalez, Moises Alou, Kenny Rogers, Hideo Nomo, Eric Gagne, Sean Casey, Ray Durham, Richie Sexson, J.T. Snow, Mike Timlin, Armando Benitez, Jacque Jones, Todd Jones and Paul Lo Duca.
Voting results will be announced on Jan. 8.
Get 15 percent off any order of more than $75 at CBS Sports Shop

Get your sports fans something that they'll wear all year

No, you're not imagining things. This MLB offseason has been very slow compared to the last...
Francesa will retire from radio next month, so he'll have plenty of free time next summer

The Twins need help in the rotation, and they may look to the trade market to find arms

Here are the bullet-points of what went down Tuesday regarding MLB and the Braves' punishm...