Madison Bumgarner named AP male athlete of the year
Giants starting pitcher Madison Bumgarner has been named the Associated Press male athlete of the year.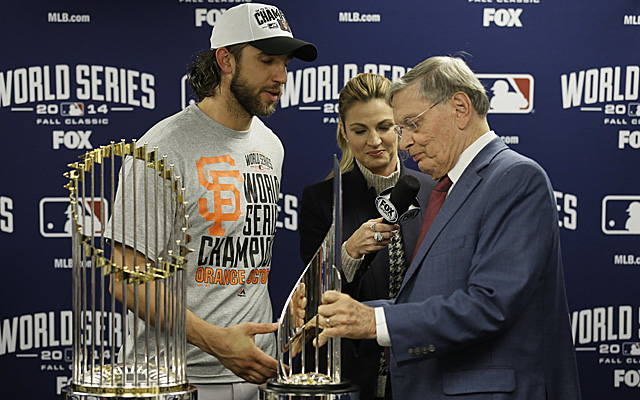 The year that is 2014 is winding down, so we get a flurry of honors handed out. The Associated Press annually names a male and female athlete of the year, and this year's male winner is Giants postseason workhorse Madison Bumgarner.
Bumgarner, 25, did much more than just shine in the postseason, of course. He made his second straight All-Star Game and finished fourth in NL Cy Young voting thanks to going 18-10 with a 2.98 ERA (117 ERA+), 1.09 WHIP and 219 strikeouts in 217 1/3 regular season innings.
That's not winning him male athlete of the year, though. It was what he did in October.
Bumgarner started with a four-hit shutout of the Pirates in the wild-card game, striking out 10 and walking just one. He'd go on to win the NLCS MVP, posting a 1.72 ERA and 0.77 WHIP in two starts. In the World Series, of course, he was insanely good. In three outings -- two starts and the epic Game 7 relief appearance -- Bumgarner was 2-0 with a save, pitching to a 0.43 ERA, 0.48 WHIP and 17 strikeouts against one walk in 21 innings. He was the World Series MVP, too, as the Giants won their third World Series title in the past five seasons.
In all, Bumgarner was 4-1 with a 1.03 ERA, 45 strikeouts, six walks and one save in 52 2/3 innings in the postseason. Sick!
And that's why he's the AP male athlete of the year. Congrats, Mr. Bumgarner.
Clayton Kershaw finished second in voting, with Derek Jeter and Rory McIlroy tied for third. Peyton Manning rounded out the top five. Tim Howard, Lionel Messi, Tim Duncan, Aaron Rodgers, Novak Djokovic, Richard Sherman, Tom Brady, Thomas Mueller, Sidney Crosby, Marcus Mariota and LeBron James also received at least one vote.
The female winner was Little League star Mo'Ne Davis.
Mark Appel was one of the players being moved about on Monday night

Garrett Cooper is the answer to a trivia question

We still don't know if Ohtani will be jumping to the majors yet
Kinsler is a free agent next winter

Opening Day will be Thursday, March 29 -- the earliest opening day in MLB history

The World Series champion and big-time wrestling fan was on hand Sunday night