Magic hopeful on Kershaw, but Cano? 'The numbers don't add up'
Dodgers owner Magic Johnson basically ruled out a run at Robinson Cano, assuming they can sign star pitcher Clayton Kershaw.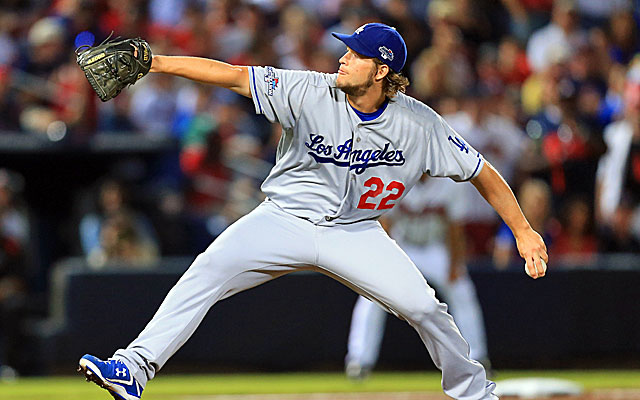 ATLANTA -- Dodgers owner Magic Johnson suggested he has confidence the team will lock up likely Cy Young winner Clayton Kershaw to a new contract this winter but there won't be room even in their vast budget for star second baseman Robinson Cano, too.
Other sources suggest the Dodgers and Kershaw were talking about a deal for $200-million-plus sometime in the summer before talks broke off. The deal was said to have been for at least seven years, and possibly eight, and may have included an opt-out provision a few years into it.
It is uncertain why talks broke off, but Johnson's comments, uttered on the field before Game 1 of the Dodgers' NLDS series vs. the Braves, are the first time anyone involved has alluded to the team's talks with Kershaw publicly, at least in a long while. Johnson didn't say why talks stopped, but suggested they expect to pay him a lot of money.
 "We know where we have to be," Johnson said.
The Dodgers aren't a team that has acted like it has payroll limitations, but Johnson strongly suggested two monster paydays -- Cano is aiming for $300-million-plus, according to sources -- probably isn't realistic. "Though I can't talk about it, that other guy in New York is going to get paid -- not by us," Johnson said. "But he's going to get paid."
Kershaw is the one the Dodgers figure they need to sign, and Johnson, in answer to a question about Kershaw's price potentially going up if he has a big postseason, said, "We already know we've got to give him a lot of money. What's a few more zeroes? I'm hoping we give him a lot of money."
The Dodgers' new ownership group, led by Mark Walter, Stan Kasten and Johnson, has run the payroll up to a National League record $220 million from $90 million in only two years.
Johnson, characteristically, was in good spirits for Game 1. "Let's enjoy the moment," the all-time basketball great declared at one point. "This is a great moment for everyone."
Johnson got a good chuckle when Dodgers catcher A.J. Ellis caught him in the runway and asked him, "Have you ever been to the postseason? Do you know what it's like?" Magic answered "No," then laughed later about.
In the interview with reporters later Johnson didn't mention Cano by name, but when someone asked whether Cano was a possibility, Johnson responded, "You've got to pay Clayton," while shaking his head no.
"I can't say anything, but you can't have two guys," Johnson said. "It's common sense for anybody who knows numbers. The numbers probably just don't add up."
One caveat is that Johnson's premise assumes that Kershaw will be signed by them. There's been some mystery surrounding why the talks fell through in summer.
Johnson mentioned they'll need more money to keep star shortstop Hanley Ramirez and other stars whose contracts will come up. But Kershaw, who can become a free agent after the 2014 season, is the priority now, and Johnson sounds confident.
"We know we can't lose our guys," Johnson said. "Unless something crazy happens, we won't lose them."
Gardenhire is familiar with the American League Central

"Homer at the Bat" is being memorialized by its own show in a unique way this weekend

It's Clayton Kershaw against Jose Quintana at Wrigley Field in Chicago
Five months is mid-to-late March, so this could impact the 2018 season

Cubs manager Maddon becomes the first manager ever ejected twice in one postseason series

Closer Wade Davis pitched two innings in Game 4 to help force a Game 5