Magic in for McCourt, it's almost too good to be true
Magic Johnson taking over for Frank McCourt is a dream for Los Angeles and the Dodgers.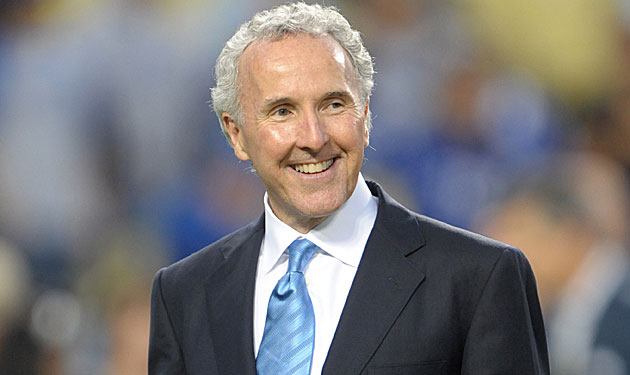 Getting Magic Johnson for Frank McCourt is a steal for Dodgers fans.
There's never been a bigger upgrade in sports history. The Dodgers go from being owned by a scheming parking lot schmo who's known for looting one of the greatest franchises in sports to an all-time great athlete and American who's been a positive force in every endeavor he's tried.
Frank McCourt is out, Magic Johnson in.
Just typing that sentence feels good.
McCourt came to Los Angeles a struggling scoundrel, and he leaves a rich scoundrel, due to some nifty negotiating and a lot of luck. Timing saved his bacon. TV dollars are exploding. Rich folks are getting richer in America. The Dodgers, for all their obvious McCourt-made problems, were suddenly a popular entity.
Enter one of the most popular Americans going. Johnson has turned everything he's touched to gold, The great assist maker on the basketball court knows how to make everyone around him feel good. He leads with a smile. He has so much more substance than a great court sense and deft shooting touch.
Baseball commissioner Bud Selig always likes to have his hand in picking the new owners. But this one was all up to McCourt, and not even he could blow it. Word is Magic Johnson was always good to McCourt over the eight years McCourt's been in L.A., not because Magic is a scheming guy plotting to one day to bid on the Dodgers, but because, as one big Los Angeles figure told me tonight, "Magic is good to everyone.''
More on Dodgers sale
Related stories
McCourt found the perfect ownership group. Selig has been pretty good finding worthy groups (with the obvious exceptions of McCourt and Tom Hicks), but even Selig never found a group as perfect as this. Johnson is the lead name, as he has to be. But there's also Stan Kasten, who ran the Braves successfully for a couple decades, winning a crazy 14 division titles, and also ran the Atlanta Hawks, which is how he got to know Magic.
Kasten tried to hire Magic to coach the Hawks one time. Coaching wasn't Magic's bag, it turns out. It was the one thing he didn't succeed at. But Kasten made a friend for a lifetime with his offer. Magic is good to everyone, but he's especially good to his friends.
Los Angeles is lucky today. They get an ownership team that knows sports, that especially knows baseball and has deep pockets. They rid themselves of a scoundrel who used the revenues of the team to line his own pockets while severely limiting the money spent on drafts and players. The Dodgers payroll went from $110 million two years ago, to $100 million last year and now to $90 million. The draft bonuses were limited severely, and yet the Dodgers scouts made two of the very best picks over the tenure of McCourt, plucking pitcher Clayton Kershaw and outfielder Matt Kemp, and a lot of other very good ones.
Now the Dodgers get a management group that's led by a kind man with a great personality and smile, a local hero, not some carpetbagging plotter. And they get a group with deep pockets, presumably. The $2-billion figure is about double the highest amount paid for a sports franchise, and about $1.2 billion more than baseball's biggest previous baseball sale price, the $800 million paid by Tom Ricketts for the Cubs. Magic and Co. kicked over an additional $150 million for the Chavez Ravine property, which means that the parking lot king won't be able to charge 80 bucks for Dodgers fans to see Magic's team.
This new group beat Stevie Cohen, the Connecticut hedge fund king, and his new partner Patrick Soon-Shiong, who together reportedly have at least $15 billion between them, for the Dodgers. So the winning group must have some serious bucks. Mark Walter of the Guggenheim group is one of the lead moneymen. Peter Guber, a Hollywood guy, Bobby Patton and Todd Boehly are the other listed partners so far.
Nice names. But whoever got the team had to have been an upgrade. It was sheer luck Frank McCourt's Dodgers made as many playoff appearances as they did in McCourt's terrible tenure. Credit GM Ned Colletti, whose contract is up after this year, plus Logan White, DeJon Watson and all their fine baseball people for that. McCourt did some meddling but they overcame it.
What couldn't be overcome was the P.R. disaster that defined McCourt. He fired and pushed out some of the very best public relations people in baseball, always blaming them for his bad press when the answer for his bad press could be found in the mirror he must not have hung in his four L.A. mansions.
McCourt spent tens of millions on two mansions in Malibu, and two more in Holmby Hills, an ode to extravagance that would have made most Hollywood starlets blush. And while he and wife Jamie were hopping between manses, he was taking money out of the Dodgers' coffers, spitting on one of the two most storied National League franchises, along with the Cardinals.
McCourt should be recalled as a lucky schemer, who leaves L.A. a rich devil instead of the pseudo-rich devil he arrived as. The one good thing he did in eight years for the Dodgers was sell them to Magic Johnson's group. And surely that wasn't done to benefit Dodgers fans. We don't know all the ins and out of the bidding yet, but either McCourt liked Magic and saw him as the guy to rehabilitate his image as a scheming loser. Or he liked Magic's group's $2.15 billion bid.
No matter. What counts now is that a great American is taking over for an all-time creep. Not even the Manny trade was this good.
We rate the best mustaches from random baseball cards because, why not?

Colon wants to break a Dennis Martinez record

The Twins have been rumored to be interested in Darvish all winter
Rolen is one of the best third basemen of all time, but you wouldn't know it based on this...

Neither Josh Donaldson nor Brian Dozier have talked about a new contract extension

Francisco leads the Dominican Winter League with seven home runs