Magical 2013 season is over, but Pirates want to keep this team intact
Though Pittsburgh was eliminated Wednesday, Pirates general manager Neal Huntington doesn't want this to be the end for this group.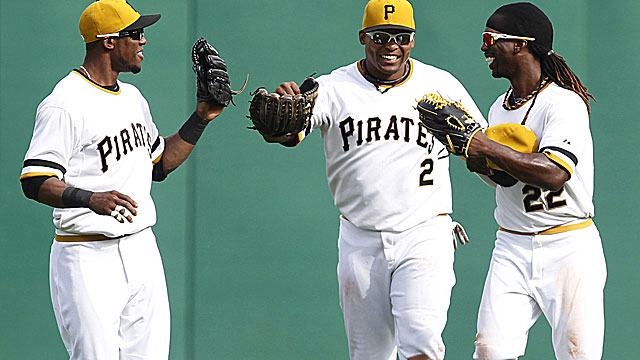 Though the Cardinals notched a 6-1 win and sent Pittsburgh packing in Wednesday's Game 5, Pirates general manager Neal Huntington will try to keep them together for another year.
That includes A.J. Burnett, even though he was passed over for the Game 5 start in St. Louis in favor of young Gerrit Cole. It also includes right fielder Marlon Byrd and first baseman Justin Morneau, the two players Huntington traded for in late August with the idea that they would likely be rentals.
"We'd like to keep them all," Huntington said this week. "We'll see, the day after the season ends."
While the Pirates didn't trade for Byrd or Morneau with the intention of keeping them beyond this season, they've been very happy with both. Byrd in particular has fit in and become a favorite both with Pirates fans and his new teammates. Morneau hasn't made as big an impact, but first base is a position of need for the Pirates going forward, and they'd like him to fill it.
Byrd will certainly be due a large raise, after signing a $700,000 contract with the Mets and turning in a huge bounce-back season. His .843 OPS in 30 games with the Pirates nearly matches the .848 OPS he had in 117 games with the Mets.
"He's brought a lot of intangibles here, too," second baseman Neil Walker said. "His approach to the game, his approach to hitting, and his willingness to talk to other guys about both."
Morneau obviously won't get the same $15 million he made in 2013, in the final year of a six-year, $80 million contract he signed with the Twins. But he's not going to get that (or anything close) anywhere else, either.
Similarly, the Pirates aren't going to pay Burnett the $16.5 million he made this year (subsidized heavily by the Yankees as part of the trade that sent Burnett to Pittsburgh). It's hard to know what another team would offer him. Burnett, who turns 37 in January, has also suggested he could consider retirement.
The Pirates do want him back. As Huntington said, he wants to keep them all.
He knows there's a chance that won't be possible, given the Pirates' somewhat limited budget. But it's not as unlikely as you might think, for a few reasons:
• When the Pirates reworked Francisco Liriano's contract after he broke his right (non-pitching) arm last winter, they included a 2014 option that would vest as long as the broken arm didn't keep Liriano on the disabled list too long. That option has already vested, so the Pirates won't need to work to keep a pitcher who has emerged as one of their most important.
• Huntington and his staff were sharp enough to offer Russell Martin a two-year contract, not only ensuring that they got a player who became perhaps the team's most significant addition, but also ensuring that Martin will be back for another year at a raise of just $2 million from his $7.5 million 2013 salary.
• The Pirates were also smart when they committed to Andrew McCutchen, whose salary goes from $4.7 million this year to $7.5 million next year. Imagine what it might have been if he was subject to salary arbitration after what may end up having been an MVP season.
• Huntington signed Jason Grilli to a two-year contract that will pay him only $4 million next year, even though Grilli emerged as the Pirates closer and saved 33 games.
Besides Burnett, Byrd and Morneau, the Pirates' most significant free agent is Clint Barmes, who basically shared the shortstop position with Jordy Mercer (although Barmes became the late-season and playoff starter after Mercer made a key error).
The Pirates do have players who will be arbitration-eligible and will be due significant raises, including third baseman Pedro Alvarez and Game 4 starter Charlie Morton.
It's not yet clear how much ownership will allow the payroll to rise, after allowing it to grow to a club-record $66.3 million (still only 26th among the 30 teams) this year.
What is clear is that Huntington wants to keep as much of this team together as possible.
After the way this season went (and regardless of how the rest of the postseason goes), do you blame him?
Sabathia will reportedly spend a 10th season in the Bronx

Fowler suffered a knee injury at Chicago's Guaranteed Rate Field

The lefty starter is coming off a terrible season
After acquiring Ian Kinsler and Zack Cozart in recent days, the Angels are trending upward

Cozart's coming off a big season as the Reds' shortstop

The veteran slugger spent the last eight seasons with Cleveland