Make or break time for Mariners and their disappointing young hitters
The time has come for the Mariners to do something about their trio of disappointing hitters: Dustin Ackley, Jesus Montero and Justin Smoak.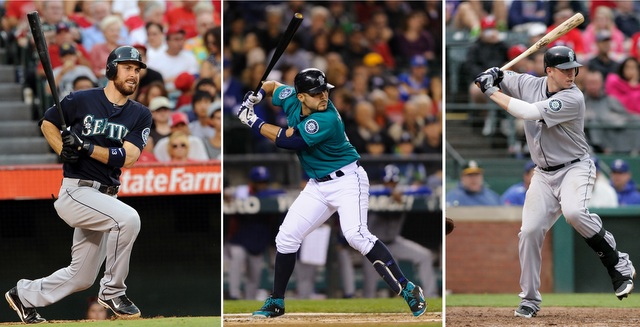 More MLB: Scoreboard | Standings | Probable Pitchers | Sortable Stats | Odds
Not too long ago, Seattle's trio of first baseman Justin Smoak, second baseman Dustin Ackley and catcher Jesus Montero would have represented the best young offensive core in baseball. All three ranked among the 13 best prospects in the game by Baseball America before the 2010 season, and man were they supposed to hit. All three of 'em.
Instead, none of them has hit, at least not at the big league level. The three Seattle Mariners -- Ackley was drafted by the team, Smoak and Montero were acquired in high-profile trades -- had strong spring training showings and it appeared they were on their way to living up to their potential, but instead those performances were a mirage and we've reached the point where we can say the team itself is contributing to the problem. The blame doesn't solely lie on the players, who have again been dreadful in 2013:
The Mariners' Disappointing Young Trio
Player
Minor League Career
2013 MLB Stats
Career MLB
Dustin Ackley
.280/.387/.435
.161/.200/.177
.238/.307/.348
Jesus Montero
.308/.366/.501
.217/.250/.239
.264/.306/.395
Justin Smoak
.279/.400/.449
.188/.282/.203
.222/.305/.368
Yes, it's very early in the season -- Smoak leads the trio with 78 plate appearances this year -- but we're talking about three young players who desperately needed to get off to strong starts in 2013. These three combined to hit .234/.294/.358 in 1,756 plate appearances last year, including a still-disappointing .249/.309/.408 in 910 plate appearances on the road and away from spacious Safeco Field. That's as bad as it gets.
When it comes to young players, especially young hitters who are on the field taking their lumps every single day, there is a fine balance between showing patience and doing what is best for the team. At this point, it's becoming clear the Mariners must do something with their three young hitters not only to avoid crushing whatever confidence they have left but also to ensure they are putting the best possible team on the field.
Montero, the youngest of the three at 23, has already been benched in favor of veteran backstop Kelly Shoppach. Montero has started only three of the team's last 10 games. Ackley, 25, and Smoak, 26, continue to play every day, but now they do so at the bottom of the lineup in deference to offseason pickups like Kendrys Morales, Mike Morse, Raul Ibanez and Jason Bay.
The easy answer here is to send all three down to Triple-A. They all have minor league options remaining, meaning they can go down without having to be exposed to waivers. Despite their poor big league performances, they're all young with enough prospect shine remaining to guarantee they would get plucked off waivers. Losing them in the demotion process isn't a concern for Seattle.
The difficult part is figuring out what exactly is wrong with each player. These three weren't just interesting prospects who haven't panned out, they were three of the 10 best position player prospects in the world as recently as three years ago. They were all blue-chip, "no doubt this guy is going to hit" types. Ackley was the second pick in his entire draft, Smoak was traded for a Cy Young Award winner (Cliff Lee) and Montero was traded for an All-Star (Michael Pineda). That speaks to the value they once had.
Outside of 25-year-old infielder Kyle Seager, a career .260/.316/.416 hitter who never made a Baseball America top 100 prospects list or was considered on par with the other three during his time in the minors, none of the Mariners' young hitters have hit. GM Jack Zduriencik put together a promising young offensive core and all three have been catastrophic failures. It's no secret why there have been rumblings Zduriencik's job might be in jeopardy in the near future.
If one stud prospect doesn't hit, it's probably just a fluky thing. It happens from time to time. If two don't hit, it's a concern. If three don't hit in the span of basically two years, then something is going horribly wrong somewhere. We're beyond the point where assigning the majority of the blame to the players is acceptable. The Mariners are doing something wrong at the minor league or MLB level that is contributing to the failure of their young hitters. I don't know what it is and given the way things are playing out, the team doesn't either. This is the kind of stuff that can set a franchise back several years. There's no sugarcoating it. Something has to change and soon.
Plus the Indians are now 27-1 in their last 28 games. Here is everything you need to know from...

The soon-to-be 43-year-old Dickey said he wants to spend more time with his family

The two NL Central rivals opened a four-game series at Miller Park on Thursday night
The ballparks in Cincinnati, San Diego and Seattle will have expanded netting in place by Opening...

Mondesi spent six years as the mayor of San Cristobal in the Dominican Republic after reti...

The veteran skipper has been Mets manager since the start of the 2011 season