Manny being persistent: Ramirez, who looks good, still trying for job
One hoped-for deal recently fell through, but Manny Ramirez is working out hard and trying to stay a player.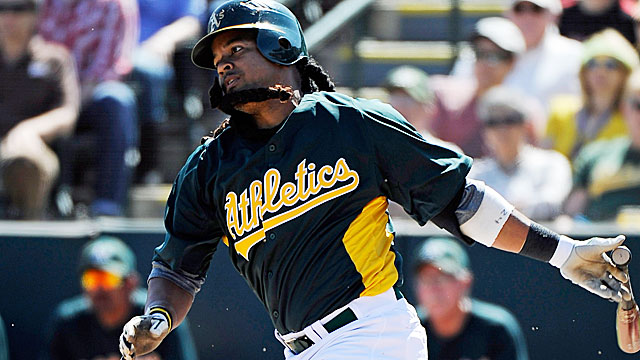 Former MLB great Manny Ramirez looked impressive in a recent baseball workout, according to a big-league scout who went to see him. The scout said Ramirez appeared surprisingly fit while lining baseballs on a park field not too far from his home in Pembroke Pines, Fla., outside Fort Lauderdale.
Ramirez, who is pushed by workout partner Miguel Tejada, another former big-league star who works out with him, continues to aim to return to the big leagues. There's been some contact with big-league teams about a possible minor-league deal (one hope of his with the Orioles recently didn't pan out), as well as some others from Japan. To this point, though, there's been no worthy offer.
While occasional observers have been impressed, it isn't an easy sell; he'll be 42 later this month, is one PED strike from a lifetime ban and posted numbers befitting only a solid singles hitter with A's and Rangers minor-league teams in short stints in 2012 and '13. Last year, he hit .259 with three homers and 13 RBI in 30 games with the Rangers' Triple-A Round Rock (Austin, Texas) affiliate in 30 games, though he was the king of Taiwan baseball with the EDA Rhinos in another, hitting .352 with eight homers in 49 games.
A few teams, mostly in the American League, have scouted and/or talked to Ramirez, but so far none have bitten. There was a brief contact with the Orioles, and maybe some hope on the part of Ramirez considering their general manager Dan Duquette was Boston's GM when Ramirez signed his $160-million, eight-year deal, and also played some superb baseball and helped them win their first World Series in 86 years. But ultimately, the Orioles sent word. "Not a fit," they said.
Undeterred, Ramirez, according to people who have spoken to him, presses on, running and hitting and hoping. He would prefer a minor-league deal with an MLB team, but would consider Japan as an alternative.
Some other teams that could possibly make sense could include the Royals, Blue Jays, Mariners and Angels, though the extent of those teams' interest isn't known and the Angels already have one, post-40 legend, Raul Ibanez, another South Florida resident and clubhouse plus who has been something of a role modelfor Ramirez but is batting .146 at present.
While he works out, waits and hopes for the best, Ramirez, stays in contact with his newest agents, Alex Esteban and Alex Gonzalez, the former major-league shortstop with the Blue Jays and others. Esteban said the big-league contact has been mostly with AL teams, though a couple NL teams have talked to them, as well. He declined to name the teams.
Ramirez envisions himself as a part-time hitter and elder statesman, a la the Indians era Jason Giambi, with eyes on becoming a hitting instructor someday, maybe a guy who roves the minors to work with kids, Esteban said. Crazier things have happened. Let's face it, whoever saw Giambi, who also had a steroid admission, as the great guide to kids he's become?
Realistically, it's probably not an easy fit for many considering the reputation, though Ramirez seems like a different person to those who've spoken to him the last couple years. He appears more humble, friendlier and more genuine. Past mistakes, like the two PED brushes (with the Dodgers in 2009 and the Rays in '11) may shape his new outlook.
"When you make a mistake in life, no matter what you do, you're going to pay the price," Ramirez told Ken Rosenthal of Foxsports.com two months ago.
But sometimes they write stunning comebacks, too.
Ramirez received winning reviews from some scouts who have seen him, who couldn't believe the shape he is in. One said he didn't recognize him at first, though partly because he wore a parachute on his back as he ran for wind resistance. Another remarked, "The sound off the bat was noticeably good."
But now, the sound Ramirez would like to hear is his phone ringing, with an MLB GM on the other end.
The Twins have already fortified the bullpen with Addison Reed, and now they want to address...

The Orioles likely want pitching, and the Indians have plenty of it

Halladay died in a November plane crash off the coast of Florida
The power-hitting outfielder is headed to Toronto

Martinez could add some power to a Boston lineup void of it

It's almost that time of the year again, time for the Tebow madness to return