Manny Machado suspended five games for bat toss incident
Orioles third baseman Manny Machado has been suspended for five games for his actions against the A's on Sunday. A's reliever Fernando Abad has been fined.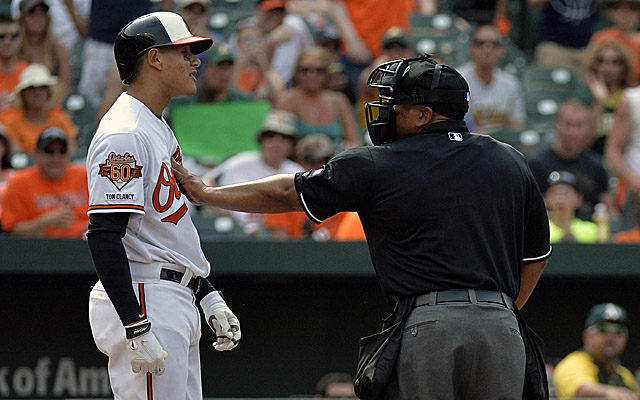 Snyder: Forgive Manny | Machado: Apology | Team meeting | Tag incident | Bat toss
Orioles third baseman Manny Machado has been suspended five games by Major League Baseball due to his role in a dustup with the Athletics on Sunday, CBSSports.com's Jon Heyman has confirmed. Machado is appealing the suspension.
Machado received an inside pitch from A's reliever Fernando Abad and then tossed his bat out into the field of play in what was pretty clearly a reaction to the also-clear purpose pitch. The benches cleared while Machado and Abad were both ejected. Abad has only been fined for his role in the incident.
The incident had roots from Friday night, when Machado was tagged by A's third baseman Josh Donaldson and fell down. Machado thought the tag was too rough and slammed down his helmet, which set off a benches-clearing gathering.
Then, Sunday, Abad came inside on Machado and the second benches-clearing incident of the series took place.
Monday, the Orioles held a team meeting to discuss matters with the 21-year-old All-Star and then he later apologized on camera for his actions.
Those actions were referred to as a "disgrace to baseball" by A's catcher Derek Norris.
Machado can keep playing until his suspension appeal is heard or dropped. In the meantime, his struggles on the field are worth discussing. After finishing ninth in AL MVP voting, leading the AL in doubles and winning a Platinum Glove for being the best defender in the AL last season, Machado is hitting just .229/.283/.336 (71 OPS+) this season.
In fact, Orioles general manager Dan Duquette told Fox Sports Tuesday that a demotion to the minors was an option, though the club is still hoping he can work through his issues at the big-league level.
The Twins have already fortified the bullpen with Addison Reed, and now they want to address...

The Orioles likely want pitching, and the Indians have plenty of it

Halladay died in a November plane crash off the coast of Florida
The power-hitting outfielder is headed to Toronto

Martinez could add some power to a Boston lineup void of it

It's almost that time of the year again, time for the Tebow madness to return