Manny Ramirez says he's not yet retired, hoping to return to MLB
Manny Ramirez continues to work out and prepare for the upcoming season, but he does not yet have a job. He continues to insist he is not retired.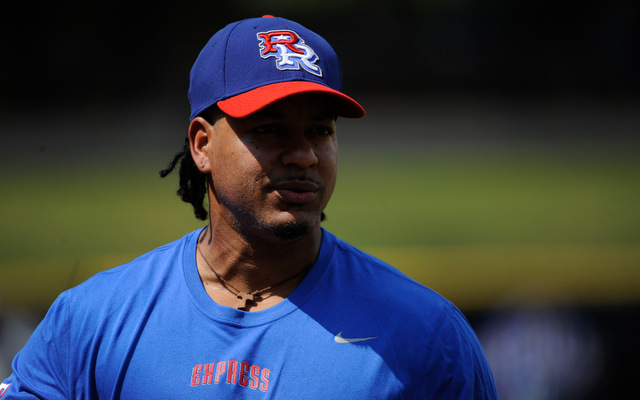 MORE: Spring Training | Scoreboard | FA tracker: position players | FA tracker: pitchers
It has been nearly three full years since Manny Ramirez last played in the big leagues, but he has not yet given up hope on a return to MLB. According to Enrique Rojas of ESPN Deportes, Manny is currently working out near Miami and insists he is not yet retired.
"My qualities are still there and I just need an opportunity to continue showing that the 'Super Manny' can help a team," Ramirez said Thursday on "Grandes en los Deportes" on ESPN Radio 104.5 FM in Santo Domingo, Dominican Republic.

"For now, I have no team interested, but I'm still working. Maybe I don't have anything this week, but who knows? Maybe next week I could get a call," Ramirez said from his training headquarters, which he shares with Miguel Tejada.
Ramirez, who turns 42 in May, played 30 games in Triple-A last summer after signing a minor league contract with the Rangers. He hit .259/.328/.370 with three doubles and three home runs and was released when the team determined he could not help them at the MLB level.
Manny briefly played in Triple-A with the Athletics in 2012 before signing with the EDA Rhinos in Taiwan. He hit .352/.422/.555 with eight home runs and more walks (23) than strikeouts (21) in 206 plate appearances with the Rhinos before hooking on with Texas.
It's very hard to see another club giving Manny a chance at this point, not given his declining skills and two performance-enhancing drug related suspensions. The Manny Being Manny act was tolerable when he was one of the two or three best right-hander hitters on the planet. But now? Forget it.
The Pirates recently shipped Gerrit Cole and Andrew McCutchen to Houston and San Francisco,...

Surely, Martinez and his agent are holding out for more

The reliever had a very good 2017 season with the NL Central champs
We don't need to discuss Chipper's Hall of Fame case, so let's have fun instead

Dioner Navarro still hopes to return someday

Christian Yelich's agent says his client's relationship with Marlins is 'irretrievably bro...