Manny seems to have lost it since spring; he isn't guaranteed A's callup
A's people wonder if the 50 days away due to the drug suspension sapped Manny Ramirez of his hitting mojo.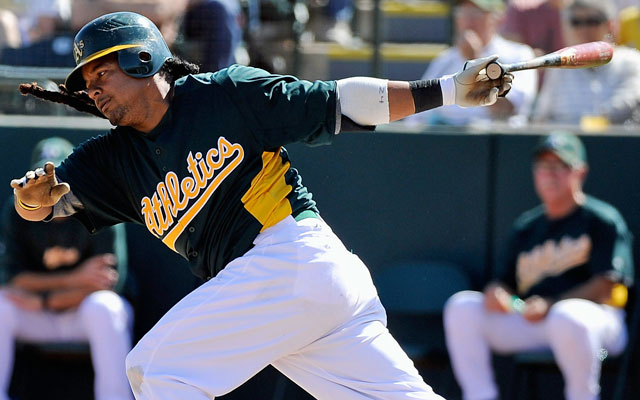 Manny Ramirez is hitting and slugging .243 for the Sacramento River Cats.
(Getty Images)
Manny Ramirez isn't guaranteed to be promoted from Triple-A Sacramento to the A's, as A's people are telling folks he is going to be treated no differently than other Triple-A players hoping to get the call to the big leagues.
Ramirez's weak hitting so far has delayed the original timetable, and it appears he'll need to show major improvements to get his promotion at all.
The original expectation was that Ramirez would be ready to play for the A's when his drug suspension was up May 30, his 40th birthday. However, he has struggled badly for the Triple-A Sacramento River Cats, batting .243 and also slugging .243 before going out with a hamstring issue.
The A's badly need proven offensive performers, but they are unconvinced at the moment that Ramirez will provide any offense. A's people liked what they saw from Ramirez in spring training but are wondering now whether his lengthy time away from anything approximating good professional pitching may have cost him his stroke and his timing. The suspension was originally supposed to be for 100 games, but his agents, Praver Sports management, had it reduced by 50 games because Ramirez voluntarily retired last season, in effect costing himself almost the entire season (well more than 100 games) after his penalty was levied.
He has no extra base hits thus far, and San Jose Mercury News columnist Ann Killion called him a "gray-dreadlocked ineffective minor leaguer.''
If Ramirez doesn't get the call to the A's, it's no great loss to them; they only have to pay his $500,000 annual salary for the time he is in the big leagues.
The A's made some great trades for the future this winter, acquiring youngsters Josh Reddick (14 home runs), Tommy Milone (6-5), Ryan Cook (0.72 ERA) and Jarrod Parker (2-2, 2.40) who are thriving for the major-league team, plus minor leaguers Derek Norris, a catcher (7, 22, .322 at Triple-A), and Miles Head, a first baseman-third baseman (1.074 OPS at Class-A Stockton).
Their highest-profile move, signing powerful young outfielder Yoenis Cespedes for $36 million over four years, also looks worthwhile so far, too.
The A's did well collecting players for the future. But so far, their one try to recapture something from the past looks like a big swing and a miss.
They were hoping Manny could be something close to the old Manny. But he only looks like an old Manny.
Neither Josh Donaldson nor Brian Dozier have talked about a new contract extension

Francisco leads the Dominican Winter League with seven home runs

Thome deserves enshrinement and here's why the case against him does not hold up
The Twins have already fortified the bullpen with Addison Reed, and now they want to address...

The Orioles likely want pitching, and the Indians have plenty of it

Halladay died in a November plane crash off the coast of Florida