Many Dodgers fans might not be able to watch SportsNet LA
Time Warner Cable still has not worked out any deals with other cable companies, meaning many Dodgers fans may be left in the dark when the team's new SportsNet LA network goes live next week.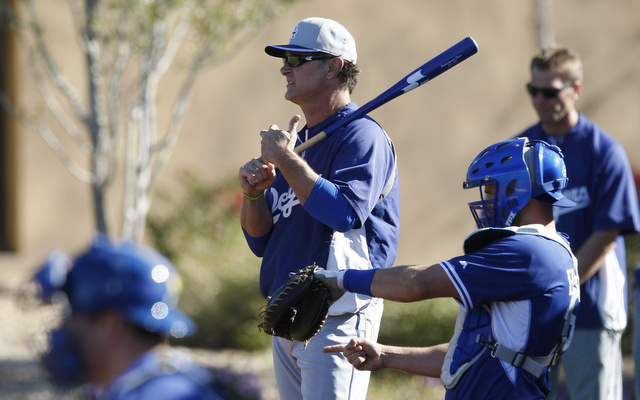 SportsNet LA, the Dodgers' new broadcasting network, is scheduled to go live one week from today, but thousands of fans may be left in the dark. Joe Flint of the Los Angeles Times reports Time Warner Cable still does not have deals in place with other cable and satellite distributors like DirecTV.
Time Warner is responsible for distributing the channel and since they paid such a high price for the team's broadcasting rights -- reportedly $8.25 billion across 25 years -- they're asking a lot of money from other providers. The cost will eventually trickle down to fans' cable bills.
"Time Warner Cable has unilaterally decided to pay an unprecedented high price and now wants all of their own customers as well as those of their competitors, none of which who had any say in the matter, to pick up that tab," said Dan York, DirecTV's chief content officer.
Flint says the initial cost of SportsNet LA is less than $5 per month, but the cost will quickly escalate. Some cable providers said they would only carry the network if they could offer it on an "a la carte" basis to customers who want to pay extra for Dodgers' programming.
Regardless of whether Time Warner can distribute the channel, the Dodgers are protected. Their broadcasting deal says Time Warner has to cover the subscription fees of any cable providers who decline to carry the network. The team gets paid no matter what.
Many fans, on the other hand, might be left in the dark. The network is set to go live next Tuesday and if no deals are reached, fans who are not Time Warner customers will not have access to SportsNet LA.
SportsNet LA is set to carry all Dodgers' spring training games as well as most regular season games.
The Rockies are clinging to the second NL wild card spot at the moment

Plus Matt Olson and Kevin Kiermaier heroics, a look at Zack Greinke's dominance and more

Plus the Indians are now 27-1 in their last 28 games. Here is everything you need to know from...
The soon-to-be 43-year-old Dickey said he wants to spend more time with his family

The two NL Central rivals opened a four-game series at Miller Park on Thursday night

The ballparks in Cincinnati, San Diego and Seattle will have expanded netting in place by Opening...