Many sides to Wedge's departure in Seattle, but break was needed
Did Eric Wedge leave Seattle because he didn't get a multi-year offer? Or was it due to front office meddling? Jon Heyman digs in to mystery surrounding the breakup.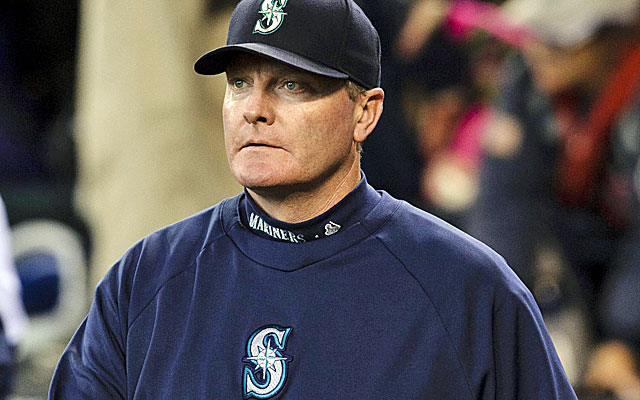 After speaking with Eric Wedge and several other people connected to the Mariners, only one thing can be easily concluded: Wedge made the right call to "walk away" from the job as Mariners manager after three years. (Wedge draws a distinction between that and "quitting," one of many disagreements/distinctions that exist between the sides. The others are far larger.)
After 3 1/2 up-and-down years, Wedge and much of the Mariners front office were no longer compatible. Of that there can be little doubt.
The rest of the story is where it gets tricky. Not much is agreed upon in the aftermath, and that includes exactly what went down in that final, fateful conversation before the season ended between Wedge and five-year Mariners GM Jack Zduriencik that was described as "intense" by someone with knowledge of it.
One of the biggest disagreements regards whether Wedge wanted to stay or not. Everyone seems to agree that Wedge initiated the ultimate conversation with Zduriencik ("barged in," is the way one Mariners connected person put it, but feelings are raw here; the pair had been having dialogue for days) on the Thursday off day, four days before the season was to end. After that, the stories diverge sharply.
Several Mariners people (though not Zduriencik, who declined comment) insist Wedge requested a multi-year extension at the meeting. According to them, he told Zduriencik he needed multiple years to give him added backing before he talked to his guys (the players). And they said that Zduriencik told Wedge he wasn't prepared to do that. Instead the two men would need to talk things over after the season. The Mariners people now say they can't understand why Wedge would think he deserved an extension after a season in which the Mariners regressed, losing four more games and finishing 71-91.
But Wedge denies the multiyear story. "No, no, no," he responded emphatically when asked over the phone whether he requested or demanded a multi-year deal in that final meeting.
"The contract never came up," Wedge said. "They didn't offer me a contract, and in the end it wouldn't have mattered if they offered me a contract."
That jibes with what he said publicly the day after his decision not to return was announced. At that moment he said he wouldn't have even come back for a "five-year contract," driving home the point that things aren't very sound in Seattle.
Based on what went down, though, multiple Mariners people don't believe that. One Mariners person says he has no doubt Wedge would have signed immediately if a contract had been presented to him. But clearly, that wasn't happening.
For his part, Wedge, who managed the Indians to within a game of the World Series in 2007 at 39, said he simply wanted Zduriencik to either "fire me or stand by me," something he ultimately believed Zduriencik wasn't willing to do, at least not to his liking.
"You're not going to compromise your principles," Wedge said in explaining why he chose to manage out the final three games, then leave the job that reportedly paid him close to $5.5 million over three years. "I'm going to leave with dignity because I didn't do anything wrong."
According to sources, Zduriencik was planning a year-end chat to request that Wedge make a few alterations, including improvements in his usage of the bullpen, with the presumption he could return for another year if he readily agreed. Wedge said the subject of bullpen usage didn't come up in their Thursday talk.
Apparently, the men never got to that point, as the serious confab didn't last long. Wedge told him right there he was done managing the Mariners after he finished out the final three games, then confirmed that decision via email to Zduriencik the following day, when the Mariners did in fact announce that Wedge would not be coming back, ultimately of his own choice.
Wedge most likely could have stayed another year had he agreed to the alterations. But Wedge's call to leave really was for the best based on how the breakup went and where everyone stood.
Wedge said there was a difference of opinion over the "vision" of the team but declined to elaborate out of fairness. Friends of his suggest he ultimately viewed the three-headed triumvirate, with chairman and CEO Howard Lincoln and president Chuck Armstrong above Zduriencik as difficult, maybe even dysfunctional. But by phone he declined to suggest as much. Wedge wouldn't elaborate but mentioned a few times the need for patience.
Apparently, many Mariners front office people weren't so enamored of Wedge by the end, either. He acknowledged that he tried to initiate dialogue with upper management about his contract situation at the All-Star break, and that request was turned down. Wedge himself rejected a one-year offer last winter when Zduriencik accepted the same deal, but with the team regressing slightly in 2013 after having taken steps forward his first two seasons in Seattle, his status with his bosses was teetering.
He seems to have understood that. That's why a deal for more than one year never should have seemed likely.
Several others inside the Mariners hierarchy wanted Wedge gone altogether, anyway, but word was that Zduriencik, who hired Wedge and had a relationship with him, believed it fair to bring him back for one more year considering the extreme youth of the team and Wedge's willingness to try to execute the plan, presuming he agreed to making the requested changes. (Zduriencik texted that he has "moved on" and thus preferred not to discuss it, not a surprise considering he generally seems to believe that the less said, the better.)
"I wanted to be here [in Seattle]," Wedge said. "For me to walk away from that shows you how far apart we were," Wedge said in a phone conversation a couple weeks ago. "I was looking forward to seeing it through, but not at the expense of everything I believed in. It's not like we weren't just on the same page. We were worlds apart."
That doesn't mean Wedge, only 45, is through managing altogether. "I don't want it to end like this," he said.
Wedge referred to Seattle as a "great baseball town" (and it's where he lives and where his 5- and 7-year-old children go to school) but declined to speak specifically about the higher-ups. However, people close to him suggest he was tired of some cockamamie ideas that came from way above, and that Zduriencik would dutifully pass on these schemes rather than reject them out of hand, which he quite likely took as a sign Zduriencik was worried about his own job.
The team showed improvement its first couple years under Wedge before regressing slightly last year after a spring training marked by an unexpected power surge raised expectations, probably well beyond what was realistic. The team suffered injuries to the bullpen and outfield. Wedge himself missed more than a month after suffering a stroke in the summer, adding a scare to all the disappointment.
(Wedge said he "feels 30" again after the root of his serious health issue was discovered to be sleep apnea, and stressed he would love to continue managing -- just not with the Mariners. Neither side suggests the ailment had anything to do with him leaving.)
Now Zduriencik is in the position of having only one year remaining on his current deal while needing to hire his third manager. He is said to have compiled a list with two dozen or more names, including Pete Mackanin, Ron Wotus, Bryan Price, Chip Hale, Torey Lovullo and many others. The subject of the next manager was raised during a conversation with Lou Piniella, as Foxpsorts.com reported, but he showed no interest and Mariners people now suggest that it was more of a thought in passing.
One Mariners person said multiple people inside the front office wanted a managerial change anyway, but that "Jack wasn't prepared to let him go." They said that as long as Wedge agreed to the conditions, the presumption was that Zduriencik would bring him back for another year. That jibes with what little Zduriencik said afterward, when he said he was "surprised" Wedge decided to leave.
A couple of Mariners people said they believed Wedge was never going to agree to make the requested changes, so they hoped Wedge wouldn't make it through the year-end meeting. As it turns out, of course, the impromptu meeting that Thursday was plenty for Wedge to make the prescient call.
There's no evidence the two men ever got to hash out the issues Mariners management had with Wedge's handling of the bullpen, but Wedge pointed out that "everyone else" besides Oliver Perez is a "kid" in the pen. Wedge also pointed out that growing pains are to be expected with young bullpen arms.
Another issue was a lack of progress seen in some of the highly touted young players, including Jesus Montero, Justin Smoak and Dustin Ackley. Both sides agree Wedge readily went along with the plan to support and play the young kids, and he noted that a few of them, including Montero, who performed poorly, got hurt and ultimately was suspended in the Biogenesis case, "didn't pan out."
It's possible some of them aren't what they were cracked up to be, though it can't be known until a few years after Wedge is gone. Undeniably, there were also growing pains with the very young Mike Zunino, Nick Franklin and Brad Miller, top prospects who were mid-year callups. All three of them have potential but may not quite be ready for the bigs. Some in baseball were surprised that Zunino, the third overall pick of the 2012 draft, was called up with such little minor-league experience. He had played in only 96 games. "That's pretty unusual for a catcher," one rival executive noted.
The key to the Mariners' future, though, remains the highly touted young pitching triumvirate of Taijuan Walker, James Paxton and Danny Hultzen. While Hultzen is expected to miss the 2014 season after shoulder surgery, Walker and Paxton are being penciled in to fill the Nos. 4 and 5 spots in the rotation, with the Mariners seeking one extra veteran starter to fit between the excellent combo of ace Felix Hernandez and Hisashi Iwakuma. The barely-tested kid tandem looked very good in end-of-the-year cameos.
Wedge won't be around to see whether the Mariners young pitchers could possibly form an elite rotation, but his abrupt departure didn't surprise some in the organization who believed he wouldn't have embraced suggestions of alterations from an above.
"Eric always wants his way. No one's telling Eric what to do," one Mariners connected person said. That person suggested some other Mariners people perceived that Wedge could run roughshod over Zduriencik.
Wedge was brought in because he has a well-earned no-nonsense persona, someone who could impose his will on players. But the belief among some inside the Mariners offices was that he was doing the same with Zduriencik. Wedge was asked about that characterization and said, "I'm fair, firm and consistent." Regarding Zduriencik, he said, "I tried to help him."
There's no doubt Wedge is a tough man who stands up for what he believes is right and doesn't cower. While that mindset may have led to a seemingly abrupt departure, it was very likely the right call.
The Nats will host the All-Star Game in 2018

The Orioles are looking to trade Machado heading into his walk year

The Cardinals have been linked for a while to the Baltimore star
Gallardo spent the first eight years of his career in Milwaukee

MLB revenues are at a record high right now, but teams aren't spending it on players

Chicago added Tyler Chatwood earlier this offseason but might not be done adding to the ro...