Many teams pursuing Beltran; his old Royals look like a real threat
Carlos Beltran could wind up going west to Kansas City rather than returning to the East Coast.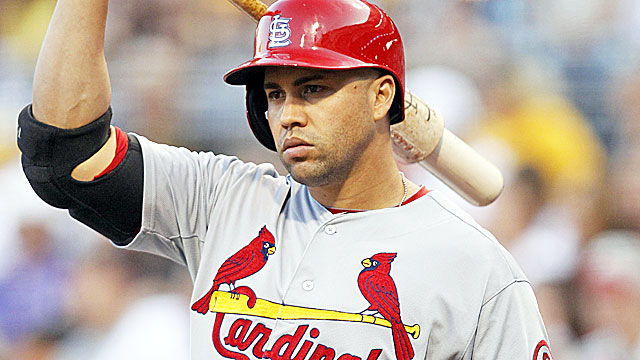 The Rangers, Mariners and especially his old Royals could become real threats to keep star free-agent outfielder Carlos Beltran from returning east to the Yankees or Red Sox, according to people familiar with his talks.
Kansas City is believed serious in its intention to bring him back. "They are in on him for sure," said one person familiar with the discussions.
Beltran is said by a source to have requested a four-year deal, though it's believed he'd probably take the right three-year deal, if offered. The Royals went four years on mid-rotation pitcher Jason Vargas, who had an ailment last year, so it seems conceivable they'd go more than two for Beltran, their former star.
The Royals are said to hold an allure for Beltran who came up with them. But as free agency goes, the terms are always important, and there's no evidence to this point the Yankees or Red Sox have signaled a willingness to go past two years.
Beltran once wanted so badly to go to the Yankees, he offered them about a $20 million discount before signing with the Mets for $119 million over seven years. But times have changed.
One interesting thing to think about: If Beltran continues to be as productive for three or more years, he could make the Hall of Fame, and if the Royals bring him back for more, they'd be the logical team for him in Cooperstown, even ahead of the Mets, where he played six and half years.
Beltran, now 36, signed for a seemingly under-market $26 million for two years with the Cardinals a couple years ago but seems primed to cash in following his third straight productive and healthy season. He hit .296 with 24 home runs and 84 RBI in helping the Cardinals reach the World Series in 2013.
The Indians, who tried for him last time, have been reported too be in the mix. But the Orioles are said by a source "not really" in the Beltran sweepstakes.
The Mariners and Rangers are, however, in the Beltran mix.
The Yankees and Red Sox are very interested, but Boston is still hoping to bring back Jacoby Ellsbury and couldn't offer Beltran many DH at-bats since they have David Ortiz. The Yankees are also pursuing Ellsbury and Shin-Soo Choo, as well as big-hitting catcher Brian McCann, first baseman/DH Kendrys Morales and many other players.
For Kansas City, Beltran may be more of a priority.
Baseball players forced to take pictures usually lead to fun for all of us

One of the most celebrated programs in baseball is looking to continue its run

A closer look at the teams in the Cactus League and Grapefruit League
Spring training baseball gets underway Friday

Christopher Crawford weighs in on all things prospects

Pawol is expected to umpire in the minors again come the regular season