March 31 Weekday Series Rankings: Showdowns in the Central
What better time to unveil a new series than Opening Day? Here is first round of weekday series rankings.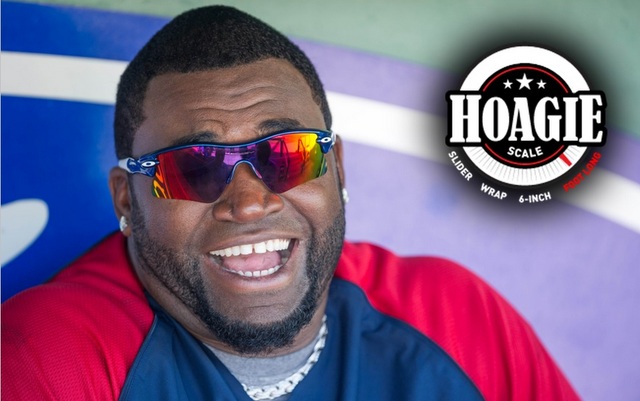 More MLB: Scoreboard | Standings | Probable Pitchers | Sortable Stats | Odds
We here at Eye on Baseball love to steal. Or, rather, share ideas with our CBSSports.com brethren. That sounds better. In the spirit of said sharing, every Monday and Friday of the regular season we will examine the upcoming weekday and weekend series, respectively, similar to how NFL Insider Jason La Canfora ranks the upcoming NFL games each week. Here's an example.
The idea is simple: We're ranking the series (plural!) in tiers representated by delicious sandwiches. The first tier, meaning the best series, will be footlongs. The second tier is six-inch heroes, the third tier is wraps, the last little sliders. The bigger the sandwich, the more important the series. Got it? Of course you do.
The rankings are completely subjective, of course. They're based on the importance of the series, the pitching matchups, maybe a history of bad blood, all of that and more. If you disagree, great. Tell us about it in the comments. Here's the breakdown of this week's series.

| | | |
| --- | --- | --- |
| | at | |
Kansas City Royals at Detroit Tigers
Monday: RHP James Shields (0-0) vs. RHP Justin Verlander (0-0)
Tuesday: OFF
Wednesday: LHP Jason Vargas (0-0) vs. RHP Max Scherzer (0-0)
Thursday: RHP Yordano Ventura (0-0) vs. RHP Anibal Sanchez (0-0)
Why watch? There is a very good chance these two clubs will be battling it out for the AL Central title all season long. The Tigers have won three straight division crowns but they did appear to get weaker this offseason by trading Prince Fielder and Doug Fister . Losing Jose Iglesias to a season-ending injury in spring training doesn't help either. The Royals, meanwhile, are a team heading in the right direction with young players on the cusp of putting it all together. Plus, man those pitching matchups are glorious.
What to watch for: The rebuilt Tigers lineup. It is still anchored by reigning two-time AL MVP Miguel Cabrera , but Fielder is gone and there's a renewed emphasis on speed thanks to the additions of Rajai Davis and Ian Kinsler . How much thump will rookie third baseman Nick Castellanos provide? He could be a difference between a good offense and a great offense.
| | | |
| --- | --- | --- |
| | at | |
St. Louis Cardinals at Cincinnati Reds
Monday: RHP Adam Wainwright (0-0) vs. RHP Johnny Cueto (0-0)
Tuesday: OFF
Wednesday: RHP Michael Wacha (0-0) vs. LHP Tony Cingrani (0-0)
Thursday: RHP Lance Lynn (0-0) vs. RHP Homer Bailey (0-0)
Why watch? The Cardinals and Reds have won four of the past five NL Central titles (two apiece) and right now St. Louis looks like the favorite, but the Reds won't just roll over. They have won 90-plus games in three of the past four years. Things will be much tougher in 2014 without Shin-Soo Choo and Mat Latos (for at least the first few weeks), but they're still good enough to contend for a wild-card spot. The Cardinals, who made a massive upgrade at shortstop in Jhonny Peralta , are shooting for something much more.
What to watch for: Billy Hamilton as he attempts to replace Choo in the leadoff spot. There's basically zero chance he will get on base as much but he's a threat to be baseball's first 80-plus steal man since Vince Coleman and Rickey Henderson in 1988, and that kind of speed is game-changing.
| | | |
| --- | --- | --- |
| | at | |
Seattle Mariners at Los Angeles Angels
Monday: RHP Felix Hernandez (0-0) vs. RHP Jered Weaver (0-0)
Tuesday: RHP Erasmo Ramirez (0-0) vs. LHP C.J. Wilson (0-0)
Wednesday: LHP James Paxton (0-0) vs. LHP Hector Santiago (0-0)
Why watch? Man, so many reasons. First and foremost, Mike Trout , the best player in baseball. Second, Robinson Cano in a new uniform. He's a Mariner now, not a Yankee. Third, Albert Pujols is returning from a season-ending foot injury. Fourth, Josh Hamilton is entering his second season in Anaheim. That enough for you?
What to watch for: With all due respect to Trout and Cano and everyone else, it's Pujols' return to the lineup. He has started to succumb to injury and age-related decline these past few years but his importance to the Angels is as great as ever. They improved over the winter, but there's no move they could make that would have as much impact as a healthy and productive Pujols.
| | | |
| --- | --- | --- |
| | at | |
Boston Red Sox at Baltimore Orioles
Monday: LHP Jon Lester (0-0) vs. RHP Chris Tillman (0-0)
Tuesday: OFF
Wednesday: RHP Ubaldo Jimenez (0-0) vs. RHP John Lackey (0-0)
Thursday: LHP Felix Doubront (0-0) vs. LHP Wei-Yin Chen (0-0)
Why watch? It's quite simple, really. The Red Sox are the defending World Series champs but they lost some key players this winter ( Jacoby Ellsbury , Jarrod Saltalamacchia , probably Stephen Drew ). The Orioles won 85 games and improved during the offseason by adding Jimenez and Nelson Cruz on low-cost deals. They played the market very well. The AL East looks to be much tighter than it was a year ago and these two clubs could be fighting for the division crown come September.
What to watch for: The return of Grady Sizemore . He wowed in spring training and the Red Sox have an incredible medical staff, but the fact remains that he has not a) played a regular-season game in two years, and b) been particularly good/reliable in five years. Sizemore's a great story and I hope he stays healthy because he is really, really fun to watch.

| | | |
| --- | --- | --- |
| | at | |
Cleveland Indians at Oakland Athletics
Monday: RHP Justin Masterson (0-0) vs. RHP Sonny Gray (0-0)
Tuesday: RHP Corey Kluber (0-0) vs. LHP Scott Kazmir (0-0)
Wednesday: RHP Zach McAllister (0-0) vs. RHP Jesse Chavez (0-0)
Why watch? Both the Indians and Athletics were playoff teams a year ago and both lost quite a bit of pitching over the winter and this spring. Cleveland said goodbye to Jimenez while the Athletics lost both Jarrod Parker and A.J. Griffin to elbow injuries in camp. Parker is done for the year with Tommy John surgery. Both clubs have an uphill climb to reach the postseason again.
What to watch for: Yoenis Cespedes , who was outstanding in 2012, very good in '13 and a disaster in spring training 2014. Spring training stats tend to be meaningless, but both Cespedes and the A's acknowledged working on some mechanical issues. That's not something that can be brushed under the rug once the regular season begins.
| | | |
| --- | --- | --- |
| | at | |
Los Angeles Dodgers at San Diego Padres
Sunday: Padres 3. Dodgers 1
Monday: OFF
Tuesday: RHP Zack Greinke (0-0) vs. RHP Ian Kennedy (0-0)
Wednesday: RHP Dan Haren (0-0) vs. RHP Tyson Ross (0-0)
Why watch? The Dodgers are the clear favorite in the NL West coming into the season and the Padres are a sleeper pick to contend for a wild-card spot. There's also some lingering bad blood stemming from last summer's Greinke- Carlos Quentin brawl. San Diego grabbed the first game of the series Sunday night with a come-from-behind win against Brian Wilson .
What to watch for: Even with Clayton Kershaw sidelined by a back problem, this series is all about the pitching and we saw that Sunday. These two clubs will only go as far as their rotations take them. Throw in spacious Petco Park -- it's still one of the most pitcher-friendly parks in baseball even after the walls were brought in -- and there's a chance for some dandy pitching matchups in the final two games.
| | | |
| --- | --- | --- |
| | at | |
San Francisco Giants at Arizona Diamondbacks
Monday: LHP Madison Bumgarner (0-0) vs. RHP Brandon McCarthy (0-0)
Tuesday: RHP Matt Cain (0-0) vs. LHP Wade Miley (0-1)
Wednesday: RHP Tim Hudson (0-0) vs. RHP Trevor Cahill (0-1)
Why watch? If we're going to say the Dodgers are the clear favorite in the NL West (they obviously are), then the Giants and D-Backs are going to be battling it out for second place and a wild-card spot all year. San Francisco is much better than last year's 76-86 record indicates, and added the reliable Hudson to an already strong rotation. Arizona is 0-2 on the season and has gone 81-81 for two years running now but the rotation is solid even with ace Patrick Corbin out for the season. I'm just not sure if the team is better than just solid.
What to watch for: Cain's first start. He was terrible in the first half last year and looked very much like the old Matt Cain in the second half, though that is no guarantee he will be himself in 2014. I think the Giants are good enough to win a wild-card spot with the usual version of Cain. Without him? Probably on the outside of October looking in again.
| | | |
| --- | --- | --- |
| | at | |
Atlanta Braves at Milwaukee Brewers
Monday: RHP Julio Teheran (0-0) vs. RHP Yovani Gallardo (0-0)
Tuesday: LHP Alex Wood (0-0) vs. RHP Kyle Lohse (0-0)
Wednesday: RHP Aaron Harang (0-0) vs. RHP Matt Garza (0-0)
Why watch? The Braves won the NL East a year ago but lost three-fifths of their rotation to injury this spring, including Kris Medlen and Brandon Beachy to Tommy John surgery. They remain dangerous, just more vulnerable. The Brewers are a sleeper pick thanks to an improved rotation, a still productive lineup and division rivals who didn't really improve over the winter. Last season was one of those "everything that can go wrong, did go wrong" years that hides their true talent level.
What to watch for: The return of Ryan Braun , obviously. The 2011 NL MVP is back from his 65-game suspension for ties to Biogenesis. He'll be booed mercilessly and he deserves it, but, more importantly, how will he produce at the plate? Braun mashed in spring training and I suspect we're in for more of the same during the regular season.
| | | |
| --- | --- | --- |
| | at | |
Toronto Blue Jays at Tampa Bay Rays
Monday: LHP David Price (0-0) vs. RHP R.A. Dickey (0-0)
Tuesday: RHP Drew Hutchison (0-0) vs. RHP Alex Cobb (0-0)
Wednesday: LHP Mark Buehrle (0-0) vs. LHP Matt Moore (0-0)
Why watch? This time last year, it looked like the Rays and Blue Jays would be fighting for the division title all season. Instead, Toronto was a massive disappointment and Tampa Bay had to settle for being a distant second to the Red Sox. This year, this matchup is about one of the best lineups in the game (Blue Jays) against one of the best pitching staffs (Rays) and that alone makes it fun.
What to watch for: The healthy and lethal combination of Jose Bautista and Edwin Encarnacion against southpaws Price and Moore. Two high-velocity lefties against two of the best power-hitting right-handed bats in the game is sure to result in some explosive at-bats.

| | | |
| --- | --- | --- |
| | at | |
Chicago Cubs at Pittsburgh Pirates
Monday: RHP Jeff Samardzija (0-0) vs. LHP Francisco Liriano (0-0)
Tuesday: OFF
Wednesday: RHP Edwin Jackson (0-0) vs. RHP Charlie Morton (0-0)
Thursday: RHP Jason Hammel (0-0) vs. LHP Wandy Rodriguez (0-0)
Why watch? These are two very young teams and young usually means exciting. The Pirates finally snapped their streak of consecutive losing seasons in 2013 and returned to the playoffs, but they didn't do much this winter and it's unclear if a return trip to October is in the cards. The Cubs are rebuilding and while most of their top prospects are still in the minors, guys like Anthony Rizzo and Mike Olt are worth the price of admission.
What to watch for: Pittsburgh did not have Wandy available most of last year because of a forearm/elbow problem. Is he healthy and throwing the ball well? If so, that will go a long way toward replacing A.J. Burnett , who departed as a free agent. Also, keep an eye on Liriano, who was dynamite last season but has a long history of inconsistency and unpredictability.
| | | |
| --- | --- | --- |
| | at | |
Washington Nationals at New York Mets
Monday: RHP Stephen Strasburg (0-0) vs. RHP Dillon Gee (0-0)
Tuesday: OFF
Wednesday: LHP Gio Gonzalez (0-0) vs. RHP Bartolo Colon (0-0)
Thursday: RHP Jordan Zimmermann (0-0) vs. RHP Zack Wheeler (0-0)
Why watch? The Nationals are the favorite in the NL East thanks to the combination of their offseason upgrades (Fister, most notably) and the Braves' pitching injuries. The Mets are less exciting without Matt Harvey but they quietly have a strong rotation and a promising David Wright -led lineup. This series would be a bit more exciting if the Mets were expected to contend in 2014.
What to watch for: Washington's potentially dominant lineup. That hinges on Adam LaRoche  rebound from a poor season and good health from Bryce Harper , Jayson Werth and Wilson Ramos . A full year of Anthony Rendon will be a big help. The Nationals look stacked in every aspect of the roster (rotation, bullpen, lineup), but the same was true last season and the offense didn't hold up its end of the bargain.
| | | |
| --- | --- | --- |
| | at | |
New York Yankees at Houston Astros
Monday: OFF
Tuesday: LHP CC Sabathia (0-0) vs. RHP Scott Feldman (0-0)
Wednesday: RHP Hiroki Kuroda (0-0) vs. RHP Jarred Cosart (0-0)
Thursday: RHP Ivan Nova (0-0) vs. LHP Brett Oberholtzer (0-0)
Why watch? Neither team made the postseason last year but they both improved over the winter. The Yankees just did it in a, uh, less than subtle way. They committed over $500 million to free agents, though Masahiro Tanaka will not make his Yankees debut in this series. Ellsbury, Carlos Beltran  and Brian McCann will, however. Are those guys enough to get New York back into the postseason? We'll find out starting Tuesday as these two clubs are the last to start their 2014 seasons.
What to watch for: The easy answer is the Yankees' new lineup, but instead I'll say Sabathia. He was awful last season for any number of reasons and regardless of how many contracts they handed out this winter, the Bronx Bombers aren't going anywhere without their ace pitching like, well, an ace. Sabathia's return to form is crucial.
| | | |
| --- | --- | --- |
| | at | |
Philadelphia Phillies at Texas Rangers
Monday: LHP Cliff Lee (0-0) vs. LHP Tanner Scheppers (0-0)
Tuesday: RHP A.J. Burnett (0-0) vs. LHP Martin Perez (0-0)
Wednesday: RHP Kyle Kendrick (0-0) vs. LHP Robbie Ross (0-0)
Why watch? Opening Day's token interleague matchup features two clubs dealing with early season adversity in the form of pitching injuries. The Phillies are without Cole Hamels while the Rangers are without pretty much everyone. Yu Darvish , Matt Harrison and Derek Holland are all sidelined. Both teams remade their lineups this winter as well, the Phillies by adding Marlon Byrd , the Rangers by adding Prince Fielder and Shin-Soo Choo. These clubs have been two of the most successful franchises in the game since 2008 or so, but the bloom is starting the come off both roses.
What to watch for: Can the Rangers out-hit their pitching concerns? They're without Jurickson Profar and Geovany Soto but they still have Fielder, Choo, Elvis Andrus , Alex Rios and Adrian Beltre . That group will score some runs, especially in the friendly confines of Globe Life Park in Arlington.

| | | |
| --- | --- | --- |
| | at | |
Colorado Rockies at Miami Marlins
Monday: LHP Jorge De La Rosa (0-0) vs. RHP Jose Fernandez (0-0)
Tuesday: LHP Brett Anderson (0-0) vs. RHP Nathan Eovaldi (0-0)
Wednesday: RHP Henderson Alvarez (0-0) vs. RHP Tyler Chatwood (0-0)
Why watch? Both clubs finished last season in last place, but four of the very best and most exciting players in baseball will be in this series. The Rockies have a (temporarily?) healthy Troy Tulowitzki and Carlos Gonzalez in the lineup while the Marlins are throwing Fernandez on Opening Day and will have Giancarlo Stanton in right field all three games. Not many people expect these two teams to contend this year, but this could be a sneaky fun series.
What to watch for: Fernandez's follow-up to his stellar and historic rookie campaign. For my money, he's the most fun pitcher in baseball and worth watching regardless of opponent. Can his sophomore season actually be better than 2013? I'm not going to put it past him.
| | | |
| --- | --- | --- |
| | at | |
Minnesota Twins at Chicago White Sox
Monday: LHP Chris Sale (0-0) vs. RHP Ricky Nolasco (0-0)
Tuesday: OFF
Wednesday: RHP Felipe Paulino (0-0) vs. RHP Kevin Correia (0-0)
Thursday: LHP Jose Quintana (0-0) vs. RHP Phil Hughes (0-0)
Why watch? Um, well, Sale is really, really good. Otherwise these were two of the worst teams in baseball last season and neither figures to jump back into contention this year despite busy offseasons. The ChiSox added some exciting pieces in Adam Eaton and Jose Abreu while the Twinkies went pitching heavy, adding Nolasco and Hughes. If one of these teams is going to pull a 2012 Orioles or 2013 Pirates, the turnaround starts on Opening Day.
What to watch for: Abreu's debut. My AL Rookie of the Year pick has tremendous power but he's more than a meathead slugger, boasting a discerning eye and innate hitting ability. Chicago gave him a six-year, $68 million contract and franchise icon Paul Konerko agreed to move into a part-time role to accommodate him. All eyes will be on him this week.