Mariano Rivera closing extraordinary Yankees career with grace, style
From humble beginnings to Hall of Fame career to a graceful farewell tour, Mariano Rivera proves to be one of the greatest Yankees of all.
Rivera closing with grace: Part 1 | Part 2 | Part 3 | Part 4 | Part 5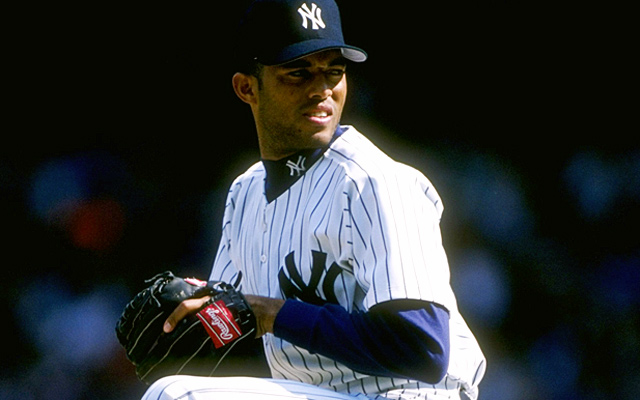 "He was an old man who fished alone in a skiff in the Gulf Stream and he had gone eighty-four days now without taking a fish."
Ernest Hemingway, The Old Man and the Sea
NEW YORK -- He is an old man who pitches alone on the mound in the great stadiums. And as he was going 339 days between taking a save when his knee betrayed him in Kansas City a year ago April and opening day this season, the sea roiled and his career tossed and the skiff filled.
But like Yankees fans who have been watching this genius at work for two decades, the old man never, ever did one thing. He never lost his faith.
It was only for the others to wonder and the cynics to question.
Always, in Mariano Rivera's mind, there was going to be this encore. His faith remained as deep as the ocean that he once fished with his father as a young man. And not because Rivera needed the applause. Not because he needed the adulation.
But because of moments like this, on a Friday evening in June in Seattle, with a dozen or so high school and college kids circled around him, intently listening to what essentially is their own very private and very memorable commencement address: It is another chance for The Great Rivera to give back.
"I love to play basketball," says a tall man in his early 20s, part of the Mariners' Fielders Group program that offers training for youth interested in a career in sports. "But I hurt my knee."
The man told Rivera that it is killing him to not be able to play basketball this summer. He asks Rivera, what is the best way to cope?
"Remember," Rivera tells him. "Injuries are part of the sport. You've got to have passion. Passion is what is going to drive you to do whatever it takes.
"I'm 43. When I was rehabbing, I know I wanted to come back. I said if the Lord permits, I'm going to come back. I didn't want the last thing people see for me to be laying on the dirt in Kansas City."

More than anyone else in this game, closers are inherently selfish about their lasts. They must be. The last thing that people see from them each outing is either the triumph of a conquering hero or the failure of a suddenly diminished pitcher. There are no in-betweens. There is no net.
For much of his existence, Rivera's survival has revolved around nets. Those that he worked with on his father's boat that put food on the table. Those that he has worked without in the game's most perilous job in the land's most famous and demanding stadium.
The people watching and listening in this Safeco Field room, like the chosen few in stadiums across the country during similar, intimate sessions in the most selfless Farewell Tour that you've ever seen, are viewing another last from a wholly different position.
"If it is easy," Rivera continues to the injured basketball player, "anybody can do it. There was the passion. That's what kept me moving forward.
"If you have that passion, that love, you say, 'I have to go for it.' No one will stop you. Only you can stop you.
"Don't allow no one to tell you no, that you are not capable."
This is why Rivera pushed himself so hard to return. Because passion has burned inside of him, undulled by time, since he was a little boy in Panama. Because no one was going to set his terms for him.
And because, as much as any legend who has ever played this game, Rivera understands not only his place in history, but the responsibility incumbent upon those beckoned by history.
To whom much is given, much is expected.
"One thing I've noticed," says Jason Zillo, the Yankees' media relations director and coordinator of these sessions, "is that the posture at the beginning is very erect. And toward the end, the people are leaning forward."
Octobers, ninth innings, World Series games, impossible Houdini-esque escapes ... for 19 years, we've watched, we've gasped and we've been left slack-jawed and wide-eyed by this man.
Now, as he steps into his final All-Star Game on Tuesday on the big stage of New York City, and as retirement looms this autumn, we all edge forward, if ever so slightly, for a better view of the best closer there ever was.
"If anyone is ever a unanimous choice for the Hall of Fame and it's not Willie Mays and it's not Hank Aaron ... he's a player at that level," Yankees Hall of Famer Reggie Jackson says. "If he's not a unanimous choice for the Hall of Fame, then it won't happen in my lifetime.
"If he's not a unanimous Hall of Famer, there may never be one."
Before our eyes over these past two decades, one save at a time, Rivera has rearranged the Yankees' paradigm.
"You have to put him with Ruth, Gehrig and Mantle," Jackson says. "You've gotta go up there with them. Joe DiMaggio didn't play long enough."
(Courtesy: New York Yankees)
Those accustomed to working with Rivera in New York are not surprised at the way that he has roared back this season, his 30 saves ranking tied for second in the majors. After all, what he injured was his leg, not his arm -- and certainly not his spirit.
"If he hurts his arm and then comes back, I think you're even more surprised," Yankees manager Joe Girardi says. "But being 43 and being able to do it at such a high level is amazing."
NEXT: Paying it forward on his farewell tour
Rivera closing with grace: Part 1 | Part 2 | Part 3 | Part 4 | Part 5
The Diamondbacks outfielder was not impaired, he was just going way too fast

MLB can unilaterally implement rule changes, which will also include limits on mound visit...

If the MLBPA wants to fix MLB's economic system, it should push for more money for young p...
Fans aren't happy Gerrit Cole and Andrew McCutchen have been traded away

Acuna is arguably the best prospect in baseball

Kent had a good career, particularly with the bat