Mariano Rivera has blood clot in leg, no date for surgery
Injured Yankees closer Mariano Rivera, who's awaiting surgery on his torn ACL, was recently diagnosed with a blood clot in his leg. It's not yet known when he'll undergo knee surgery.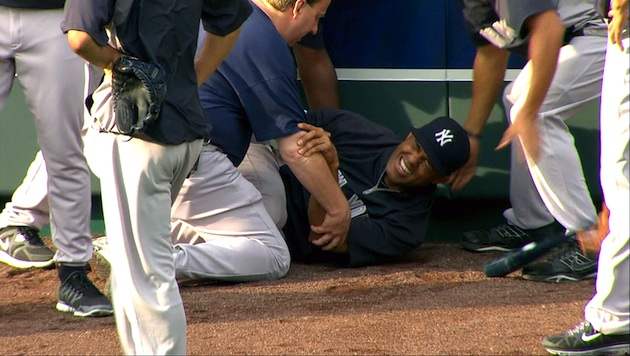 WFAN's Sweeny Murti
reports that
Yankees
closer Mariano Rivera is being treated for a blood clot in his leg.
Rivera met with doctors on Monday after experiencing pain in his calf. Once he was diagnosed with a blood clot, he was prescribed blood thinners.
"I was more concerned with the blood clot than the knee. For a minute I was like, what else is going to happen?" Rivera said to the Associated Press. "I was scared because I never hear good things about blood clots. ... I take it like, OK, what do we have to do?"
Doctors aren't sure whether the clot developed before or after
Rivera's knee injury
, but they do know he'll require about two weeks of strengthening before he's ready for surgery. In that sense, then, the blood clot doesn't constitute a setback because it's the need for strengthening, which will help with post-operative recovery, that's to blame for the lack of a clear timetable for Rivera's surgery.
By all accounts, Rivera still intends to pitch in 2013.
"If it's my call, I don't want to leave the game the way it happened. ... My will and my desire is to stay," Rivera told the AP, adding that he was leaning toward pitching in 2013 even before the injury. "The traveling, I hate it. And the game, I love it."
"I just feel old. Walking with these crutches is not fun at all," he added.
To that end, CBSSports.com Insider Jon Heyman reports that Yankees GM Brian Cashman says the team's policy of not talking contract during the season will
not
be waived for Rivera, who's in the final season of a two-year, $30-million pact. So if Rivera is to pitch in 2013, he won't have a contract to do so until the offseason.
"I really believe if Mo wants to continue to play, he'll play," manager Joe Girardi said (via AP). "I mean, obviously he's got to go through a process of rehab here, but I don't see any reason why that's not going to happen and he's not going to get through that, so I look forward to seeing him back in a Yankee uniform."
As for Rivera shagging fly balls in the outfield during batting practice, he plans to continue.
"Oh, no doubt about it," he said. "I don't know what the Yankees will do. They might need to tie me up," he said.

Boston wants to add two big bats to their lineup, not just one

Even more relievers signed on the final day of the Winter Meetings

Keep tabs on the top 50 free agents right here
The league is not happy Ohtani's medical information leaked

Kansas City and Baltimore were quite busy at the Rule 5 Draft

Piscotty's mother was diagnosed with ALS earlier this year