Mariano Rivera: Paying it forward on his farewell tour (Part 2 of 5)
As the Yankees' Mariano Rivera closes down his career, his farewell tour takes on a touch never seen before, singular and personal in nature.
Rivera closing with grace: Part 1 | Part 2 | Part 3 | Part 4 | Part 5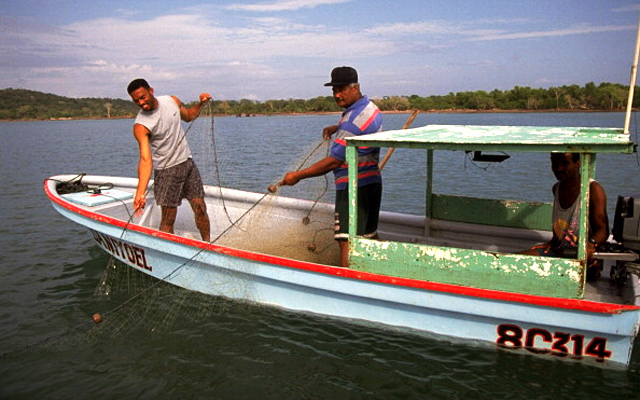 "Why did they make birds so delicate and fine as those sea swallows when the ocean can be so cruel?"

For three years as a teenager in Panama, Mariano Rivera worked on his father's fishing boat. To say that this is where the boy passed into manhood would be too much, Rivera says. And neither does he think the time spent at sea necessarily shaped his baseball career.
Yet it shaped his essence. And watching Rivera close games and cities during this farewell tour, with these personal touches, thanking heretofore uncelebrated, longtime baseball employees who toil far away from the spotlight, the large swaths of time that he is spending in each city signing autographs during batting practice ... well, you can no longer separate the person from the baseball player from the legend. Like the ropes that become a net to hold those fish, they are intertwined.
"You have to support your family, and that's the avenue we used to get some income," he says of his youth in Puerto Caimito. "I grew up in a fishing village. I would say 70 percent of the population in the town was fishermen. That's what we all did.
"It is a tough job, though. I didn't want to do it. I did it at the time because it was in the moment. But I didn't see myself doing that."
The commercial fishing boat would leave each Sunday, around noon, and normally not return for a full week. Sometimes, when the fish were plentiful, the fishermen would bring the boat back to the dock to unload. They would toss out the anchor, sleep overnight and then depart again the next morning.

For three long years when he was in his late teens, this was Rivera's life. This was in the days before specialization. There was no designated ninth-inning man on the boat. It was, as they say, all hands on deck.
"There was not just one thing you'd have to do," Rivera says. "The nets ... this is a big boat. Capacity was, like, 120 tons of sardines. Big boat. Big nets.
"We'd have to cast the net, bring it up to the boat ... whatever needs to get done, we'd do it."
He married Clara. The two met in elementary school, long before there were ninth innings in the Bronx or even nets full of sardines. They have three sons. This is why, even though it appears right now as if he could add another couple of seasons to his legacy, Rivera said this spring that his tank is empty.
Too many nights away from his family. Too much time spent squaring his deep faith with a life in baseball and casting about for what he believes are the deeper meanings of life. Deeper, even, than a game on the line with the stadium roaring.
No chance he will renege on his plans to retire after this season. As those close to Rivera will tell you, his word means everything to him. And he has given his word. This is the end.
Yet as the setting sun reflects brilliantly against the receding tides, something unique is occurring. As he pays it forward, the meaning of Mariano Rivera is flaring across the evening sky as if it were the brightest of shooting stars.
In Oakland, he lights up a dingy Coliseum mailroom by delivering a pizza to a veteran employee of 29 years. In Cleveland, he meets with a handful of longtime employees that includes the man who has been banging on a bass drum in the stands for 23 years (and before that meeting is finished, a smiling Rivera takes a swipe at banging that drum, thanking the man for his loyalty to the Indians).
In Anaheim, he meets with a group of longtime Angels employees, including John Moynihan, 80, who is in his 53rd year with the club after starting in baseball with the Dodgers in 1958. During that time, Moynihan has met Presidents Eisenhower, Nixon, Carter and Reagan. Those meetings had nothing on the session with Rivera, Moynihan says two weeks later, still mesmerized. There is something about the man.
"What a nice, nice guy," Moynihan says. "He talked to you like you've been his friend for a long, long time."
This tour was all Rivera's idea. He wanted something more than simply one last trip around the circuit in which he would be honored with another rocking chair before his final game in fill-in-the-blank city.
It is in these moments that his baseball royalty washes away and the currents of these personal connections take him back to those humble fishing village roots from where he came. And it all makes him smile thinking about those days, still.
"I do," he says. "I do. Because I love the sea. I love the water. I grew up right next to the water. I grew up loving it.
"But to do it for a job my whole life, I wasn't looking for that.
"This is better."
NEXT: From humble origins with faith and hard work
Rivera closing with grace: Part 1 | Part 2 | Part 3 | Part 4 | Part 5
Francisco leads the Dominican Winter League with seven home runs

Thome deserves enshrinement and here's why the case against him does not hold up

The Twins have already fortified the bullpen with Addison Reed, and now they want to address...
The Orioles likely want pitching, and the Indians have plenty of it

Halladay died in a November plane crash off the coast of Florida

The power-hitting outfielder is headed to Toronto